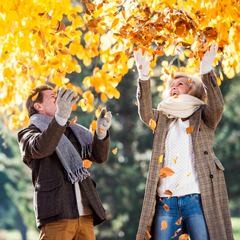 Fall is the perfect time to get outside and enjoy the cooler temperatures, changing leaves, and fresh air. There are so many fun things to do during this season!
Fall is the perfect time for families to enjoy the outdoors. From hikes to orchard visits, there are plenty of activities that are both fun and exhilarating.
Apple picking is a great fall activity for families; not only can you fill up bags with fresh apples, but you may even get to sample some delicious cider!
Pumpkins are another good option; kids can find a pumpkin patch in their area, pick a couple pumpkins, and then have the added bonus of carving them afterwards.
Additionally, corn mazes offer a more thrilling experience by getting lost in narrow pathways and trying to find your way out! Whichever activity you choose, fall is sure to be filled with fun-filled experiences.
1. Apple Picking – Apple picking is an ideal way to spend a fall afternoon. This activity offers the perfect mix of nature and delight, as you walk through sun-dappled orchards finding just the right eating or baking apples to take home.
Those lucky enough to find an orchard that also serves homemade apple cider donuts will have an extra special treat – these doughy delights are a delicious reward after trekking through rows and rows of trees!
Whether you pick gallons of apples, just a few handfuls, or none at all, exploring an orchard is sure to provide lasting memories.
2. Pumpkin Carving – Pumpkin carving is a classic fall tradition that can bring hours of family fun and memories. You don't need any special skills or artistic talent to enjoy the creativity and satisfaction that comes with designing a unique jack-o-lantern masterpiece. All you need is a sharp knife, some patience and your imagination.
With these supplies, let your creative juices flow. Choose from an array of traditional designs, like goofy smiles or funny shapes, or try to think outside the box with abstract patterns or intricate color changes.
The possibilities for creating eye-catching decorations are endless! So put on your thinking cap and create something spooky and memorable this season.
3. Hayrides – Fall is the perfect season to get out and explore the natural beauty of our countryside. One of the best ways to do so is by taking a hayride. Just imagine yourself cruising down a rural road, taking in all the vibrant fall foliage around you.
With its gentle rocking motion and the sound of crunching leaves, it's an experience that will stay with you long after the ride is over. Best of all, hayrides offer an opportunity to disconnect from your everyday obligations and simply relax and enjoy nature.
So why not bring your friends along on this enjoyable outdoor adventure? Remember to grab some hot cider afterwards for an even sweeter treat!
4. Hiking – If you're looking for a way to spend the fast-approaching autumn months, why not set out on a hiking adventure? With thousands of trails winding through national parks and state forests, there's plenty of chances to explore the natural world with your own two feet.
And with fall comes bountiful beauty – from vibrant foliage to glimmering sunshine and crisp air.
Hiking is an easy activity for all ages and levels of physical fitness, so grab your gear and get outside. With every step trekked in nature's beauty, you'll be rewarded tenfold with the thrill and invigoration it evokes!
5. Football Games – Football games are exhilarating experiences that bring friends and families together to support their local high school football team. There's nothing quite like hearing the roar of the crowd after a touchdown or interception, feeling the energy in the stadium rise as fans come alive with every play.
Football games are a great opportunity to come out and show your school pride while having some laughs with your friends and loved ones. Plus, who doesn't like enjoying some snacks during a game?
Whether you're watching from the sidelines or from home, make sure you take time to enjoy all that a high school football game has to offer!
6. Corn Maze – A corn maze is an exciting, engaging way to test your problem-solving skills in a unique, immersive environment. Get your family and friends together and enjoy the thrilling adventure of trying to make it through the labyrinth-like pathways of corn!
While you search for your way out of the maze, watch out for unexpected obstacles like rickety bridges and cunning scarecrows. Make it a challenge by seeing who can find their way through the endless turns and twists first – the only thing that's guaranteed is a great time with fond memories!
7. Bonfires – There's nothing quite like a bonfire with friends and family! Sitting around a blazing fire is one of the most enjoyable, inexpensive activities available. Not just for keeping warm, it can also be used for cooking marshmallows or hot dogs.
It's also great for ghost stories, as the children huddle closer together as the storyteller relates ever more spooky and mysterious tales! But s'mores are definitely one of the classic experiences that you can only get around a campfire.
As friends and family gather round to enjoy the scent of roasting marshmallow and chocolate, they create memories that will last them forever.
8. Baking – Nothing encapsulates the feeling of a cozy, fall day quite like baking! The warm, inviting scent of freshly baked cookies or pies is enough to transform your mood and make any day something special.
From pumpkin spice to nutmeg and cinnamon, the comforting aromas fill the home with peace and joy as our ovens do their work. Plus, the delicious treats that come out of the oven at the end are enough to bring families together!
Now is a great time to put those baking skills to good use and spread some happiness in your home.
9. Movie Marathon – The time is perfect for a movie marathon! With the crispy chill to the air of these autumn nights, cuddle up and have yourself an exciting evening.
Pick out some family favorites on whichever streaming service is your favorite, find a cozy corner at home and cozy up with plenty of warm blankets and popcorn.
10. Craft Time – Why not channel your inner Martha Stewart and spend some quality craft time making beautiful handmade seasonal decorations? Create a stunning fall-colored wreath with leaves, pinecones, and berries to hang on the door.
Hosting Thanksgiving dinner? Create a centerpiece with a colorfully painted pumpkin or gourd as the star attraction. Looking for something to decorate the walls of your home this season?
Gather flowers from the outdoors and press them into wax paper before placing in a simple frame for gorgeous wall decorations.
Cozy Up with DIY Mitten Crafts: Free Printable Mitten Template! Whether you're looking for a fun fall activity or an adorable handmade gift, these mitten crafts are the perfect solution! Use our free printable mitten template to create your own cozy masterpieces. From felt ornaments to card embellishments, there's no limit to the creative possibilities. Get ready to warm hearts with these delightful mitten crafts!


Crafting is often an underrated activity but can provide hours of relaxation that will get you into the spirit of autumn. So break out those crafting supplies, clear off that table, and get creative this season!
Fall is such an amazing time of year filled with so much to explore outdoors as well as indoors, so why not take advantage of it? With these 10 fun activities for families this autumn season will be one to remember forever!
From apple picking to crafting projects, there's something for everyone no matter what your interests may be! So grab some friends or family members, bundle up nice and cozy in those sweaters, hats & scarves and enjoy all that comes along with this beautiful time of year!
Happy Fall Y'all!!