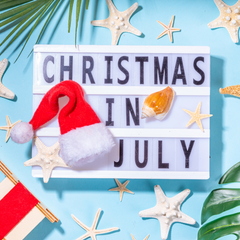 Enjoy a memorable Christmas in July celebration!
Are you tired of waiting until December to deck the halls and spread holiday cheer? Well, why not break tradition and throw a fabulous Christmas in July party! This whimsical celebration is the perfect excuse to embrace all things festive during the summer months.
Whether you're dreaming of snowflakes, gingerbread houses, or jolly old St. Nick himself, here we will guide you through the process of planning a sensational Christmas in July extravaganza.
So grab your Santa hat and prepare for a merry time filled with laughter, joy, and plenty of summer magic!
(THIS POST CONTAINS SOME AFFILIATE LINKS FOR YOUR CONVENIENCE: READ MY FULL DISCLOSURE POLICY)
What is a Christmas in July party?
Get ready to deck the halls and trim the tree because Christmas is coming early this year with a jolly twist! Have you ever heard of a Christmas in July party? It's a festive celebration that brings all the joy, cheer, and merriment of the holiday season right to your doorstep - in the middle of summer! This delightful tradition allows us to experience the magic of Christmas twice a year, doubling up on our dose of yuletide spirit.
Picture this: sandy beaches, flip flops, and Santa Claus hats. That's right; at a Christmas in July party, you get to combine the best elements of summer fun with winter wonderland vibes. From poolside snowman building competitions to sipping eggnog under colorful beach umbrellas, these parties are full of creative ways to merge two beloved seasons.
Inflatable Christmas Tree Cooler
Christmas-in-July Backdrop Banner
Christmas in July Balloon Sets
How To Plan a Christmas In July Party
Choose a theme for your party
Get the party started with a bang by choosing a theme that will leave your guests talking for weeks! Whether you're planning a birthday bash or just want to throw an unforgettable get-together, selecting the perfect theme is key. From tropical paradise to 80s nostalgia, the possibilities are endless. So put on your thinking cap and let's dive into a world of fun and excitement!
Why settle for an ordinary party when you can transport your friends and family to a whole new dimension? With a carefully chosen theme, you can create an immersive experience that will make everyone feel like they've stepped into another world. Want to feel like you're sipping margaritas on a beach in Hawaii? Go for a Hawaiian luau theme!
Christmas in July Inflatables Outdoor Decorations
Christmas in July Banner Backdrop
Christmas in July Decorations, Party Decorations
Send out invitations
Are you ready to throw the party of a lifetime? Well, it's time to get those invitations flying! Sending out invites is not just a formality; it sets the tone for your epic event. So, dust off your creativity cap and start crafting those eye-catching invites that will have your guests counting down the days!
First things first – choose a theme that screams fun! Whether you're going for an all-out costume extravaganza or a casual backyard barbecue, make sure your invitations reflect the vibe. A pirate-themed party? Arrr you ready for some adventure? Or maybe it's a tropical luau – Grab your grass skirts and join us for a night in paradise!
Plan the decorations and ambience
Are you ready to throw the ultimate party that will leave your guests in awe? Well, get your creative juices flowing because it's time to plan the decorations and ambience that will set the perfect mood for an unforgettable night! Let's turn your space into a vibrant paradise that will transport everyone into a world of fun and excitement.
First things first, think about the theme of your party. Whether it's a tropical luau or an summer green and red themed party, let your imagination run wild! Choose decorations that reflect your theme - bright colored balloons and palm leaves for a beachy vibe or sparkling fairy lights and fancy tablecloths for a glamorous affair. Remember, details matter, so don't forget to pay attention to smaller elements like centerpieces and wall hangings.
Organize festive activities and games
The holiday season is here, and it's time to spread the joy with festive activities and games! Whether you're hosting a family gathering, an office party, or just looking for some fun ideas to liven up your celebrations, we've got you covered. From classic favorites to unique twists, these activities will keep everyone entertained and in high spirits throughout the festivities.
First up, let's bring out the competitive spirit with a holiday-themed scavenger hunt. Hide small gifts or clues around your venue or even in your neighborhood if you're feeling adventurous. Divide participants into teams and watch as they race against the clock to find all the treasures. You can add extra excitement by including riddles or puzzles that lead them from one clue to another.
What better way to spend the day celebrating than in the pool, enjoy pool party games that everyone can play.
Prepare a delicious holiday-inspired menu
Get ready to wow your guests this holiday season with a delicious and festive menu that will leave everyone craving for more! From mouthwatering appetizers to decadent desserts, we have got you covered. Whether you are hosting a small gathering or a big family dinner, these holiday-inspired recipes are sure to make your celebration extra special.
Start off the festivities with a cheesy and scrumptious spinach and artichoke dip served with crispy baguette slices. This classic crowd-pleaser is easy to make and will set the tone for an evening of culinary delights.
For the main course, impress your loved ones with a succulent herb-roasted turkey accompanied by creamy mashed potatoes and tangy cranberry sauce. The aroma of the herbs wafting through the kitchen will surely get everyone excited for what's coming next!
No holiday meal is complete without some delectable desserts. This sweet strawberry and lemon curt desserts is a perfect way to end the festive menu. 
Christmas in July celebration is the perfect way to bring joy and excitement to the summer months. From festive decorations and delicious holiday treats to fun games and activities, there is something for everyone to enjoy. Whether you're hosting your own celebration or attending a community event, embrace the holiday spirit and create lasting memories with friends and family.
So gather your loved ones, put on your Santa hat, and get ready for a Christmas in July experience like no other! Don't miss out on this opportunity to celebrate the most wonderful time of the year during the warmest season - start planning your Christmas in July celebration today!