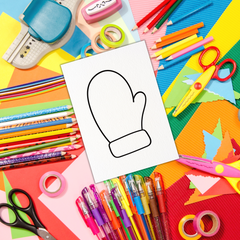 The winter season is here, and it can be a fun time to get crafty! If you are looking for a fun winter-themed project that the whole family can join in on, try creating your own Christmas or Winter crafts with our free printable mitten templates.
With just a few supplies and some simple steps, you can create some awesome mitten crafts. We have a couple of different mitten templates you can choose from. Single large mittens as well as medium and small mitten templates. There is a link at the end of this post to download your free mitten templates.
(THIS POST CONTAINS SOME AFFILIATE LINKS FOR YOUR CONVENIENCE: READ MY FULL DISCLOSURE POLICY)
Free Mitten Template Ideas
Whether you're working on a single winter-themed project, or a few smaller items, we have the perfect template for you. There are so many ways you can use these mitten templates. Here are just a few of our favorite ideas. Our easy-to-use templates, you can create these crafts in no time at all!
Make some mitten ornaments.
Making mitten ornaments using a printable mitten template is an easy and fun way to spruce up your home decorations.
You could print and cut out the template and glue it to cardstock. Then color in using markers or paint, add ribbons and decorations to create the perfect ornament.
Or make cute felt mitten ornaments. With our printable mitten template, you can trace them onto felt and cut out. Then use fabric glue or a sewing machine to attach the two sides together. Add a few festive embellishments and you have a super cute ornament to hang on your Christmas tree. 
Create festive magnets for your refrigerator
Print and cut out our templates on paper and color in with markers or crayons. Then glue this onto cardboard and adhere a magnet sheet to the back.
Create Mitten Shaped greeting cards
Use the templates to cut out mittens from colorful paper and attach them to cardstock. Add fun winter decorations and a heartfelt note inside for the perfect holiday greeting cards.
Decorate mitten shaped signs
Use the template to cut out mittens from wood or cardboard and paint them with festive colors. Then place them on doorways or walls to add some extra holiday cheer.
Make a Mitten Garland
Cut out multiple mittens in different sizes and then attach them to a thin string or ribbon for a fun winter decoration. Hang it up around your home for some extra winter spirit.
Print out Mitten Coloring Sheets
Use the templates to print out mitten coloring sheets so everyone in the family can get creative.
Make Mitten Shaped Cookies
Print and cut out the templates from cardstock and then use them as a cookie cutter to make mitten shaped cookies. Decorate the cookies with cute snowflakes and decorations.
Mitten Classroom Projects
Have you ever run out of ideas for Winter or Christmas classroom projects? Well, panic no more! These mitten templates are your new go-to solution. Not only can they be used for classic arts and winter crafts, but these multi-purpose templates can help you get those creative juices flowing to make all kinds of fun classroom projects.
Seeing the end result of a successful craft project will give the children a real sense of accomplishment, while also allowing them to explore their creative side.
Don't just take our word for it ,try them out and see what kind of amazing projects your students come up with. They might even have some ideas of their own that will put your crafty mittens to use in all kinds of exciting new ways! 
Mittens Craft Supplies:
To make many of these craft ideas, here are some basic supplies you'll need:
Printable mitten templates
Scissors
Glue or tape
Crayons, markers, and/ or paint
Cardstock paper (for cards and ornaments)
String (for garlands)
Wood or cardboard (for signs)
Ribbons and other decorations (optional)
Scissors Set of 6-Pack
Elmer's Liquid School Glue
Cardstock Starter Kit
Get ready for a festive winter craft session! We are offering some awesome printable mitten templates especially for you. They are completely free, so there's no excuse not to give your celebrating and crafting a special touch this year! These templates can be used in all types of Christmas crafts and winter fun, so get creative and start crafting away!