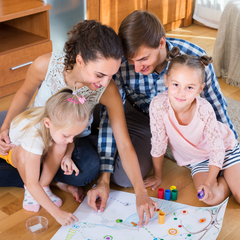 Looking for something fun to do with your family? Why not try a family evening at home! There are many different games and activities that can keep everyone entertained. Whether you are looking for something educational or just plain fun, we have you covered!
Family nights are a great way to spend quality time together and bond as a family unit. There are many different games and activities that families can do together, so there is sure to be something for everyone to enjoy. One popular activity is to play board games together.
Games like Monopoly and Scrabble are perfect for families as they encourage strategic thinking and provide an opportunity for friendly competition. Another fun activity is to have a picnic dinner in the living room. This is a great way to relax and spend time together without having to go out.
Family Charades
One great game to play is charades. This classic game can be played with any number of people, and it is sure to get everyone laughing. To make things more interesting, try using movie or TV show titles instead of just regular words.
One of the most popular family party games is emotional charades. In this game, players act out scenes from movies or TV shows that are designed to make people laugh, cry or both.
Just a few good Movies Charade Ideas:
The Shawshank Redemption
Forrest Gump
The Lion King
Titanic
Toy Story
If you are looking for something a little more hands-on, why not try an arts and crafts project? You can have everyone make their own masterpiece, or work together on one large project. This is a great way to spend some quality time together as a family.
For something educational, you can try trivia night. Gather up some trivia questions from your favorite topics and see who knows the most! This is a great way to learn something new while spending time with your family.
Family Printable Games
Printable Family Reunion Games, print out these fun games that everyone will enjoy. We have games for young and old so no one will miss out, have them ready for when the family arrives.
Games for a fun night in, then some of our other printables would be perfect:
Family Home Evening Games
Playing cards with your family is a great way to bond with each other and have some fun. There are many different card games that you can play, so there's sure to be one that everyone will enjoy. Some of our favorites include Uno, Go Fish, and Crazy Eights.
More family Games:
Do You Really Know Your Family: Fun Family game as you laugh and learn new things about each other
Smart Ass: Ultimate family party game
Twister: The game that ties you in knots
Hilarious Family Games
Double Ditto: Hilarious Family Party Guessing Game
Artsy Fartsy: Hilarious drawing game for the whole family
Outrageous Family Party Game: Family member use their creativity to come up with witty, unique, & hilarious answers to modern-day prompts.
Double Ditto - A Hilarious Family Party Guessing Board Game
Outrageous Family Party Game
Artsy Fartsy: Super Fun Hilarious for Family Party Game Night
Dinner Table Games for Family
If you're looking for a way to keep the whole family entertained during dinner, our printable dinner party games are just what you need. From icebreakers to trivia quizzes, we've got something for everyone. And since they're all printable, you can just download and print them out ahead of time. Also board games are a great way to get the family together for some quality time at the dinner table before everyone heads off to their rooms to get on their devices.
So break out some fun and challenging games like the Apples to Apples and watch your mouth, enjoy some good old-fashioned fun.
Watch Ya' Mouth Family Edition
Apples to Apples Game of Crazy Combinations
More Fun Party Games:
Planning a family reunion and need some fun activities? Look no further! These printable family reunion games will keep everyone entertained for hours. From bingo to trivia, we've got you covered. So download them now and start planning the ultimate reunion game night!
Looking for something to keep your teen busy and entertained? Check out these fun scavenger hunts that will get their creative juices flowing. From Easter hunts to photo scavenger hunts, there's something here for everyone. So grab a pen and paper and get ready to have some fun!