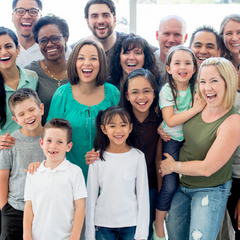 No matter what kind of family reunion you're planning, games are always a great way to break the ice and add some fun and excitement to the event. However, not everyone likes the same games, so it can be hard to please everyone. That's where printable games come in!
There is just something special about playing games with family. The laughter, the competition, and the memories made are all priceless. If you're looking for a way to add some family friendly fun and excitement to your next family reunion, look no further than printable games.
We've put together a list of printable games that are perfect for all ages. From word searches and crosswords to scavenger hunts and trivia quizzes, we've got something for everyone
These games can be printed out beforehand and best of all, they're easy to set up and don't require any special equipment. So gather your relatives around the table and get ready to have some fun!
FAMILY REUNION ICEBREAKER GAMES
Fun Icebreaker games are the perfect way to start your family reunion party and get everyone warmed up and chatting. They can help break the ice between people who don't know each other well, or who are meeting for the first time. And they're a lot of fun too! Funny Icebreaker questions would be the best way to start the party to get everyone in a great mood.
Here are some great icebreaker games that your guests will love.
Family Reunion Bingo - For this game, you need to find someone at the party who matches the description in each square. The first person to complete BINGO will win
Family Reunion What's on Your Phone - Check your phone and earn points for every item listed. The person with the most points at the end will win
Family Reunion Pass the Gift Game - Everyone will love this fun game. Follow the instructions and pass the gift around. . Whoever it ends with gets to keep the gift 
FAMILY REUNION TRIVIA QUESTIONS
Trivia games are a fun way to get everyone together and playing. They can help break the ice and make everyone feel more comfortable. Plus, they're a great way to learn more about your family! Here are some of our favorite Family Reunion Trivia Games
Fun Feud Game - This game is a family favorite. It is played similar to the Family Feud Game where you must guess the top answers. Split into 2 teams and test your knowledge with 4 Fun Feud rounds
Family Reunion Trivia - 15 fun Family reunion Trivia questions to test your knowledge of your family. Try to get the most correct answers.
FAMILY REUNION SCAVENGER HUNT PRINTABLE
Scavenger hunts are a favorite with all ages, especially kids and teens. It gets everyone up and moving trying to find all the items on the list first.  
In this Selfie Family Reunion Scavenger Hunt you need to race around and take a selfie with each of the 20 items.
FAMILY REUNION WORD GAMES
Family Reunion Word Search - A classic game that's perfect for passing the time. See who can find all the hidden words first
Family Reunion Scattergories - A fun game for all ages, Scattergories is perfect for large groups. See who can come up with the most creative answers to the prompts
Family Reunion Word Scramble - Players are given this list of 20 words and then see who can be the first to unscramble them all.
We hope you enjoy these printable family reunion games! And remember, the most important part of any reunion is spending time with your loved ones. So make sure to take some time to catch up and create new memories together. Enjoy!
Family Reunion Printable Games Bundle
Grab the games bundle 8 of our most popular family reunion games all in one at a discounted price.
OTHER FAMILY REUNION GAMES
While printable games are fantastic for your party, we have put together a list of some other fun games to keep everyone entertained all day.
(THIS POST CONTAINS SOME AFFILIATE LINKS FOR YOUR CONVENIENCE: READ MY FULL DISCLOSURE POLICY)
FAMILY REUNION WATER GAMES
Summertime is the perfect time for family reunions! If you're looking for ways to keep everyone entertained, why not try some water games? Whether you're at the beach or pool, these games are sure to be a hit.
Looking for some fun games to play at your next family party? Check out these ideas that will keep everyone entertained. From classic games like tag and freeze dance to newer favorites like Apples to Apples, we've got you covered. So grab some friends and get ready to have a blast!
If you're looking for some fun, family-friendly activities to keep everyone entertained at your next reunion, look no further! We've collected a variety of printable games that are sure to get everyone in the spirit. From word searches and pass the gifts to scavenger hunts and family feud, we've got something for everyone. So download a game or two (or all of them!), print them out, and get ready for some serious family fun.