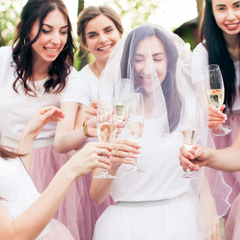 Planning a hen party can be a lot of work, but it doesn't have to be all stress and no fun. Here are a few tips to help you throw the ultimate girls' night out.
First, pick a theme that will get everyone excited. Whether it's a roaring 20s-themed speakeasy party or a tropical-themed pool party, make sure to choose a concept that will get everyone pumped.
(THIS POST CONTAINS SOME AFFILIATE LINKS FOR YOUR CONVENIENCE: READ MY FULL DISCLOSURE POLICY)
Next, send out invitations that set the tone for the event. Whether you're using Evite or hand-delivering them yourself, make sure the invite gets everyone hyped for the big night.
Finally, don't forget to plan some activities that everyone can enjoy. Whether it's hiring a male stripper or playing some classic hen party games, make sure there's plenty of laughter and good times to be had by all. With these tips in mind, you're sure to throw an unforgettable hen party that all your friends will be talking about for years to come.
Hens Party Games Pack
Bridal Shower Photo Booth Props
Pin The Ring On The Bride
Hen Party Game Ideas
So if you are you looking for some fun and exciting hen party games, then you have come to the right place! We have put together a variety of different games that are perfect for a bride-to-be celebration. Whether you are looking for something silly and lighthearted or something a little more naughty, we have got you covered! So without further ado, let's get started!
Toilet Paper Wedding Dress Game
If you are looking for a game that is a little more silly, then the toilet paper wedding dress game is perfect for you! This hilarious game requires each guest to bring a roll of toilet paper with them to the party. Once everyone has arrived, you will need to split everyone into teams. Each team will choose one person to be the bride-to-be. Everyone else will be her "bridesmaids". The goal of the game is for each team to create the most beautiful (or hilarious) wedding dress possible out of toilet paper. The bride will then choose her favorite and the team who created it will win a prize!
Toilet Paper, Rosa
Floral Toilet Paper Roll
Toilet Paper, Fucsia
Pin the "Broom" on the Groom
This is another classic hen party game that is sure to get everyone laughing. For this game, you will need a picture of the groom (or any male). You will also need a blindfold and some paper cut out brooms (or any other alternative paper cut out objects - we will leave this one to your imagination!). To play, simply blindfold each person and spin them around a few times. Then, each person must try and pin the 'broom' on the groom. The guest who gets closest to the correct spot wins a prize! Or you play a different version, Pin the Bow Tie on the Groom-to-be.
Pin the Bow Tie on the Groom Game
Wine Pong
Think of beer pong but with a classy twist! Wine pong is a great game to get everyone in the party mood. For this game, you will need a ping pong table, some plastic wine glasses, and of course, wine! To set up, simply arrange the cups in a triangle shape at each end of the table. Then, fill each cup with wine (or any other beverage of your choice). To play, simply take turns trying to bounce a ping pong ball into the other team's cups. The catch is that the ball must bounce on the table before landing in a glass. If you succeed, the other team must drink the contents of that cup. The first team to clear all of their cups wins!
Prosecco Adult Drinking Game
Wine Glass Pong Hen Party Game
Champagne Pong Hen Party Game
Clean Hen Party Games
This bundle of 15 clean bridal games are a perfect addition to your Hen party. Featuring all your favorites such as trivia and he said she said, and a few new and exciting games, this bundle will keep everyone entertained and having good clean fun!
Mr and Mrs Game
This is a fun game that can be played with any number of guests. You will need to write up a selection of questions to the Bride to be and the Groom. Print off a sheet and give it to the Groom to complete before the Hen Party. To play the game, you will ask the Bride-to-Be each question and see if her answer is the same as the Groom's answer. You can also give out penalties for each question that the Bride-to-Be gets wrong.
If you are looking for some inspiration for the questions, have a look at our Wedding Shoe Game. Most of these questions would also be perfect for this game
Charades
Another fun game that is perfect for a hen party is charades. This classic game can be played with any number of people and is sure to get everyone laughing. To play, simply divide the guests into two teams. One team will be given a list of things that they must act out, while the other team must guess what it is. The first team to correctly guess all of the items on the list wins!
==> Keep score with these ladies night scorecards
See how well your guests know the Bride and Groom with this fun printable trivia quiz.
These are just a few of the many different hen party games that you can play at your bride-to-be celebration. So whether you are looking for something silly or something naughty, there is sure to be a game that is perfect for you and your guests! 
We hope that you have found some inspiration from this list and that you have a great time celebrating the bride-to-be's last night of freedom!
Name That Cake
Introducing our "Name That Cake" printable game, the perfect addition to your next gathering or celebration! This game is designed to test your dessert expertise and put your cake-naming skills to the test. Whether you're hosting a birthday party, bridal shower, or just a casual get-together, this game will add a deliciously entertaining element to your event.
Hens Party Game Prizes and Favors
Some fun prizes and favors that you could give out as rewards for playing hen party games include:
bottles of champagne or wine
gift certificates to a local spa or beauty salon
tickets to a show or a night out at the casino
a weekend getaway for the bride and her closest friends
gift baskets filled with delicious treats and snacks
Wine Tumblers
Stickers
Chocolate bars
Led Light Up Rings
Bride-To-Be Candy Bar Wrapper
Hens Party Favors Tattoos
More Fun Party Games:
When it comes to bachelor party games, there are a few classic favorites games that always get the guys going. One of the all-time greats is beer pong. This simple yet addictive game is easy to set up and can be played just about anywhere. Whatever games you decide to play, just remember to enjoy yourselves and have a good time.
Having trouble thinking of something fun to do at your next party? Check out these awesome ice breaker party games that are perfect for any type of gathering. From classic games to new and unique options, there's sure to be a game here that will get everyone in the mood to have some fun!