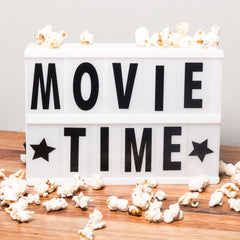 Watching a movie can be a great way to escape from reality, while also learning some valuable lessons. For teenagers, it's especially important to choose movies that inspire and challenge them to think about their lives and the world around them.
Motivational and Inspirational Movies for Teens
Here are some inspirational movies for teens that will make you laugh, cry, and even get motivated.
Forrest Gump (1994)
The classic story of Forrest Gump follows a young man with an IQ of 75 who goes on to lead an incredible life filled with adventure and heartbreak. Despite his disabilities, Forrest is able to accomplish incredible feats through sheer determination and perseverance. His story serves as an inspiration for anyone who has ever felt like they don't fit in or like they don't have what it takes to succeed.
Soul Surfer (2011)
Based on the true story of Bethany Hamilton, this film follows the inspiring young surfer as she battles back from a shark attack to compete in professional surfing tournaments. The movie is an amazing testament to courage and determination, and shows how faith can lead to healing and triumph over adversity.
The Blind Side (2009)
This movie follows the story of Michael Oher, a homeless teen taken in by an affluent family who helps him become a successful football player. It's a heart-warming story about the power of love and family, and how even the most disadvantaged young people can make something positive out of their lives.
The Karate Kid (1984)
This classic '80s movie centers around a young kid who learns karate from an elderly Japanese master, and eventually uses it to defend himself against bullies. The film is an inspiring story about the power of self-defense, determination and resilience—important lessons for any teen.
Click (2006)
Adam Sandler stars in this comedy about a workaholic father who discovers a remote control that can pause, fast-forward and rewind time. Through his travels, he learns the valuable lesson of living life to its fullest and spending more time with your family.
Shawshank Redemption (1994)
This powerful movie about a wrongly convicted prisoner and his quest for redemption is an inspiring story of hope, faith, and the power of friendship. The movie will make you laugh and cry as it shows how even in the face of despair, justice and freedom can prevail.
Remember the Titans (2000)
This powerful film follows a newly-hired African American high school football coach and his team as they overcome deep racial divisions in their town. It's an inspiring story of overcoming adversity, teamwork and understanding how to get along with others despite differences.
Dead Poets Society (1989)
This film follows the story of an English teacher at a boarding school whose unorthodox methods inspire his students to look at life differently. His teachings encourage students to take risks and pursue their dreams despite the odds being stacked against them. It's a great reminder that anything is possible if you set your mind to it!
The Greatest Showman (2017)
Starring Hugh Jackman as P.T Barnum, this musical tells the story of how a man with seemingly nothing accomplished his dreams by creating the greatest show on earth. It's an inspiring reminder that anything is possible if you never give up and are willing to take risks.
Slumdog Millionaire (2008)
This inspiring story of a young slum dweller who wins the Indian version of "Who Wants to Be a Millionaire", is an amazing tale of courage and resilience. It teaches viewers that anything is possible with determination and hard work.
Stand By Me (1986)
Stand By Me is a coming-of-age story about four young boys who embark on a journey together in search of the body of a missing child. Along the way, they learn important lessons about friendship, courage, and loyalty, lessons that will serve them well into adulthood.
Wonder (2017)
Based on the best-selling novel, this movie tells the story of Auggie Pullman, a young boy with facial differences who is going to school for the first time. It's an uplifting and heartwarming story about how kindness and acceptance can help anyone overcome adversity.
The Pursuit of Happyness (2006)
In this movie based on true events, Chris Gardner struggles to provide for his family while pursuing his dream career in finance despite all odds being stacked against him. His inspiring tale of resilience shows us that hard work and dedication can truly pay off in the end!
The Hunger Games (2012)
This action-packed movie follows the story of Katniss Everdeen, a young girl who volunteers as tribute in a fight to the death with other teens from her district. She is determined to survive and use her wits and courage to defeat the oppressive government forces. It's an inspiring reminder that no matter how difficult the odds, you can always find the strength to persevere.
Hidden Figures (2016)
Hidden Figures tells the true story of three African American women working at NASA as mathematicians during the Space Race in 1961–1962 when racial segregation was still prevalent in many parts of America. Their contributions were instrumental in helping America take one giant leap forward towards space exploration success—a powerful reminder of how far we've come since then!
Up (2009)
Up may be animated but its message is anything but childish; it teaches us that growing old doesn't mean giving up on our dreams, no matter how big or small they may be! The movie follows elderly Carl Fredricksen as he embarks on an incredible journey by tying thousands of balloons to his house so he can travel across South America to fulfill his lifelong dream before it's too late.
With so many inspiring stories out there, there's no shortage of amazing films out there for teenagers looking for something uplifting or motivating. These movies are surefire winners when it comes to providing teens with much-needed motivation and inspiration during their teenage years and beyond! So grab some popcorn and settle in for some amazing movie night.