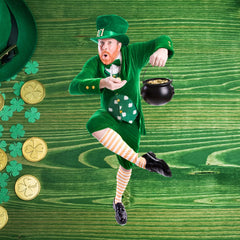 Have you ever wanted to catch a leprechaun? With the right bait and trap, it may just be possible to capture your very own little leprechaun this year.
But how do you go about it? Don't worry, we'll show you what bait and traps work best for catching a leprechaun.
(THIS POST CONTAINS SOME AFFILIATE LINKS FOR YOUR CONVENIENCE: READ MY FULL DISCLOSURE POLICY)
Leprechaun Bait
So what Bait Should You Use? The best kind of bait for a leprechaun is something sweet, like chocolate coins or a sack of candy. This is because leprechauns love gold and anything related to it and the sweeter the bait, the better!
If you don't have any chocolate coins or candy handy, you could also try using apples, since these are another favorite snack of the mischievous little creatures. Just make sure that whatever bait you use is colorful and appealing to them!
This St Patrick's Day Bark is ideal to use as Leprechaun bait. The colors and sweetness is sure to tempt even the fussiest leprechaun!
Or for a quick an easy idea, try our Christmas Popcorn recipe. Just leave out the red colored sprinkles and M & Ms and replace with lucky charms or more green colored candy.
Leprechaun bait makes a great gift for your classmates, friends and family. Simple package it up into small cello bags and attach a cute Leprechaun Bait treat topper.
These cute treat toppers have a space to write your name on the back and also come in three different sizes making it easy to match to your bag.
6.5 " wide topper will fit snack or sandwich bags (such as ziploc bags)

4 " wide topper will fit the cello bags

3.5" wide topper will fit the 3"x 4" treat bags
Or you could use a Leprechaun Bait Gift Tag. Just punch a hole in the tag, thread through some green ribbon, attach to your leprechaun bait and give to a friend.  Who knows, maybe your friends will catch their own leprechaun this year!
What Leprechaun Trap Should You Use?
When it comes to trapping leprechauns, there are plenty of options available. The most popular type of trap is one made out of sticks and string, which looks like a simple cage or box with an entrance at one end.
Another popular method is to use a box with some bait and a coin inside it. If the leprechaun goes in after the coin, he'll be trapped inside! Or cut a hole in the top of the box and wrap the box with green tissue paper. When the leprechaun walks on the box to get the treats, they will fall through the tissue paper and land inside the box.
You could also try setting up some tin cans around your bait so when the leprechaun tries to grab it he'll make enough noise for you to catch him! Whatever type of trap you choose, just make sure it's strong enough to hold your little Irish friend!
Catching a leprechaun is quite hard but with some patience and the right kind of bait and trap you might just get lucky.
So what are you waiting for? Get baiting and trapping today! Good luck on your quest for an authentic Irish treasure!
More Fun Party Ideas:
Looking for something fun to do on Saint Patrick's day? Why not try a St Patricks treasure hunt. Kids will love solving the treasure hunt clues leading them to the final prize.
Looking for a fun indoor game to keep the kids entertained? Look no further than this classic green glass door game. It is a fun game for all ages.