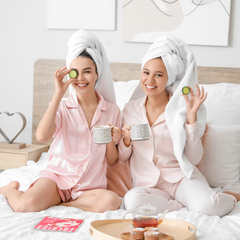 If you're looking for a fun and unique way to celebrate a special occasion, why not throw a pamper party? Pamper parties are all about relaxing, being pampered, and having fun. And what better way to have fun than with some games?
What is a Pamper Party?
A pamper party is a spa-themed party where guests are pampered with treatments like massages, facials, and manicures. Pamper parties are can be held at salons, spas, or in private homes. Pamper parties are fun for all ages and are a great way to relax and celebrate a birthday or other special occasion.
(THIS POST CONTAINS SOME AFFILIATE LINKS FOR YOUR CONVENIENCE: READ MY FULL DISCLOSURE POLICY)
Why Play Games at a Pamper Party?
Pamper parties are all about relaxation and having fun. Games are a great way to add some excitement and laughter to the event. They can also help break the ice if you have guests who don't know each other well.
Here are some fun pamper party games that will have your guests relaxed and smiling in no time.
DIY Pamper Party Games
You don't need a special occasion to treat yourself to a little pampering. In fact, one of the best ways to relax and rejuvenate is to host your own DIY pamper party. Gather up some close friends, set aside a few hours, and let the pampering begin! There are endless possibilities for games and activities at a pamper party.
You could start with a relaxing foot bath, followed by a sugar scrub. Then move on to painting nails, trying out new hairstyles, or giving facials. And of course, no pamper party would be complete without some delicious snacks and refreshing drinks. So go ahead and indulge in some me-time! Your mind and body will thank you for it.
Bubble Mate Foot Spa
Goddess Sugar Scrub
3-in-1 Facial Steamer
DIY Bath Bomb Making
This is a great activity for groups of all sizes. Give each guest a bowl and let them mix together their own custom bath bomb using ingredients like baking soda, citric acid, essential oils, etc. Once everyone has made their own bath bomb, they can take them home and enjoy a relaxing bath!
Make Your Own Facemask
This is a great activity for helping your guests relax and unwind. Give each guest a bowl and let them mix together their own custom facemask using ingredients like honey, oatmeal, avocado, etc. Then let everyone sit back, relax, and enjoy their homemade facemasks!
Spin the Nail Polish Game
Relaxing Pamper Party Games and Activities
A pamper party is the perfect way to unwind and relax with your close friends. Here are some fun ideas for games that will get you feeling pampered in no time:
Manicure - Pedicure
Give each other manicures and pedicures. Use soothing scents and gentle massage techniques to really pamper your hands and feet.
Facemasks
Make homemade facemasks out of natural ingredients like oats, honey, and lemon juice. Apply them to your skin and relax while they work their magic.
Facial Sheet Mask Organic Ingredients
Facial Sheet Masks
Clay Mask Avocado Dead Sea Mask
Spa Musical Chairs
Play a game of "spa musical chairs." Set up a table with an assortment of beauty products, like nail polish, perfume, and lotion. Play music while everyone tries out each product, and when the music stops, everyone has to choose one item to take home with them.
Pamper Swap
Have a "pamper swap." Everyone brings their favorite beauty product to the party, and then you all trade so that everyone gets to try something new.
Smoothies
Make scrumptious smoothies or milkshakes using healthy ingredients like fruits and yogurt. Add some fun toppings like sprinkles or whipped cream for an extra indulgent treat. 
Fun Pamper Party Games
Makeover Madness
This game is all about getting made over! Guests take turns in the chair and get a new hairstyle, makeup look, or manicure. The goal is to see who can come up with the most creative transformation.
Spa Scavenger Hunt
This game is perfect for getting your guests moving and exploring the spa. Hide small items around the spa area and give your guests a list of things to find. The first person to find all of the items on the list wins a prize!
Pedicure Relay Race
This game is sure to get everyone laughing. Divide your guests into teams of two and line them up at one end of the room. At the other end of the room, place two bowls of water, two towels, and two sets of nail polish. The first person in each team must race to the other end of the room, soak their feet in one of the bowls of water for 30 seconds, dry them off with a towel, then apply nail polish to their toes. The first team to finish wins!
Guess That Scent
This game is perfect for testing your guests' sense of smell! Place different essential oils or scented lotions into jars or bottles and label them with numbers. Then have your guests try to guess what each scent is. The person with the most correct guesses wins!
A pamper party is a great Girls' Night In idea! Not only will you get to relax and feel refreshed, but you'll also have some fun along the way. And who doesn't love feeling like a queen for a day? With these pamper party games, your guests are sure to enjoy themselves while getting spoilt rotten! So go ahead and organize that special night in - it's time to treat yourself!
More Fun Party Game Ideas:
Having a sleepover with your friends but don't know what games to play? Look no further! Here are some of the best sleepover games that will keep teens entertained all night long. From classic games like Truth or Dare and Never Have I Ever, to new favorites like Would You Rather and Phone Scavenger Hunt, there's something for everyone. So get your PJs on and get ready for some fun!
Throw an amazing party for tweens that they will love with these fun party games. From classic games to some new twists, there is something for everyone in this list. Plus, all of the games are easy to set up and can be played indoors or outdoors. So get ready to have a blast at your next party!