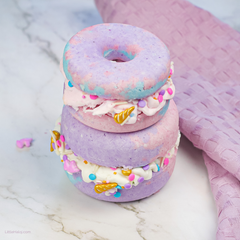 Looking for a fun and festive way to enjoy your bath time? Then look no further than these DIY Donut Bath Bombs with Unicorn Frosting! These colorful and whimsical bath bombs are perfect for any unicorn lover, and they're sure to bring a smile to your face. Not only do they look adorable, but they also have a sweet unicorn frosting that'll make you feel like you're taking a relaxing soak in a magical wonderland.
(THIS POST CONTAINS SOME AFFILIATE LINKS FOR YOUR CONVENIENCE: READ MY FULL DISCLOSURE POLICY)
Made with just a few simple ingredients, these bath bombs are super easy to make, and they're loads of fun to use. Simply drop one in your tub and watch as it foams and fizzes, filling the air with the sweet scent of unicorn frosting.
Bath bombs make great gifts and party favors because they're a fun way to relax and pamper yourself. DIY unicorn frosting Bath Bombs, they come in all sorts of fun and pretty colors, and most include lovely scents that can help you de-stress after a long day. Plus, they're usually pretty affordable, which makes them a great option for people who want to spoil themselves without spending a lot of money. Plus if you follow our recipe you can make your own which is always extra special to get a homemade gift, these can be used for Baby shower prizes and favors, teacher appreciation week gifts, Mother's Day, Donut themed parties, Unicorn themed parties, Mermaid themed party or even a Secret Santa present! 
Unicorn sprinkles will add the extra magical touch to your bath bombs. But you can change the sprinkles out for more of a donut look by using chocolate jimmies or even regular rainbow sprinkles. Change the colors out for Christmas theme using red and green and add Christmas sprinkles on top. Having a Mermaid party then you could use blues, greens, and purples and add some cute Mermaid sprinkles.
Or make these for a fun party and use any colors you want! If making these as a gift, try to match the colors of the sprinkles to the decor in the recipient's bathroom.
DIY Bath Bomb Donuts
Donut Bath Bombs Set
Bath Bomb Gift Set
We'll show you how to make these easy Doughnut Bath bombs, step by step. All you need is a few simple ingredients that you probably already have in your kitchen.
What You'll Need To Make the Donut Bath Bombs
Supplies Needed for Bath Bombs:
Supplies Needed for Soap Frosting:
How to make the Donut Bath Bombs with Unicorn Frosting
Instructions:
Step 1: In a large mixing bowl, add the baking soda, citric acid, bubble cake hardener and Epsom salts. Whisk dry ingredients together. (If desired, sift dry ingredients to rid the mixture of any clumps or hard pieces)
Step 2: Add the melted coconut oil and avocado butter. The coconut oil binds all the ingredients together, so your bath bombs don't crumble when you touch them, and the avocado butter adds additional stability and makes your skin feel silky smooth. 
Step 3: Add the polysorbate 80. This helps the coconut oil disperse more evenly in your bath water, makes the bath bombs bubbly, and prevents the mica from sticking to the side of the tub. Add in the raspberry scented oil.
Step 4: Mix wet ingredients well. You may need to use your hands to break down any lumps and make sure everything is mixed in. The mixture is perfect when it holds together when you press it into your hands and feels like wet sand. 
Directions for Molding the Bath Bombs: 
Step 5: Separate your mixture evenly between your 3 smaller bowls. Add 1-2 teaspoons of the purple mica in one bowl, the pink in the next and the blue in the 3rd. Continue to add a bit of the mica until you achieve the color you desire. 
Step 6: Layer the 3 colors in your mold in any pattern you like. Fill to the top and press down firmly. You may need to add a bit more mixture to fill the mold to the top. Allow to dry completely before gently tapping the side of the mold and releasing the bath bombs.
Directions for Making the Soap Frosting: 
Step 7: Place the soap in the microwave and heat in 30 second bursts until melted, stirring in between each. Add the Foaming Bath Whip to melted soap/butter mixture and beat on low until the whip is softened and starts to thicken.
Steps 8-9: Mix in the glycerin. Add a bit of cream of tarter if the mixture is too liquid.
Step 10: Mix in the color. If swirling the soap, split into 2 bowls before adding color to one. If mixture starts to thicken, add a bit of warm water and FOLD, Try NOT to MIX in.
Steps 11-12: QUICKLY add the soap frosting into a piping bag with frosting tip added. If swirling, add each color to a separate smaller bag and then add to the larger bag with the tip. Moving quickly, frost bath bombs and add sprinkles if desired. Allow to harden for about 24 hours to completely harden. Your bath bombs will be read to use or share!
Recipe notes and tips:
While the recipe is straightforward, it is always nice to have a few different tips and suggestions to make things easier. So here are some of the recipe notes and tips to help you out:
*The price for a larger bag is higher but the cost per ounce is lower. Of course, there are others in a smaller amount at a lower cost per bag. You will need to shop around for the best price.
**You can use a white based clay as a substitute. The bubble cake hardener makes the donut bath bombs extremely solid. The bigger your mold, the more stability you need.
***Be sure to research the safe amount to use on kids until 12 years of age.
If you don't have a piping bag, you can simply spoon the batter into the mold. Just be sure to pack it in tightly so that it holds its shape.
You can find silicone donut molds at most craft stores or online.
Store in an airtight container for up to 6 months until ready for use.
Variations to try:
Like with many recipes there will always be variations to try. Here are a few suggestions.
You could try adding a few drops of different essential oil to the mixture for a relaxing scent: Lavender, Peppermint and Ylang Ylang are all good alternatives
You could also add some finely ground oatmeal to the mixture for an extra exfoliating effect.
FAQ's:
Like with any recipe, there are often questions that need answering. I thought I would share some of the common questions here, but if you have any comments or questions please don't hesitate to get in touch directly.
How long will these bath bombs last?
These bath bombs will last for several months if stored in an airtight container.
Can I use a different oil?
Yes, you can use any type of oil that you like. Some other good options include jojoba oil, sweet almond oil or even coconut oil.
Can I add essential oils?
Yes, you can add essential oils to the mixture if you like. Just be sure to only add a few drops as too much could make the bath bombs too oily.
Where can I find silicone molds?
You can usually find silicone molds at most craft stores or online. Amazon has a great selection too.
Can I use different shaped molds?
Yes, you can use different shaped molds if you like. There are many round bath bomb molds and bath bomb making kits. Bath bombs of any shape are very popular.
Bath Bomb Molds
Bath Bomb & Soap Mold
Can I use a different type of food coloring?
Yes, you can use any type of food coloring that you like. Gel food coloring usually works best as it doesn't change the consistency of the batter too much. However, liquid food coloring will also work.
Can I make these without the sprinkles?
Of course! The sprinkles are purely for decoration so feel free to leave them out if you prefer.
If you're in the mood for a little pampering, why not try making your own DIY donut bath bombs? Not only are they adorable, but they also smell delicious and work to soothe and relax your skin. Plus, who can resist unicorn sprinkles?!
So what are you waiting for? Get ready to have some fun in the tub with these DIY Donut Bath Bombs with Unicorn Frosting!
More Fun Party Ideas:
Having a sleepover party for your teen friends? These fun games will keep them entertained all night long! From classic games like Truth or Dare and Charades to new favorites like Heads Up! and Would You Rather, there's something here for everyone. So gather your supplies, get comfy, and have some fun!
Having trouble thinking of what games to play at your next party? Check out this list of fun and easy icebreaker party games that will get everyone in the mood to celebrate. From classic games like Charades to new favorites like Heads Up, there's something for everyone on this list. So gather your friends and get ready for some laughs.