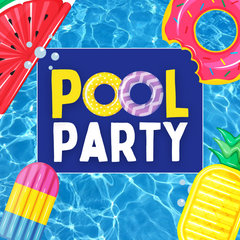 Making Your Pool Party Memorable
Summer is the time when we enjoy the heat and hit the swimming pools with friends and family. And what better way to celebrate the season than having a pool party. Parties are always fun, but they can be a bit challenging when you add water to the mix. So, if you're planning a pool party but don't know where to start, we have got you covered. Here are some tips on making your pool party memorable.
(THIS POST CONTAINS SOME AFFILIATE LINKS FOR YOUR CONVENIENCE: READ MY FULL DISCLOSURE POLICY)
Set the Scene
The atmosphere of your party can instantly improve the mood of the event, so set your décor up. Balloons, streamers, and flowers are great additions to a backyard pool space. You can also opt for brightly colored tablecloths, personalized items, and even inflatables. Make sure to make it colorful, and people will be in a festive mood from the moment they arrive. See below as we have some great pool party themes ideas for you.
Fun Pool Accessories
Inflatables are an inexpensive and guaranteed way to get people excited about being in the water. Options such as foam noodles, beach balls, and pool floats will keep both children and adults entertained on a hot day. You can also stock up on goggles, life jackets, and other accessories that guests may have forgotten.
Pool Floats Inflatable Lounge
Inflatable Pool Floats for Kids Adults
Inflatable Unicorn Flamingo Pool Floats
Pool Party Games
Summer is all about fun, sun and pool parties! When it comes to planning a pool party, you can't forget about the games. Pool party games are the perfect way to get everyone in the party mood and keep the fun going all day long. There are plenty of different games you can play, from classics like Marco Polo and pool volleyball, to newer games like pool Frisbee and pool pong.
Whether you're hosting a party for kids or adults, there's a game for everyone. Plus, they're a great way to cool off and beat that summer heat. So, grab your swimsuit and sunscreen, and get ready for a day of splashing, laughing, and making memories with your friends and family. You could also set up a projector, screen and hold a poolside movie marathon during the warm evening hours.
Pool Party Themes
Pool party themes add an exciting and vibrant element to any gathering by infusing a unique atmosphere and creating a memorable experience for guests. Whether it's a tropical paradise with its bright colors, lush greenery, and fruity drinks, or an underwater adventure where guests dive into a world of sea creatures and serene blue hues, pool party themes set the stage for fun and relaxation.
These themes allow hosts to unleash their creativity and transform a simple poolside gathering into a captivating event. With carefully chosen decorations, music, costumes, and themed food and drinks, pool party themes provide an opportunity for guests to immerse themselves in a unique and enjoyable environment, creating lasting memories of a fantastic day by the pool.
Night Pool Party
The heat of the summer can keep us indoors most days, but when the sun sets, there's no better way to cool off than a night pool party. Have your guests wear neon swimsuits and glow-in-the-dark accessories. Have lounges poolside, refreshing drinks and a DJ who will pump up the jams. You can dance and splash until the early hours of the morning. A night pool party is the perfect escape from the scorching summer days, and a chance to let loose and have some fun.
Pool Toys - 4 Pack Light Up Beach Balls
Glow Glasses Party Pack
Pool Toys 27 Inch Giant Led Beach Balls
Flamingo pool party
It's time to flamingle and have some fun in the sun with a flamingo pool party! Imagine lounging on a pink flamingo pool float, sipping on tropical drinks, and enjoying the company of your closest friends. With palm trees swaying in the breeze and the sound of reggae music in the background, you'll feel like you're on a tropical vacation.
Add some colorful decorations, like paper lanterns and flower garlands, and you'll have the perfect setting for a memorable pool party. Don't forget to snap some selfies with your pink-feathered friends and post them on social media for envy-inducing.
Flamingo Inflatable Pool Floats
Flamingo Inflatable Ring Toss Game
Inflatable Flamingo Pool Floats
Labor Day Pool Party Ideas
End summer with a splash by hosting a Labor Day pool party! It may be the last hurrah before the cooler weather sets in, but that doesn't mean the fun stops here. Why not have a poolside barbecue, complete with grilled burgers and refreshing lemonade?
Or, create a DIY mimosa bar and let your guests mix and match their favorite combination of juices and bubbles. For some poolside entertainment, challenge your friends to a game of 'Marco Polo' or dive into a game of giant Jenga. Regardless of your party style, make a splash and have a blast celebrating Labor Day weekend with your loved ones!
Bachelorette Pool Party Decorations
A bachelorette pool party calls for festive decorations, adding color and excitement to your backyard oasis. Think vibrant floral garlands draping over the poolside cabanas, whimsical floating balloons bobbing atop the water, and glittery banners strung along the fence line. Create a relaxing yet playful atmosphere with beachy accents, such as starfish and seashell embellishments or tropical punch bowls overflowing with fruity cocktails.
Don't forget to add comfortable seating areas and cozy blankets for those chilly post-swim evenings. The possibilities are endless when it comes to bachelorette pool party decorations, so let your imagination take the plunge and make it a celebration to remember.
Bachelorette Pool Floats
Bachelorette Party Cooler and Ring Float
Heart Pool Floats
Teen Pool Party
Teens love to splash around in the water, so why not throw them a fun pool party? Set up some lounge chairs and umbrellas for lounging between jumps into the pool, as well as fun outdoor games like cornhole or volleyball. Offer some healthy snacks such as fruit kabobs and veggie sticks.
Neon Pool Party
Neon is a huge trend right now, and it makes the perfect pool party theme. Decorate your backyard with luminous decorations like neon streamers, glow-in-the-dark balloons, and LED lights. You can also get creative with your own clothing! Have everyone wear their brightest swimsuits for a fun twist on beach attire. This is a great theme for a Night pool party.
Tropical Paradise
Transform your pool area into a tropical oasis. Decorate with vibrant colors, inflatable palm trees, and tropical flowers. Serve fruity cocktails in coconut cups and offer a variety of tropical-themed snacks like pineapple skewers, coconut shrimp, and mango salsa.
Under the Sea
Dive into an underwater adventure with an under the sea theme. Use blue and green decorations, hang paper jellyfish from the ceiling, and scatter seashells around the pool area. Provide inflatable sea creature floats for guests to relax on, and serve seafood dishes like fish tacos and shrimp cocktail.
Hawaiian Luau
Embrace the spirit of Hawaii with a luau theme. Set up tiki torches around the pool area, hang colorful leis on the entrance, and play Hawaiian music in the background. Encourage guests to wear grass skirts and Hawaiian shirts. Serve traditional luau dishes like kalua pork, poi, and haupia for dessert.
Hula Skirt Costume Kit for Hawaii Luau Party
Hawaiian Leis, Luau Party decorations
Adult Pool Party
Summer days are made for pool parties and what better way to celebrate than by throwing a chic and sophisticated adult-themed event? It's all in the details when it comes to creating an atmosphere that is both welcoming and stylish. Imagine setting the scene with designer lounge chairs and elegant umbrellas, providing luxurious blankets to keep your guests cozy as they soak in the evening ambiance.
Of course, no pool party would be complete without delicious cuisine and cool cocktails. Impress your guests with signature drinks and gorgeous garnishes, scrumptious cheese platters, and decadent desserts. Whether you are catching up with old friends or welcoming new acquaintances, an adult pool party provides the perfect occasion to escape from reality and enjoy the summer sun. So grab your swimsuit, put on your favorite tunes, and let's get this party started!
Beverage Options
No pool party is complete without the right drinks and refreshments. From sweet mocktails to boozy cocktails, there's something for everyone to enjoy. Serve up frozen margaritas and piña coladas for the adults, while providing iced tea and lemonade for the kids. With the right beverages, your guests will be sure to have an unforgettable time. So make a splash and get ready for the ultimate pool party experience!
Pool parties are a fantastic way to beat the summer heat and have a blast with family and friends. Whether you opt for a tropical paradise, an under the sea adventure, a glamorous Hollywood-inspired affair, or a spirited sports-themed splash, the possibilities for pool party themes are endless. By incorporating creative decorations, themed food and drinks, and fun activities, you can create an unforgettable experience for your guests.
So grab your swimsuit, put on some sunscreen, and dive into the world of pool parties. With the right theme and a splash of imagination, you're sure to make a splash and create lasting memories that will have everyone eagerly anticipating your next pool party. So, go ahead, make a splash and enjoy the sun-soaked fun of pool parties!