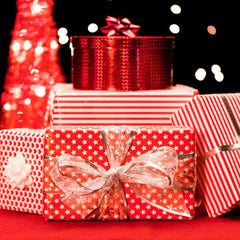 Are you looking for a party theme that is red-hot and full of energy? Look no further than a red party theme! With countless ways to incorporate the color red into your party decorations, food, and drinks, your guests are sure to have an unforgettable time. In this blog post, we'll explore some of the most exciting and creative ideas for throwing a red-themed party. So let's dive in!
Red Party Decorations
When it comes to party decorations, red is that one color that never goes out of style. It might be the boldness of red that makes it perfect to create an atmosphere of celebration and excitement. Here are some fun red party decoration ideas that will get your guests excited to party. 
(THIS POST CONTAINS SOME AFFILIATE LINKS FOR YOUR CONVENIENCE: READ MY FULL DISCLOSURE POLICY)
Red Balloon Garland - Balloons are an absolute must-have party décor. You can use a mix of red, white, and metallic balloons to create a beautiful red balloon garland. You can also add some tassels or flowers to the garland to give it an added pop of color. As per the size of your venue, you can adjust the length of the garland. 
Red Balloon Garland Arch Kit
Red Party Latex Balloons Garland
Red Carpet Entrance - Elevate your guests' party experience by giving them a grand entrance with a red carpet. Place some velvet ropes on either side for a VIP feel. You can also put up a photo booth nearby so that they can take plenty of pictures on their way into the party. 
Red Table Setup - Since party food is a crucial part, it's essential to make the table look good. Keep the tablecloth red with black cutlery to give it a dramatic look. You can also use red flowers, red glasses, and red candles to make the setup complete. 
Red Wall Decoration - Cover one of the walls with red velvet or satin, and you'll have the perfect photo-op area for your guests. Additionally, you can put up some statement posters, paper fans, or boho garlands to add texture and dimension to the background. 
Red Lights - If you're holding an evening party, nothing can be more romantic than red lights. Install red LED lights or lamps around the room to give it a romantic feel. You can also use string lights to wrap around a pole or hang from the ceiling for added decoration.
Red Gold Birthday Decorations
Red Plastic Party Tableware
Red Black and Gold Balloons Garland Kit
Red Party Themes
A red party theme is perfect for any occasion, from birthdays to graduation parties, bachelorette parties, and more. But, the key to throwing a red party that will be the talk of the town is having a specific theme that will make it fun and memorable. Here are some ideas for different themes for a red party to help make your planning process easy and fun.
Red carpet theme
Organize a red carpet theme for your party, where your guests will dress like glamorous Hollywood celebrities. Decorate your party venue with glitzy and sparkly accessories like gold and silver balloons, glittery streamers, disco balls, and a red carpet at the entrance. Serve drinks and cocktails like champagne to make your guests feel like they are attending an award ceremony.
Red Carpet Runway Rug
Red Glitter Carpet Runner Runway Rug
Plastic Red Carpet Runner
Fire and Ice theme
The fire and ice theme is perfect for outdoor summer parties. Use bowls of ice to make an ice sculpture, and have a bonfire in the center of the party venue to create a fire theme. To create a chilly effect at the party, use blue and white lights to illuminate the party venue. For the fire theme, use orange, red and yellow lights for lighting to give the atmosphere an intense feel. 
Red Masquerade Ball
Hosting a red masquerade party theme is ideal for people who love mysterious themes. The guests are required to wear red attire with a masquerade mask that matches the theme colours of the party. Decorate the party venue with red roses, candles, and have a red carpet entrance, creating the atmosphere of magic and mystery. Hire a DJ who can play ballroom party music and a dance instructor to make everyone more comfortable.
Valentines Masquerade Mask
Red Masquerade Masks
Masquerade Mask for Women
Fiesta theme
Add some spice to the party by having a Fiesta theme where indulging in Mexican food is a must. Decorate the party venue with traditional Fiesta colors such as red, green, and yellow. Have your guests dress in brightly colored clothes, and have a taco bar with various toppings and a piñata filled with delicious treats. 
Vampire theme
The vampire party theme is perfect for a Halloween party or if you want to add a spooky feel to your party. Take time to ensure that the decor is perfect by hanging cobwebs, creating Bloody Mary drinks, and using black and red cotton materials. Dim the lights, or use red candles to set the vampire atmosphere. For entertainment, consider hiring an interactive vampire to mingle with your guests.
Red Food and Drinks
Parties with a red color scheme are always a hit. Whether it's for Valentine's Day, Christmas, or even a fiery hot summer soirée, the color red evokes an instant sense of festivity. And what's a party without the right food and drink? Here are some of our favorite red party food and drink ideas that are sure to please your guests. 
Red Velvet Cupcakes: No red party would be complete without a classic red velvet dessert. These delectable cakes have a rich red hue and are topped with cream cheese frosting. The contrast of colors is visually stunning, and the taste is irresistible. You can also get creative with the presentation by adding some red heart sprinkles on top for Valentine's Day! 
Spicy Red Sangria: Spice up your party with a delicious red sangria that packs a punch. You can make it with red wine, brandy, and fruit, but add in some spicy jalapeño slices and you have a unique twist. It's perfect for a summer BBQ or a holiday gathering. Just make sure your guests know it's got a kick to it! 
Red Pepper Hummus: This party dip is already a favorite, but with the addition of roasted red peppers, it becomes the perfect compliment to your red party theme. It's easy to make and goes great with pita bread, veggies, or as a spread on sandwiches. Plus, the red color pops on any snack table. 
Strawberry Margarita: Nothing screams summertime like a refreshing margarita. And with the addition of fresh strawberries, your red party theme is easily achieved. Combine tequila, triple sec, lime juice, and chopped strawberries for a cocktail that will be a hit at any party. Don't forget the salt rim and a cute red strawberry garnish! 
Tomato and Mozzarella Skewers: This is a simple and classic appetizer that is perfect for any party. Skewer cherry tomatoes and bite-sized pieces of mozzarella on a stick and drizzle balsamic glaze on top. The red color of the tomatoes and the creamy white of the cheese make for a beautiful presentation. Plus, it's a healthy snack option for your guests! 
Chocolate dipped strawberries: Make this classic dessert a red-theme appropriate by dipping strawberries in white chocolate. Sprinkle with crushed pistachios or edible gold stars for added glamour. Not only are they an easy to serve item, but it will have your guests coming back for more! 
Red Fruit Punch: This is the perfect thirst-quencher at any red party. Combine frozen strawberries, raspberries, cranberry juice, and pineapple juice to make a colorful punch that everyone will love. 
Stand Out in the Crowd with these Red Party Costume Ideas 
Red is a color that is associated with passion, power, and love. No wonder it's a popular choice for parties! Whether it's a Fourth of July celebration, a Valentine's Day bash, or a Halloween party, a red costume can make you stand out and leave a lasting impression on everyone around you. 
Red Dress: If you are going to a formal party, consider a red dress. The best part about this is that you don't have to break the bank to look stunning. You can find a variety of red dresses that are affordable or you can splurge on a designer dress. A red fitted dress or a red gown with a can make heads turn and leave a lasting impression. 
Disney's Little Mermaid: Disney's Little Mermaid is the perfect costume for those who want to show off their nostalgia. Ariel's red hair and green mermaid tail can make you look like a real-life mermaid. You can either purchase an Ariel costume or make one yourself. Pair your costume with some glittery accessories, and you're ready to take on the party. 
Superhero: For a quick and easy costume idea, think about dressing up as a superhero. You just need to add a red mask and red cape and you have the perfect last minute costume idea.
Red Riding Hood: Red Riding Hood is a classic character that everyone will recognize. You can put together your costume easily with some red dress, a hooded cape, and red boots. This costume is an excellent choice for those who want to look cute yet not revealing. 
Strawberry Costume: If you're looking for a funny and cute costume, a strawberry costume is for you. You can buy a strawberry onesie or make one yourself with red fabric and green stem on top of a headband. This costume will have you feeling sweet and playful. 
Vampire or Devil: Whether you're going to a Halloween party or not, a vampire and devil costume is always a great choice. The key to a good vampire costume is the makeup. Perfect your look with pale skin, red lips, and fake fangs. Add a red cape and you're good to go. For an easy devil costume, pop on some red glittery horns and red clothing. 
Santa: For a Christmas Party why not dress up as the big guy himself! Throw on a fake white beard and stuff a pillow up your shirt and you are good to go!
Glamour: Take your red party to the next level by encouraging your guests to dress in red. From red dresses and suits to red accessories, the possibilities are endless. You could even award a prize for the best dressed guest. If you want to be more specific with the dress code, consider a theme like "red carpet glamour" or "red hot salsa night."
 Entertainment
To make your party really stand out, provide some fun entertainment and games.Here are some great ways to entertain guests and keep them engaged at your red-themed bash. 
Red-themed Scavenger Hunt: This is a perfect activity for guests of all ages. Create a list of red items that can be found around the party area or ask guests to bring red items with them. The first person or team to find all the items on the list wins a prize. This game is not only fun but also encourages guests to interact with each other and explore the party area. 
Red Trivia Game: Test your guests' knowledge with this fun red trivia game. Create questions about the color red and its use in pop culture, history, art, and literature. Have teams compete against each other to answer the most questions correctly. The team that knows the most wins a prize. 
Red Wine Tasting: Why not incorporate your favorite red wines into your party? Ask guests to bring a bottle of their favorite red wine, and arrange a blind tasting. Have guests rate the wines on a scorecard and have a prize for the winner. Not only is this game fun, but it also helps your guests discover new wines they may not have tried before. 
Red Themed Charades: Charades is a classic game can be modified to fit your red-themed party. Write down different red-themed things on small slips of paper, and put them in a hat. Players will then take turns drawing a slip of paper and acting out the word or phrase without talking. The team that guesses the most correctly wins! 
Red Cocktail Contest - Who doesn't love a good cocktail at a party? Challenge your guests to create their best red-colored cocktail. Provide a variety of red-colored ingredients, including juices, liqueurs, and sodas, and let the mixologists have at it. Have a panel of judges to score the drinks on creativity, taste, and presentation. 
Red Photo Booth - Guests love taking pictures, so why not create a red-theme photo booth? Set up a backdrop of red streamers, balloons, and other decorations in different shades of red. Provide props such as hats, glasses, and mustaches. Your guests will love striking different poses and posting them on social media. 
Beer Pong: Play a red version of beer pong using red cups and ping pong balls. Have teams split up and compete against each other in this classic drinking game. The team that gets all the balls into their opponents' cups wins! This game is sure to bring out a few laughs and keep your guests entertained for hours. 
Red Party Favors
If you are looking for some red-themed party favors to give away, then read on for some inspiring ideas, tips, and tricks for your party favors 
Personalized Red T-Shirts: Customized t-shirts are always a crowd favorite because they are simple yet functional. Plus, you can never go wrong with them as they come in different sizes, shapes, and designs. Choose a good-quality red shirt and add your party logo, slogan, or name on the front or back using iron-on transfer, screen printing, or embroidery. You can also add some funny or inspirational quotes that resonate with your theme and guests' personalities. The key is to be creative and playful. You will see your guests wearing them long after the party ends, creating a ripple effect of good memories and positive vibes. 
Red Candy Bags: Who doesn't love sweets? Candy bags are a classic and easy-to-make party favor that is also budget-friendly. All you need is some red paper or plastic bags, ribbons, and an assortment of red-colored candies such as M&Ms, Skittles, Twizzlers, or gummy bears. You can mix and match them according to your taste or theme. For a healthier option, you can also include some red fruit snacks like apples, strawberries, or cherries. Don't forget to label them with a cute thank-you note or a punny message that will make your guests smile. 
Red Wine Glasses - If you are hosting an adult-only party, then you can up your game by giving away some elegant red wine glasses. Choose a design that matches your theme or the personality of your guests. You can also add some personalization by etching their names, initials, or meaningful symbols on the glasses using a glass etching cream or a vinyl cutter. 
Red Mini Lanterns - Are you having an outdoor or nighttime party? Then why not light up your guests' night by giving them some red mini lanterns? They are small, portable, and useful, especially if you have a garden, patio, or pool area. You can also hang them on trees, walls, or fences to create a cozy and romantic ambiance. Choose high-quality lanterns that are weather-resistant and come with batteries included. You can also add some homemade candles or LED lights to make them more colorful and festive. Your guests will thank you for making their evening memorable and delightful. 
Red Party Bag: As your guests leave your red-themed party, send them home with a small gift to remember the fun they had. Consider giving out red party favors like red lip balm, red candles, red sunglasses, and other colorful items. Arrange them in a small bag or box with a thank-you note for your guests. 
Throwing a red-themed party is a fun and exciting way to celebrate any occasion. From the decorations to the food, drinks, dress code, entertainment, and parting gifts, there are so many ways to incorporate the color red into your celebration. So what are you waiting for? Start planning your red party today and let the good times roll!