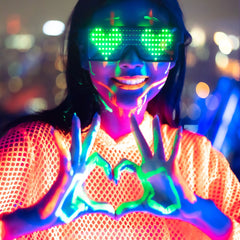 If you want to take your party to the next level and make it unforgettable, consider throwing a glow in the dark party. This theme is becoming increasingly popular and is perfect for all ages.
You can use this theme for any occasion from birthdays to a New Year's Eve party. Here are some glow in the dark party ideas that are sure to leave a lasting impression on your guests. 
(THIS POST CONTAINS SOME AFFILIATE LINKS FOR YOUR CONVENIENCE: READ MY FULL DISCLOSURE POLICY)
Glow in the Dark Decorations
What better way to add some excitement to your gathering than with glow in the dark decorations? These decorations are sure to add a unique and fun touch to your event. And the best part? They're super easy and affordable to make! In this guide, we'll show you how to create your own glow in the dark decorations that will leave your guests amazed and create an Instagram-worthy look.
Glow in the Dark Balloons
One of the simplest and most effective ways to create a glowing atmosphere is with glow in the dark balloons. These balloons can be purchased at any party store or online, and all you have to do is add some glow sticks inside before inflating them.
You can also draw on them with neon markers to add some extra flare. These balloons can be hung from the ceiling, used as centerpieces, or even played with like glow in the dark beach balls.
Neon Balloons, Neon Glow Party Balloons
Glow in The Dark Balloons
Neon Glow Mini Polka Dots Balloons
Neon Glowing Cups and Straws
Another easy and fun decoration idea is to use neon glowing cups and straws. These can also be purchased at party stores or online. You can also use black lights to enhance the effect. Pair them with some glowing straws and you've got a fully illuminated drink station!
Glowing Centerpieces
For a more DIY approach, consider making your own glowing centerpieces. All you need are some mason jars, glow sticks, and other decorative items such as fake flowers or confetti. Crack the glow sticks and place them inside the mason jars, then fill with water. Add in your decorative pieces and voila! A unique and glowing centerpiece.
Glow Party Birthday Centerpieces
Glow Neon Party Centerpieces
Glow in the Dark Painted Rocks
Get creative with some glow in the dark painted rocks! These can be used as place cards, party favors, or scattered around the party space for some extra ambiance. Simply paint on any design or message you like using glow in the dark paint, let dry, and watch them glow once the lights go out.
Neon Glow Dance Floor
If you really want to go all out, create a neon glow dance floor. Purchase some neon duct tape and create a unique design on a clean dance floor. Add in some black lights and let the partygoers dance the night away in a fully lit rave-like atmosphere.
Neon Dance Floor Light Up Dance Floor
Glow In The Dark Party Supplies, Luminous Tape
Neon Dance Floor Light Up Dance Floor
What to wear to a Glow in the Dark Party
Have you been invited to a glow in the dark party but you have no idea what to wear? Fear not, because we are here to guide you through the process of finding the perfect outfit that will make you light up the room and shine bright like a diamond. Whether you're going for a nostalgic 90s theme, a futuristic sci-fi vibe, or a fun, colorful party, we've got you covered.
Neon is Your Best Friend
If you want to stand out at a glow in the dark party, neon is your best friend. Fluorescent colors such as pink, green, and yellow will glow brightly under black light, making you the center of attention. You can go all out with a neon jumpsuit, a bright tutu, or a flashy jacket. Don't be afraid to mix and match different neon items for a bold and colorful look.
White Clothes
White clothes may not be the first thing that comes to mind when you think of a glow in the dark party, but trust me, they can look amazing. You can find white dresses, t-shirts, and even sneakers that will make you shine like a star. Pair with some neon accessories for a killer outfit.
Women's T-Shirt
Neon Party Accessories
Womens White Sneakers
Metallics and Holographics
If you want a more futuristic look, metallics and holographics are the way to go. Silver, gold, and iridescent fabrics will reflect the black light and give you an otherworldly glow. You can wear a metallic bodysuit, a shiny skirt, or holographic leggings. Add some neon makeup and a futuristic hairstyle for a complete look that will make you feel like a space queen.
Nostalgic 90s Vibes
If you want to channel your inner Spice Girl or Backstreet Boy, a 90s-themed outfit is perfect for a glow in the dark party. Think crop tops, high-waisted jeans, and platform sneakers. Accessorize with colorful bandanas, scrunchies, and friendship bracelets. To complete the look, add some neon body paint and temporary tattoos.
Fluorescence Neon Heart Temporary Tattoos
Glow Blacklight Face and Body Paint
Sheets Glow In Dark Neon Temporary Tattoo
Fun Accessories
Don't forget to accessorize! Glow in the dark jewelry, sunglasses, hats, and even shoelaces are all great ways to add some extra glow to your outfit. You can also paint your nails with glow-in-the-dark polish, or add some neon stickers to your phone case. Pop on some glow sticks as bracelets and let your imagination run wild and have fun with it.
Glow in the Dark Food and Drinks
The Glow in the Dark party trend has been growing in popularity, especially when it comes to kids' parties or Halloween events. And with some simple tricks, you can easily transform your food and drinks into glowing masterpieces.
Glow in the Dark Drinks
First up, let's talk about drinks. You may have seen glowing cocktails or mocktails in some trendy bars, but did you know you can make them at home too?
One way to achieve this effect is by adding quinine, a natural fluorescent substance found in tonic water, to your drink. Simply add tonic water to your favorite drink recipe and then expose it to a black light. The quinine will glow blue, creating a magical ambiance. You can also add a little bit of food coloring to make the drink more intriguing. 
Glow in the Dark Food
Next, let's move on to the food. One popular way to make your food glow is by using a special ingredient called vitamin B2, also known as riboflavin. This ingredient is found in many foods, such as milk, eggs, and leafy green vegetables.
By adding a small amount of vitamin B2 to your dish and then exposing it to a black light, it will have a glowing effect. You can use this technique to make anything from glow-in-the-dark cupcakes to sandwiches. For example, you can make a grilled cheese sandwich using bread that has been infused with vitamin B2 and cheese that melts into fluorescent goo. 
Another way to create glowing food is by using edible glow-in-the-dark dust. These powders come in different colors and can be used to make food like cookies, cake, or frosting glow. Simply add the powder to your mixture and then expose it to a black light for a fun surprise. You can also use these powders to enhance your drinks by dusting them on the rim of the glass or adding a pinch to your drink recipes before mixing. 
If you're feeling nostalgic, you can also try making your own glow-in-the-dark Jello. All you need is some Jello, tonic water, and a little bit of patience. Make the Jello as you normally would but replace half of the water with tonic water. The quinine in the tonic water will make the Jello glow. However, it's important to note that the effect won't be as bright as with vitamin B2 or edible glow-in-the-dark dust, but it still adds a fun touch to your party.
Neon Green Glow In The Dark Petal Dust
Glow in The Dark Neon Cupcake Toppers
Glow in the Dark Party Games
Let's face it - partying in the dark is always fun and exciting. Add glow-in-the-dark elements and you're sure to make it the most unforgettable experience! If you're planning to throw a party anytime soon, our glow-in-the-dark party games are sure to be a hit.
Glow-in-the-Dark Ring Toss
The first game we recommend is the classic ring toss game, but with a twist. You can make a DIY ring toss game by using glow-in-the-dark duct tape and cut garbage bags as the rings. You can use different colored glow tapes to have different levels of difficulty. You can also add LED lights to make the stakes more visible. This game is perfect for outdoor parties.
Glow-in-the-Dark Scavenger Hunt
Next up is the classic scavenger hunt game but with a magical twist! Scatter glow-in-the-dark items around a darkened room or yard, depending on where your party is being held. Give your guests clues where the items are hidden and let them find them. As the night goes on, the items will become harder to find. The guest who finds the most things wins!
Glow-in-the-Dark Limbo
Take the classic limbo game up a notch with this fun version. Use a neon glow-in-the-dark rope, blast some upbeat music, and watch your guests get low. You can also add a blacklight to make the scene even more fun and bright! This game is perfect for indoor parties.
Glow Pong
Take the classic game of beer pong and let it glow! Use neon cups with glow sticks inside or covered in glow-in-the-dark paint. You can then add blacklight to the room to make the cups and balls more visible. This fun and competitive game is perfect for nighttime outdoor parties.
Glow-in-the-Dark Twister
If you're looking for a game that requires more physical activity, try Glow-in-the-Dark Twister! All you need is a Twister game board, and the addition of glow-in-the-dark paint, and some blacklight in the room. Your guests will laugh and twist their way to victory. This game can be played indoor or outdoor.
Light up Bowling Ball Toys Set
Glow in the Dark Beer Pong Table
Glow Party for DIY Dance Floor Twister Game
Glow in the Dark Accessories
You can hand out glow sticks, bracelets and necklaces for your guests. Also set up a face and body painting station so everyone can sparkle and shine with intricate patterns and designs.
There you have it, our top glow in the dark party ideas. From decorations to games, your party is sure to be a hit. Embrace the colors, encourage your guests to come dressed in neon, and create a bright and festive atmosphere with glowing balloons and decorations. With these ideas, you're sure to host an unforgettable glow in the dark party.