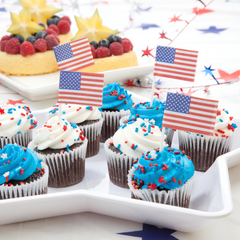 With patriotic holidays such as Memorial Day, 4th of July and Labor Day coming up, many people are looking for red, white and blue themed recipes to serve. These desserts can range from the very simple (like a flag made out of strawberries and blueberries) to more complex creations. 
We have put together the best Patriotic Dessert recipes for you. No matter what level of baker you are, there is bound to be a recipe here that you can make!
PATRIOTIC POKE CAKES
A patriotic poke cake is a delicious dessert that is perfect for celebrating America's Independence Day. These cakes are made by poking holes throughout the cake and then filling the holes with delicious fillings and sauces.
Here are some amazing Poke Cakes to try this year.
PATRIOTIC TRIFLES
With the Fourth of July just around the corner, it's time to start thinking about patriotic party recipes! A festive red, white and blue trifle is always a hit. Here are some delicious recipes to get you started.
Patriotic Fruit Ideas
Patriotic fruit recipes are the best! Not only do they taste great, but they also look patriotic and festive. They're perfect for any Fourth of July get-together or other patriotic celebration. Here are a few of my favorite patriotic fruit recipes 
Red, White and Blue Cupcakes
The colors of the American flag are red, white, and blue, so what better way to celebrate America than with red, white, and blue cupcakes? These cupcakes are festive and patriotic, perfect for your Fourth of July party or any other patriotic celebration
Patriotic Cheesecakes
Cheesecake desserts are the perfect patriotic party treat because they are festive, delicious, and easy to make. They are also perfect for a summer party because they are light and refreshing. Here are a few of our favorites
Patriotic Popsicles
Red, white, and blue popsicles will look great at your 4th of July party! They are festive, colorful, and everyone can enjoy them! They're also a great way to cool down on a hot day.
Other Red, White and Blue Patriotic Desserts
With Memorial Day and the Fourth of July coming up, it's time to start thinking about patriotic desserts. These recipes are sure to be a hit at your next gathering. So get out your mixing bowls and aprons and get ready to celebrate America's birthday in style! What is your favorite red, white and blue dessert recipe?