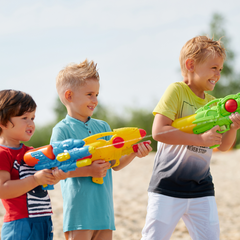 Looking for a way to beat the heat this summer? Check out our list of the best water gun games! These games are perfect for cooling down and having some fun. Water guns provide hours of entertainment, and there are plenty of different games that you can play, ideal for kids, teens and tweens. So grab your friends and get ready for some wet and wild fun!  Here are some of our favorite water gun games:
Water Gun target practice
This is a great game for improving your aim. Set up some targets (old bottles or cans work great) and see who can hit the most. Or hang up some beach balls and try to hit them. If the beach ball moves you will know you have hit it. You can even make it more challenging by adding moving targets.
(THIS POST CONTAINS SOME AFFILIATE LINKS FOR YOUR CONVENIENCE: READ MY FULL DISCLOSURE POLICY)
Water Guns for Water Prty
Water Guns for Pool Party Fun
Hide and Seek
This classic game is even more fun with water guns! One person is "it" and counts to 20 while the others hide. Once the person is finished counting, they must find all of the hidden players and "shoot" them with their water gun. The last person standing is the winner!
Capture the Flag
This game is a great way to get moving and have some fun. Split into two teams and set up a base for each team. The objective is to capture the other team's flag and bring it back to your own base. If you get hit with a water gun you must freeze. To be unfrozen, one of your team members must crawl through your legs. Be sure to soak the other team with water guns while you're at it!
Glow in The Dark Capture The Flag Game
Capture The Flag Game Illuminated Outdoor Game
Ping pong ball race
Using just the water gun to shoot water at the ping pong ball, players must get their ball through an obstacle course. 
Find the treasure
Before the party, freeze some small plastic toys or coins in ice cubes. Then, set a timer and have players race to see who can melt their ice cube the fastest with their water gun. The first player to retrieve their treasure wins!
Boat Race
Fill a paddling pool with water and give each team a boat. The teams must shoot their boats with their water guns and try to propel them across the finish line. First boat across the line wins.
Inflatable Kiddie Pool Blow Up Paddling Pool
Pool Toy - Toy Boats
Super Water Blaster Soakers
Pyramids
Set up some plastic cups in the shape of a pyramid and have players take turns trying to shoot them down. The first player to clear all the cups wins!
Float the ball
Divide your group into two teams. Place a container in front of each team with a ping pong ball inside. The idea is to use your water gun to fill your container and float your ping pong ball to the surface. Players must run to the end and fill their water gun then race back and squirt the water into the container. The first team to float their ball to the surface will win.
Water Golf
Place a ping pong ball onto a golf tee. Players line up and try to shoot the ping pong ball the longest distance with their water guns
Shoot the Bubble
This fun water gun game is perfect for younger kids. All you need is a water gun and some bubble solution. Blow some bubbles and have players take turns trying to shoot the bubbles. The player with the most successful shots wins!
Bubble Solution Refill for Kids
Water Squirt Guns for Kids
Bubble Gun with Flash Lights
Classic water gun fight
No water gun games list would be complete without mentioning a water gun fight! This is a classic summertime activity that never gets old. Gather up your friends and family and see who can soak the most people.
Whether you are a kid or just young at heart, water gun games are the perfect way to cool off and have some summer fun. Above is a list we have put together of our favorites for your next outdoor get-together. So grab your friends, fill up those squirt guns, and get ready for some wet and wild excitement.
More Fun Party Games:
Looking for some fun Mermaid party games for kids? Look no further! These games are perfect for any under the sea themed party and will keep the little ones entertained for hours on end. So dive into this list of mermaid party games and get ready to have a blast!
No matter what your summer plans are, make sure to add some of these fun and exciting activities to your Summer Bucket List. From swimming and camping to road trips and visiting new cities, there's something for everyone. So get out there and enjoy all that summer has to offer!