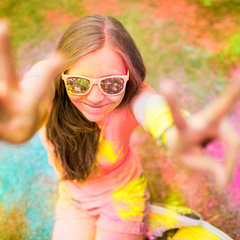 If you haven't participated in a color run or color party, then you're missing out on a lot of fun. These color parties have become very popular in recent years, and for good reason - they are a blast!
Participants are doused from head to toe in different colors as they play party games or try to navigate through an obstacle course. The vibrant hues create an amazing visual spectacle and provide for great photo opportunities. Not only is it fun to be covered in all those colors, but it's also a great way to get active and have some laughs and celebrate with friends. 
Here are some tips on how to throw a color powder party that will make memories that last a lifetime!
What is a color powder party?
Color parties are a fun way to celebrate special occasions with your friends and family. At a color party, everyone wears white clothes and throws color powder at each other. It is a messy but enjoyable event that is perfect for all ages
The original name of this celebration is the Holi festival, also known as the festival of colors. It is a Hindu springtime festival that has been celebrated for centuries.  
Nowadays, color parties are becoming increasingly popular as a fun and unique way to celebrate special occasions.
What is color powder?
Before we get into the games part, you might be asking what the color powder actually is. Color powder is a type of colored powder usually made from cornstarch and food coloring, and it is safe to use on both adults and children. When the powder is thrown, it will leave a temporary color on whatever it hits. This makes the game more visually appealing and exciting to play.  
Color Powder - for Fun Runs, Color Wars, Birthday Parties, Summer Camps
Colored Powder For, Color Run Color Powder War Games
Color powder packets for Color wars, fundraising, fun runs, Summer camps
What should you wear?
Since the powder can be messy, it is important to wear clothes that you don't mind getting dirty.
Old Clothes 
White clothes are usually the best choice as they will show the color more clearly.  You could provide your guests with white tee shirts and remind them to wear old shoes too as it can sometimes be tricky getting the powder off shoes.
Sunglasses / Goggles
To protect your eyes from the powder it is a good idea to wear sunglasses. The younger kids may prefer to use goggles as they will stay on well while running around and provide a bit more protection.
Neon Colors Party Unisex Sunglasse
Swim Goggles great for color powder party
Change of Clothes
Ask your party guests to print a change of clothes for after the party
What location should you use?
Your backyard is a perfect place for a color powder party but if you do not have a big enough yard, the next best place is a park or open field. Just check your local regulations first if using a public park.
How much color powder will you need?
It is recommended to have about one pound of color powder per person. This will ensure that everyone has enough powder to play the game, and that there is no shortage. If you purchase the color powder in bulk it is a good idea to separate into small zip lockbags or squeeze bottles so it does not get wasted on the day.
Best way to throw your colored powder
The color powder can be put into packets, squeeze bottles or dixie cups.
Squeeze Bottles
The squeeze bottles are the most accurate so great for precise shooting and can be refilled. We think they are the best option when it comes to color powder parties. There is less mess and waste with the squeeze bottles. You can set up filling stations with containers of colored powder. Then everyone can just unscrew the top and fill the bottles when needed. To use simply point and squeeze!
Dixie Cups
Set up a color powder station and the dixie cups can be dipped into a large container of powder, filled up and tossed in the air in the general direction of your opponents. 
Use your hands
Pour the powder into your hand and throw it. This is the messiest way to throw your powder and tends to waste the most powder. But it is the quickest and easiest method.  You can also use a powder cannon for maximum impact
Color Party Games
There are many different ways to play color war games and they are all fun. Just make sure to explain the rules before letting everyone loose with the powder. Rules such as no throwing powder in faces is a must. 
Color War
The most common game to play is a standard Color War. Have two teams, each with their own color powder. The objective of the game is to throw the powder at members of the other team, and to avoid being hit by the powder yourself. The team that hits the most people with their color powder in a certain amount of time wins the game.
You will be able to tell a clear winner by checking the color of everyone's clothing after the game. If you have a smaller number of party guests, you can allocate a different color powder to each person or keep it easy and let everyone use a range of colors.
Get everyone excited and build the anticipation of the Color War by having a countdown and playing some energetic music while the 'war' is going on.
Capture the Flag
Another way to play color war games is to have one team try to capture the other team's flag. This can be done by either throwing color powder at the flag, or by physically touching it. The team that captures the other team's flag wins the game.
Obstacle Course
You can also set up an obstacle course like a color run. Each team must complete the course while the other team tries to hit them with their color powder, then they can swap over.
Pop the Balloon
If you are playing this game with two teams, blow up some black balloons and put some of each team's colored powder inside some of the balloons. One at a time each person must go and choose a balloon. Then hold it above their heads and pop the balloon. If the color inside is their team's color their team will win a point. If it is the other team's color their team will loose a point. You could also have one balloon with a different color inside which will be the 'golden balloon'. Whoever finds and pops that one will win 5 points for their team 
Photos
You will want to remember this fun party, so make sure you take plenty of photos. Allocate an adult to be the photographer and snap lots of action shots. You can also set up a photo booth to capture everyone covered in color.
How do you clean up after a Color Powder Party?
Shake your clothes to remove any loose powder. The powder should wash off skin, hair and clothes easily but you may need to wash a couple of times. If your clothes are still stained, soak them in cold water overnight before washing or you may need to try a stain remover. Use a vacuum to clean up any powder from carpets or furniture. 
To clean up any color powder outside simply use a leaf blower or broom and dustpan. The color powder will eventually disappear on its own or you can also use a hose to clean it up quickly.  If you have any color powder left over, it can be stored in a sealed container for future use.    
Color war games are a great way to spend time with your family and friends. They are perfect for all ages and can be enjoyed by everyone. So next time you're looking for something fun try a color powder party!
More Fun Party Games:
Looking for some awesome water gun party games? Look no further - we've got you covered with the best ones around. Whether it's an outdoor pool party or just a hot summer day, these games will keep everyone cool and entertained. So grab your favorite water gun and let's get started!
It's hot outside! Beat the heat with these cool water balloon games. From races to challenges, there's something for everyone in this list. Find your new favorite summer game today.