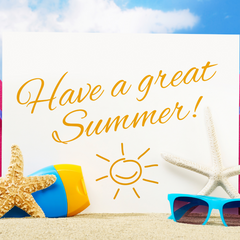 Summertime is a time for fun and relaxation, but it can also be a time for new experiences and learning. If you're looking for ways to make the most of your summer break, why not try out some of these fun and creative bucket list ideas?

To start with you will need to make a list of things you want to do this summer that will help you have fun, learn new things and create lasting memories. Here are some great summer bucket list ideas to get you started:
Why Do You Need a Summer Bucket List?
Because life is too short to not try new things. If you're anything like me, when the summer rolls around, I'm always thinking about all the fun I can have in those months before school starts and everyone heads back to work.
A summer bucket list is a great way to make sure you make the most of your summer break. It's a reminder of all the fun things you want to do and helps you stay organized so you can actually accomplish them. Plus, it's a great way to bond with friends or family members as you plan and check off items together.
This list of summer bucket list ideas for teens is a great place to start if you're looking for some new experiences. Some of these are definitely things I'd like to try and others I'm way too old for, but it's fun to dream!
Go on a road trip

Visit somewhere new or take a cross-country trip with your friends or family. Be sure to document your journey with photos and souvenirs.

Get involved in your community

Volunteer for a local charity or organization, participate in a fundraising event or help out with a community clean-up day.

Spend time outdoors

Explore nature by hiking, camping, fishing, swimming or kayaking. Soak up the sun and enjoy the Summer

Try something new

Trying new things can be both exhilarating and intimidating. So go ahead and sign up for that cooking class, or take a trip to a place you've always wanted to visit. Embrace the unfamiliar, and see what amazing things await you just outside your comfort zone.

Visit a new place

Visiting a new place can be both exciting and daunting. When we visit new places, we open ourselves up to new experiences and learn about different cultures. We also get a chance to see things from a different perspective and gain a greater understanding of the world around us.

Go on an adventure

Take a hike, go camping or kayaking, try rock-climbing or zip-lining. Anything that gets your heart pumping and takes you out of your comfort zone counts as an adventure!
Summer Bucket List Printable
Download and print off this Summer Bucket List, 30 outdoor and indoor fun activities that you can tick off your bucket list this summer.

Find this Summer Bucket List in our shop or get it FREE below
Make new friends

Spend time getting to know people from different backgrounds and walks of life. You never know, you might just make some lifelong friends.

Learn something new

Use your summer break a chance to learn a new skill or take up a new hobby. From gardening and photography to learning a new language, there are endless possibilities!

Get active

Take advantage of the warmer weather and get outside for some exercise. Go for a run, ride your bike or play tennis with friends. Just make sure to stay hydrated and take breaks in the shade when needed!

Spend time with family and friends

Summer is the perfect time to catch up with loved ones. Have a picnic in the park, go on a day trip or just spend some quality time together.

Go stargazing

Find a dark spot away from city lights and spend an evening admiring the stars.

Build a fort

Get creative and build the ultimate indoor or outdoor fort using sheets, blankets, furniture and whatever else you can find.

Make homemade ice cream

Try out different flavors and ingredients to create your own unique ice cream recipe and make ice cream sandwiches or ice cream sundaes.


Have a picnic

Pack up your favorite food and head to the park, beach or woods for a leisurely lunch in nature.

Go on a scavenger hunt

Create a list of items to find and see who can collect the most in a given time period. Purchase printable scavenger hunts to make it easier.

Go to a fair or carnival

Eat some cotton candy, ride the Ferris wheel and enjoy the thrills and spills of the fair.

Go on a bike ride

Explore your neighborhood or go on a longer bike trip to somewhere new.

Plant a garden

Grow your own fruits, vegetables or flowers and enjoy the satisfaction of harvesting your own crops.

Have a movie marathon

Curl up with some popcorn and spend a day or night watching your favorite films.

Learn a new dance

Turn up the music and learn the steps to a popular dance or create your own routine.

Go camping

Pitch a tent, build a campfire and spend a night or two sleeping under the stars.

Go on a road trip

Hit the open road and explore different parts of your province, state or country.

Play tourist in your own city

Visit the local attractions that you usually take for granted and see your town or city in a new light.

Make a splash

Visit a local water park or swimming hole and enjoy the cool refreshing water on a hot summer day or spend a day at the pool, water park or beach and cool off in the water.

Go for a walk or run

Explore the great outdoors and get some fresh air while getting some exercise.

Visit a farmers' market

Buy some fresh fruits and vegetables, and support your local farmers.

Go on a hike

Discover the beauty of nature by taking a hike through the woods or up a mountain.

Pick fruit

Go strawberry or blueberry picking, and enjoy the taste of fresh-picked fruit.

Go to a baseball game

Catch a game at your local ballpark and root for your favorite team.

Have a water gun fight

Fill up some water guns and have a fun-filled battle with your friends or family.
Make some art

Paint a picture, build a sculpture or make a collage using things you find outside.

Go fishing

Relax by a lake or stream and try to catch some fish.

Go birdwatching

See how many different types of birds you can spot in your neighborhood or at a local park.

Have a barbecue

Fire up the grill and enjoy some burgers, hot dogs, or veggie kabobs. Great on 4th of July

Play games

Try your hand at playing some classic outdoor games like frisbee, badminton, or croquet.

Go to a carnival

Eat some cotton candy, ride the rides, and have fun at the carnival.

Go To a musical

Check out a local play or musical performance and enjoy some live entertainment.

Go to the symphony

Listen to a classical music performance and appreciate the work of some talented musicians.

Visit a museum
Learn about different cultures, art, and history by visiting a local museum.

Get a summer job
Make some money and gain some work experience by getting a summer job.

Go to the library
Check out some books, magazines, or movies from your local library.

Take a trip to the zoo
See some exotic animals and learn about different species from around the world.

Get creative
Try your hand at writing, painting, or photography and express yourself.

Learn to cook
Try your hand at making some simple recipes and expand your culinary skills.

Do some DIY projects
Redecorate your room or make some new pieces of jewelry or clothing.

Have a photo shoot
Dress up in your favorite clothes and have a friend take some pictures of you. Or take some group photos with friends

Learn to play an instrument
Practice and learn how to play a new musical instrument.

Join a club or team
Get involved in an extracurricular activity and meet new people.

Learn a new language
Start learning a new language and expand your cultural horizons.
Read a book
Curl up with a good book and escape into another world for a while.

Go to the beach
Soak up the sun and relax on the sand at your favorite beach.

Collect shells
Find some beautiful shells to add to your collection.

Make a sandcastle
Build an epic sandcastle with friends or family.

Fly a kite
Have fun flying a kite on a breezy day.

Watch the sunrise
Wake up early to watch the sun rise and start your day with a beautiful view.

Watch the sunset
End your day by watching the sun set and enjoy the peacefulness of the night.

Go kayaking or canoeing
Spend a day paddling down a river or lake and enjoy the scenery.

Fireworks
Watch fireworks displays on 4th of July

Rollerblade or skateboard
Get some exercise while having fun skating around your neighborhood.

Play tennis, badminton, or volleyball
Play some sports with your friends or family.

Have a water balloon fight
Cool off on a hot day by having a water balloon fight.
Make s'mores
Roast some marshmallows and make s'mores around a campfire.

Visit an animal shelter
Spend some time volunteering at your local animal shelter.

Grow your own vegetables
Plant a garden and watch your vegetables grow.

Bake some pies
Make some delicious pies using fresh fruits and berries.

Visit a waterfall
Take a hike to see a beautiful waterfall.

Bake something delicious
Get your baking skills on and make some tasty treats.

Make homemade pizzas
Make your own pizza from scratch and top it with your favorite toppings.

Have a picnic
Pack a lunch and enjoy a picnic in your backyard or at a park.

Go on a nature hike
Explore the great outdoors and go on a hike to see some beautiful scenery.

Camp out in your backyard
Set up a tent in your backyard and sleep under the stars.

Have a pool party
Invite your friends over for a pool party and have some fun in the sun.
Feed the Ducks
If you have a park nearby that has ducks, head over there to feed them
Learn to juggle
It is so much fun to learn to juggle and you will be so proud when you have mastered it
Paint Rocks
Looking for something creative to do? Painting rocks is a perfect, quick activity
Play Mini Golf
Who doesn't love a game of mini-golf? 
Cool off on a hot day by running through a water sprinkler.
Family Games Night
Settle in with some family games for a night of fun and laughter
Play Cards
Learn a new card game and teach your family and friends
Have a Pajama Day
Spend the entire day in your PJs
Make Lemonade
Make your own refreshing summer lemonade
Summer Bucket List FAQ's
What is a summer bucket list?
A summer bucket list is a list of activities or things that you want to do or accomplish during the summer months.
Why make a summer bucket list?
Making a summer bucket list is a great way to ensure that you make the most of your summer and have some fun experiences. It can also be a good motivator to
What should I put on my summer bucket list?
Some ideas of things that you could put on your summer bucket list include: visiting a new place, trying a new activity, spending time with friends and family, exploring the great outdoors, and learning something new.
How can I make my summer bucket list more fun?
You can make your summer bucket list more fun by adding some personal touches or themes. For example, you could make a beach-themed bucket list or a food-related bucket list.
What are some summer bucket list ideas for teens?
Some summer bucket list ideas for teens include: going to the beach, visiting a new place, trying a new activity, joining a club or team, and learning a new language.
How can I make my summer bucket list more challenging?
If you want to make your summer bucket list more challenging, you can try adding some harder items such as: hiking to a difficult trail, biking up a steep hill, or swimming in a lake.
Can I add items to my bucket list after I've started it?
Yes, you can add items to your bucket list at any time. You may want to add things as you think of them or as you complete items on your list.
How do I know if I've completed my summer bucket list?
You can keep track of your progress by ticks or crosses next to the items on your list.
What should I do if I don't want to do an item on my bucket list?
If you don't want to do an item on your bucket list, you can skip it or replace it with another activity.
Make this summer one you'll never forget by planning some fun activities with friends and family. From learning new things to enjoying the outdoors, there are so many fun things to do this Summer.  I hope this list has given you some ideas of things to add to your own personal list.
DOWNLOAD YOUR FREE SUMMER BUCKET LIST
 More Summer Fun Ideas:
If you're looking for some pool party games that will keep everyone entertained all day long, look no further. These fun games are perfect for all ages and can be enjoyed by anyone who loves a good water-filled fun time. From noodle jousting to handstand competition, there's something here for everyone. So grab your swimsuit and get ready for some serious pool party gaming action!
Beat the heat this summer with these delicious and refreshing homemade popsicles. With just a few simple ingredients, you can make your own custom popsicle flavors that everyone will love. Enjoy!