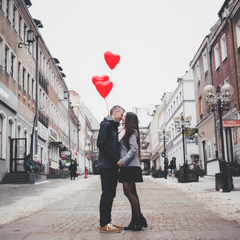 Anniversary Party Game Ideas: Spice Up Your Special Day with Fun and Laughter
Get ready to put the party back in anniversary party! If you're tired of the same old dinner and dancing routine, it's time to shake things up with some exciting games that will have your guests buzzing. Whether you're celebrating one year or fifty years together, these games are sure to add a touch of excitement and fun to your special day.
If you're celebrating with family and friends or having an intimate gathering for two, these anniversary party game ideas are guaranteed to bring out the competitive spirit and create moments of pure joy. So grab your spouse's hand and get ready for an evening filled with laughter, friendly rivalry, and memories that will last a lifetime. Let's dive into these fantastic game ideas that will make your anniversary celebration truly unforgettable!
(THIS POST CONTAINS SOME AFFILIATE LINKS FOR YOUR CONVENIENCE: READ MY FULL DISCLOSURE POLICY)
Besides delicious food and great company, one of the key elements to ensure your anniversary party is a hit is to incorporate entertaining games. Games not only break the ice and create a lively atmosphere but also offer a chance for guests to reminisce, share stories, and strengthen the bonds of your relationship.
Here are some creative and enjoyable anniversary party game ideas that will add a touch of fun and laughter to your celebration.
"Who Knows the Couple Best?" Quiz
Test your guests' knowledge of the happy couple with a fun quiz. Create a list of questions about your relationship, personal quirks, or favorite memories. Guests can answer on paper or using a smartphone app, and the person with the most correct answers wins a prize. This game not only offers a nostalgic trip down memory lane but also gets everyone involved in your love story.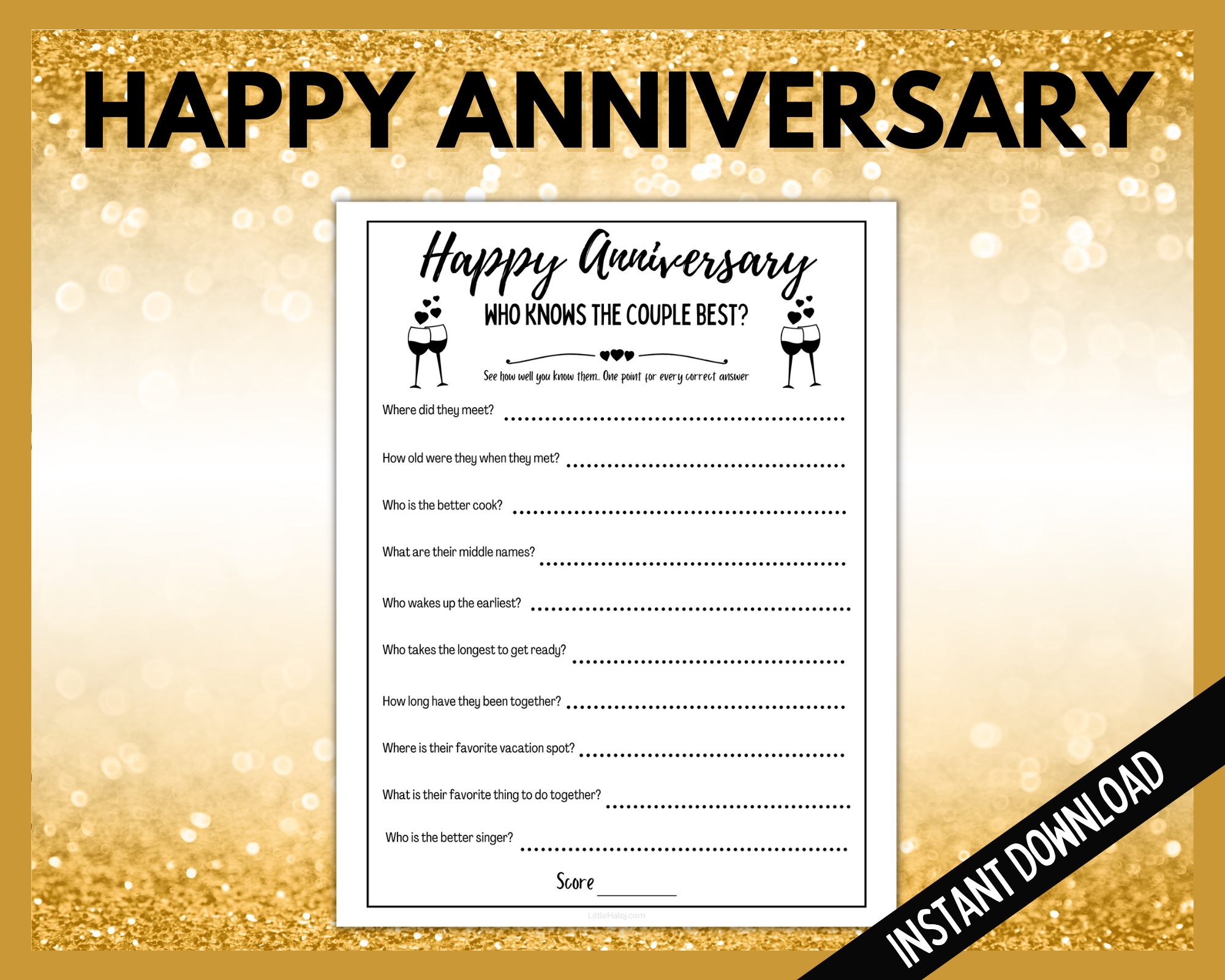 Memory Lane Photo Scavenger Hunt
Prepare a list of photos from throughout your relationship and hide them around the party area. Provide guests with a checklist of the images they need to find. This can be a great icebreaker as people search for photos and share stories related to the images they discover.
Love Story Bingo
Create custom bingo cards with significant events or characteristics of your relationship instead of the traditional numbers. As you share stories and anecdotes from your journey, guests can mark off the corresponding spaces. The first person to complete their bingo card can win a prize. This game is a unique way to keep guests engaged and entertained.
Wedding Vows Renewal Mad Libs
Renewing your vows during your anniversary party? Add a humorous twist by incorporating Mad Libs. Create a vow renewal ceremony script with blanks for guests to fill in with adjectives, nouns, and verbs. Then, read the hilarious, one-of-a-kind vows during the ceremony. It's a light-hearted way to express your love and share a laugh.
Anniversary Trivia
Test your guests' knowledge of not just your relationship, but famous couples throughout history. Create a trivia game with questions related to famous love stories and historical facts about love and marriage. This game can be educational, entertaining, and a great conversation starter.
"Two Truths and a Lie" Relationship Edition
In this version of the classic icebreaker game, you and your partner each share two true stories from your relationship and one fabricated one. Guests have to guess which story is the lie. It's a great way for your friends and family to learn more about your journey together and get to know you on a deeper level.
Conversation Cards for Couples Game
Questions for Couples
Happy Anniversary Couples Game
Dance-Off Competition
Spice up the dance floor with a dance-off competition. Invite guests to show off their dance moves, and have a panel of judges or the entire crowd vote for their favorite performances. It's a fantastic way to get everyone moving and grooving, creating a lively atmosphere.
Couples' Love Song Karaoke
Set up a karaoke machine or use a smartphone app with a wide selection of love songs from different eras. Divide your guests into teams and give each team a chance to perform their favorite love song. The teams can choose to sing the song as a group or select one member to take on the role of lead vocalist. Encourage creativity and provide props like microphones and stage lights for added fun.
A panel of judges can rate each performance based on vocal ability, stage presence, and overall entertainment value. The winning team can receive a prize or be crowned the Love Song Karaoke Champions.
Karaoke Machine
Karaoke Machine
Portable Karaoke Machine
Guess the Year Trivia
Test your guests' knowledge about famous events, movies, songs, and milestones from different years throughout your relationship. Create a trivia game where each team or individual has to guess the correct year for each question. The team with the most correct answers wins a special prize.
Relationship Timeline Display
Create a visual Timeline of your relationship to showcase the highlights and special moments you've shared together. This can be done using photos, mementos, or even handwritten notes.
Start from the beginning of your relationship and include significant events such as your first date, vacations taken together, or milestones like moving in together or getting engaged. Arrange these items chronologically on a large display board or wall, making sure to leave enough space between each event for descriptions or captions.
Not only will this serve as a beautiful decoration at your home, but it will also be a meaningful way to reminisce about your journey together.
No matter how long you've been together, an anniversary is a time to celebrate the love, commitment, and memories you've created. These anniversary party game ideas can add a dose of fun and laughter to your special day, making it a memorable occasion for you and your guests.
By incorporating fun and engaging games into your celebration, you not only create lasting memories but also foster a sense of togetherness among your guests. These anniversary party game ideas are sure to add an extra layer of joy and laughter to your special day, making it an occasion you and your loved ones will cherish for years to come.