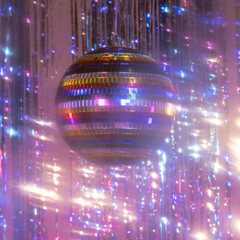 Well hello disco lovers! Put on those boogie shoes and get ready to dance like the disco king or queen you are, as today, we're going to dive into some groovy disco party games that are guaranteed to bring out the funk in everyone. Disco parties are making a comeback, and it's a perfect opportunity to bring people together and reminisce about the good times.
Whether your party attendees were actually there for the disco era, are a younger crowd eager to learn the ways of disco, or a family gathering for a groovy themed party, we've got you covered with these exciting disco party games.
(THIS POST CONTAINS SOME AFFILIATE LINKS FOR YOUR CONVENIENCE: READ MY FULL DISCLOSURE POLICY)
Groovy Disco Party Games for a Funkadelic Time
Disco Dance-Off: 
What better way to relive the glory days of disco than by having an all-out disco dance-off? Have your guests shake their groove thing while a panel of judges (or possibly, everyone attending the party) vote on the best dancers.
You can even have multiple rounds, with individuals, pairs, or groups competing against one another. Cap off the event by awarding the winners with some fab disco-related gifts, like a disco ball or a sequined outfit.
Mirror Disco Ball
Disco Ball Party Kit
Disco Costume Contest: 
This game is all about encouraging your guests to dress for disco party success! Encourage everyone to come dressed in their best disco attire (think platform shoes, bell-bottom pants, and anything that glimmers under a disco ball).
Have a designated area for a photo booth or runway, where guests can showcase their disco outfits, and a panel of judges (or again, everyone) can vote on their favorites. Award the winners with amazing, glitzy prizes that they can take home as a funky souvenir.
Men's 2 Piece 70s Disco Outfits
Women's Disco Doll Costume
Disco Trivia: 
Test your guests' knowledge of disco culture, history, and music with a disco-themed trivia game. From iconic disco tunes and their artists to defining moments in disco history, there are a plethora of subjects to cover. Divide your guests into teams and have a series of questions or quiz rounds prepared.
The winning team can take home a disco-related gift, such as a compilation album or a book on disco history.
Disco Dance Tutorials: 
Disco has no age limit, and some younger guests at your party may not be familiar with those signature disco dance moves. Hiring a local dance instructor or finding instructional videos online can provide a fun and interactive way to teach your guests how to groove like a true disco star.
Plus, this activity can serve as a warmup for the dance floor, ensuring everybody knows how to bust a move to that funky beat.
70's Disco Scavenger Hunt
A 70's disco selfie scavenger hunt is a great way to relive some of the classic disco vibes. It's the perfect activity to look back at a time when good times were plentiful and floor-length sequined gowns were all the rage. You don't need too much prior knowledge to put together a scavenger hunt either, simply make a list of things to find, grab your camera and go!
From album covers with "groovy" images to sparkly platform shoes and nights out on the dance floor, you'll be taking some fun snapshots in no time that will have you smiling from ear-to-ear!
70's Disco - Selfie Scavenger Hunt - 1970s Disco Fever Party Game
Disco Karaoke: 
Everybody loves karaoke, and adding a disco twist to the mix will ensure a funky and entertaining time for your guests. Have a selection of popular disco songs and lyrics available, and let your guests step up to the mic to sing their hearts out.
The crowd can vote on the best performers, with prizes awarded for a range of categories such as "best vocals," "best stage presence," and "most creative performance."
Karaoke Machine with Disco Ball Party Lights
Disco Ball Strobe Lamp
Zoom Karaoke Disco Superhits
Dance Freeze:
This is a surefire way to get your guests moving and having a great time. It's an awesome party game that requires no props or setup - just pop on your best disco music, watch people show off their best moves, and then everyone has to freeze in place when the music stops!
The combinations are endless and it will bring out plenty of laughter when someone ends up unexpectedly caught mid-dance. So put on those disco shoes, turn up the tunes, and don't forget to freeze!
Musical Chairs:
Get ready to dance your way around the room with a classic game of musical chairs set to some funky 70s disco beats! Spin, dash and gyrate around the chairs for an awesome time - the added touch of a dazzling disco ball overhead will have everyone grooving and laughing together.
Make sure you pay attention, as the music may come to a stop anytime. Don't get caught out! With enough speed, technique and luck, you might be one of the last two standing AND leave this game victorious.
Limbo:
Limbo is a classic party game that's enjoyed by people of all ages! Lowering your center of gravity, while seeing how low you can go without touching the limbo stick, is intoxicatingly fun. When coupled with loud music and a bright disco ball overhead, you can dance and limbo your way to pure joy!
Whether part of a friendly competition or just playing in good fun with others, some may find that getting under a disco ball is more than just choreography - it's an art form in itself. So, why not get on down and have a go at the limbo? You'll never know what you're capable of until you give it a try!
With these groovy disco party games, you will transport your guests to the funky and fabulous world of disco in no time. From dancing the night away to testing one's disco knowledge, these activities are perfect for creating that nostalgic retro vibe and ensuring your party has non-stop entertainment.
Whether your guests lived through the disco era or simply enjoy the style and music, these games promise to have everyone feeling the rhythm and basking in the fun, disco-loving atmosphere. So go out there, spark up that disco ball, and remember – ain't no party like a disco party!
More Fun Party Games:
With summer here and kids cooped up at home, it's time to break out the rope and get creative! Rope games are a great way to build coordination, agility, and physical strength - all while keeping kids entertained.
Looking for a fun Easter activity? This printable Easter scavenger hunts are perfect! Kids and Teens will love hunting for eggs and candy around the house and garden this Easter. Happy hunting!