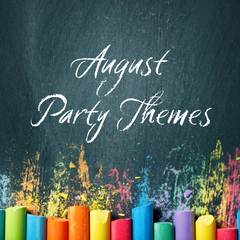 August Extravaganza: Exploring National Days and Celebrations That Make the Month Shine!
August is a month filled with celebrations, giving us even more reasons to host parties and gatherings. Whether we're enjoying the delicious sweetness of a juicy watermelon or indulging in the creamy delight of an ice cream sandwich, there's always something to celebrate in August.
So why not take advantage of these unique holidays and throw a party your guests won't soon forget? From pool parties to BBQs, there are plenty of ways to celebrate the month of August. So gather your friends, fire up the grill, and get ready to make some memories!
National Ice Cream Sandwich Day (August 2nd)
Nothing screams summer quite like a delicious ice cream sandwich. On August 2nd, National Ice Cream Sandwich Day, it's the perfect opportunity to indulge in this sweet treat. But why settle for just any ordinary ice cream sandwich? This year, switch it up by hosting an ice cream party where guests can create their own unique combinations of cookies and ice cream flavors.
The possibilities are endless and everyone will be able to find their perfect match. And don't forget about the toppings! A DIY sundae bar is a must-have to take your ice cream sandwich creations to the next level. So gather your friends and family and get ready to celebrate National Ice Cream Sandwich Day in style.
(THIS POST CONTAINS SOME AFFILIATE LINKS FOR YOUR CONVENIENCE: READ MY FULL DISCLOSURE POLICY)
National Watermelon Day (August 3rd)
Celebrate National Watermelon Day with a refreshing and fun watermelon-themed party this August. Beat the heat with a party full of vibrant watermelon cupcakes, themed balloons, tablecloths, and banners. Bring an extra touch of creativity to your party by carving a watermelon to serve as your centerpiece or incorporating it into a fun party game.
For a little friendly competition, fill a bowl with water and toss in some floating watermelon slices. Guests can then use chopsticks to see who can pick up the most slices within a minute, with the winner taking home a prize. Get ready to quench your thirst and have some fun with a National Watermelon Day celebration!
When it comes to summertime gatherings, nothing quite beats a refreshing watermelon snack or drink. Take your party to the next level with a DIY watermelon bar, where guests can concoct their own slushies or cocktails using this sweet and juicy fruit.
Don't forget to offer plenty of fresh watermelon slices as well, perfect for snacking on during those hot days. With a little ingenuity and some delicious watermelon recipes, your party is sure to be a hit. So why not make a splash with a watermelon bar at your next event?
Watermelon Party Bundle
Watermelon Party Supplies
National S'mores Day (August 10th)
There is nothing quite like sinking your teeth into a warm, melty s'more on a summer evening. Lucky for us, National S'mores Day is just around the corner! Whether you're hosting a backyard gathering or camping with friends, a s'mores bar is the perfect addition to any summer soirée.
Set out an array of chocolate bars, graham crackers, and marshmallows and let your guests get creative with their toppings. Peanut butter cups and caramel sauce make for a delicious twist on the classic s'more.
Portable Bonfire with 112 Piece S'Mores Kit
Tabletop Indoor Electric S'mores Maker
And of course, don't forget the essential skewers for roasting those marshmallows to perfection! Get ready to indulge in some serious sweetness and enjoy the ultimate summer treat.
National Waffle Day (August 24th)
Who says waffles are only for breakfast? Get ready to celebrate National Waffle Day in style with a breakfast-for-dinner party that will have your taste buds dancing. Set up a waffle bar with all sorts of waffle flavors - think decadent Belgian waffles, fruity blueberry waffles, and chocolatey chocolate chip waffles.
And let's not forget about the toppings! With whipped cream, fresh strawberries, and golden maple syrup, the possibilities for waffle combinations are endless. To truly capture the essence of breakfast, consider serving mimosas or a variety of teas and coffees to wash it all down. National Waffle Day will never be the same again!
Mini Maker for Individual Waffles
Mini Heart Waffle Maker
Mini Maker for Individual Waffles
National Dog Day (August 26th)
August 26th is National Dog Day - a day to recognize and celebrate man's best friend. What better way to show appreciation for our furry friends than by throwing them a special pup party? Whether it's at the park or in your own backyard, make sure there are plenty of treats and toys available for your four-legged guests.
A game of fetch, an agility course, or even a doggy pool will keep tails wagging all afternoon. And while the dogs enjoy themselves, their human companions can mingle over refreshments like beer and hot dogs (for the people only!). So get ready to give some extra love to your furry family members this National Dog Day! You can also have a dog adoption event in partnership with a local animal shelter to celebrate the day.
Back-to-School Party
As the end of summer approaches, parents and kids alike may be feeling a bit bittersweet about the upcoming academic year. But why not celebrate this new chapter in a fun and memorable way? Hosting a back-to-school party is a fantastic way to get everyone excited for the upcoming school year.
Back to School Party Supplies
Back to School Party Decorations
Decorating with school-themed items like chalkboards and books, and serving snacks that resemble school supplies like apple-shaped cookies and pencil-shaped pretzels can really get kids in the spirit. And what's a party without some fun activities? Hosting a scavenger hunt or trivia game is a great way to keep the excitement going long after the party is over.
So, parents, gather your school supplies, put on your thinking caps, and throw a back-to-school party for your little ones!
Printable August Trivia
How about a fun round of trivia with all 12 questions relating to the month of August. 
August is not just any other month of the year. It's a time to celebrate, make memorable memories and have fun with your pals. With exciting party opportunities and national day celebrations, this month offers a chance to create an unforgettable event for your loved ones.
You can take advantage of a wide variety of ideas to ensure a memorable and exciting event for everyone. Host a festive watermelon party, an empowering women's gathering, a cozy s'mores night, an Olympic-themed bash, or a back-to-school celebration there's something for every occasion. Get creative and put together an August party your guests will never forget. So, come on, gather your loved ones, and let's get the party started!