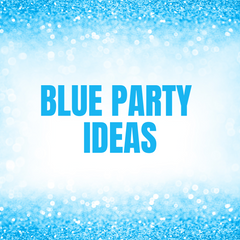 Are you planning a party and looking for a unique theme that will make your guests go "wow"? Look no further! A blue themed party is a perfect choice for your next party.
Blue is one of the most calming and serene colors. It is a popular color and when it is used in a party theme, it creates an environment of peace, joy and relaxation.
A blue themed party is ideal for any kind of celebration like birthdays, engagement parties, baby showers, bachelorette parties, or even family reunions. Here we will explore some of the best blue themed party ideas to make your special occasion a memorable one.
Blue Party Themes
Take your party to the next level with these stunning blue themed ideas.
Beach Party
Bring the beach to your venue by decorating it with beach-themed elements like sea shells, starfish, and plenty of blue balloons and streamers. To make your beach party even better, serve up some tropical drinks and provide lots of beach games for your guests to enjoy.
Under The Sea
Create a magical underwater world at your party by setting up a backdrop featuring an ocean scene with vibrant blue waves, colorful fish and even mermaids swimming around.
Or hang blue curtains or drapes to mimic the deep sea. Add cutouts of fish, corals, and sea creatures to complete the underwater vibe. You can also use streamers, blue paper lanterns and scatter seashells as table decorations. Serve refreshing blue-colored mocktails in tall glasses and set up some fun activities like bubble machines or even a treasure hunt!
Under the Sea Party Decorations
Ocean Blue Under The Sea Tinsel Foil Fringe Curtain Backdrop
Blue Hanging Jelly Fish Paper Lanterns
Starry Night
Host a party that channels the beauty of a clear, star-filled night sky. Hang string lights or use fairy lights to create a twinkling effect. Decorate the tables with blue tablecloths scattered with silver star-shaped confetti.
Serve your food and drinks covered with edible glitter. You can also give out glow sticks or star-shaped accessories as party favors.
Winter Wonderland
Bring the wonder of Winter inside with this fun party idea. Use white, blue and silver decorations, such as hanging snowflakes, icicle ornaments, and silver tinsel. Create a cozy atmosphere by providing fluffy blue blankets and faux fur throws for seating areas.
Serve icy blue drinks and make some fun snow-themed desserts like powdered sugar-coated cookies or white chocolate-covered blueberries.
Blue Balloon Garland Arch Kit
Winter Wonderland Decorations Favor Bag
Blue Party Decorations
Here are some tips to help you host a fantastic and memorable blue-themed party.
Start with the basics
Before you dive into the details, make sure you have the foundational items in place. Choose tablecloths, napkins, plates, and cups that are blue. Mix and match different hues of blue or go monochromatic.
Silver and white accents can add sophistication to your blue theme. If you want to go all out, you can even have blue lighting to set the mood. 
Create eye-catching centerpieces
Centerpieces can be a conversation starter and a highlight of the party decor. For a blue themed party, consider creating a beachy centerpiece with clear glass vases filled with sand, sea shells, and blue-tinted water.
You can also use blue flowers like hydrangeas, bluebonnets, or forget-me-nots as the centerpiece. Another idea is to use blue balloons as the centerpiece, anchored by weights wrapped in blue ribbon. 
Metallic Blue Table Centerpiece
Table Balloon Holder Kit Centerpiece
Hang festive decorations
You can add more personality to your blue themed party by hanging decorations that showcase your creativity. Use blue streamers, ribbons, and balloons to frame doorways and areas that need a pop of color.
You can create a balloon garland with different shades of blue and silver. Or you can make hanging paper fans in various shades of blue or geometric shapes. 
Blue Party Hanging Paper Fans Set
Royal Blue Balloon Garland Arch Kit
Blue Star Garlands Streamer/Bunting/Backdrop
Make custom photo backdrops
A party is not complete without pictures to capture all the fun and memories. Make a statement with custom photo backdrops that are blue themed. You can use blue fabric or curtains as a backdrop and add different props like blue frames, balloons, and metallic tassels.
Another idea is to create a DIY tassel garland with different shades of blue and white tissue paper. 
Give out blue party favors
To thank your guests for coming and spreading cheer, give them blue themed party favors that they can enjoy even after the party. Some ideas include blue macarons, blueberry jam, blue gumballs, blue nail polish, or blue candles. You can also wrap the favors in blue ribbon or packaging to tie it all together. 
Mini Blue Gift Bags
Blue Gel Nail Polish Set
Blue Floating Candles
Blue Themed Food and Drinks
Blue is such a calming color, and with delicious eats and drinks in shades of blue, your guests will be relaxed and happy. Whether it's a blue candy buffet, blue cocktails, or blue hors d'oeuvres, there are so many ways to incorporate your party theme color.
Read on for some fun and easy ideas on how to dazzle your guests and throw a fabulous blue themed party. 
Blue Edible Decor
One of the easiest ways to incorporate the blue theme is with your edible decor. Think blue tortilla chips, blue cheese dip, blueberry salsa, blueberry cheesecake dip, blue velvet cupcakes, or blue candy.
Try blue popcorn or blue cotton candy for a playful finish. And nothing beats a blue cake or cupcakes for an Instagram-worthy centerpiece. You can even get creative with your serving dishes and use blue bowls, plates, and utensils to complete the look. 
Blue Cake
The easiest way to incorporate the color blue into your party food is to serve a delicious cake covered in blue frosting.
Blue Cocktails/Mocktails
What's a party without some fancy drinks? Make sure to feature a blue signature drink, or have a full bar with blue cocktails galore. Try blueberry mojitos, blue Hawaiian, or a blue margarita. And don't forget to include some delicious blue mocktails.
You can also set up a DIY cocktail bar with all the ingredients and let your guests choose their own adventure. 
Blue Ice Cream Bar
Ice cream is always a hit at a party, so why not turn it into a blue ice cream bar? Set up various blue ice cream flavors such as blueberry, cotton candy, blue moon or sweet cream and add toppings like blue M&Ms, blueberries, blue sprinkles, and whipped cream.
Let your guests create their own sundaes or have ice cream cones for a simple but festive dessert. 
Blue Cheese Board
If you're looking for an alternative to traditional hors d'oeuvres, try a blue cheese board. Blue cheese is perfect for a blue themed party and pairs well with crackers, bread, and fruits. Add some blueberries to the mix, and you're all set.
And if you're feeling adventurous, try incorporating blue cheese into your main dishes such as blue cheese-stuffed burgers or blue cheese pasta. 
Blue Tea Party
Hosting a party in the afternoon? Why not try a blue tea party? Offer different tea flavors like blueberry tea or blue chamomile tea. Serve your savory treats such as mini sandwiches, blue macarons, blueberry scones, and other blue delights. And to make things fancy, use blue tea sets and blue linens on your table. 
Blue Party Games and Activities
There are so many ways to add fun and excitement to your blue themed party. Create a game zone with different activities like balloon popping, treasure hunts, or even an arts and crafts station that will keep the guests entertained throughout the night. 
Water Games
If you're hosting your party in the Summertime or have access to a swimming pool or lake, water games are an absolute must. A fun and engaging water game is the "Blue Water Challenge." Simply fill a large bucket with water and add blue food coloring until the water turns a deep shade of blue. Give each team a small cup and an empty bucket and challenge them to fill their bucket with as much water as they can within a certain time frame. The team with the most water in the bucket at the end of the game wins.
Or have fun with water guns and water balloons games  
Decorate Your Own T-Shirts
A great activity that your guests can take home as a keepsake is decorating their own t-shirts. Buy a pack of plain, inexpensive t-shirts and provide your guests with supplies like blue fabric paint, stencils, and fabric markers. Encourage them to get creative with their designs and add a touch of blue to their shirts. 
Blue Themed Trivia
Test the knowledge of your guests by hosting a blue themed trivia game. Questions can range from fun facts about the color blue to pop culture references like the blue characters from the Smurfs or Avatar. Divide your guests into teams and have them compete against each other to see who comes out on top. 
Blue Scavenger Hunt
A scavenger hunt never fails to entertain both kids and adults alike. Create a scavenger hunt list with blue-themed items like blue flowers, blue candy, or even a blue butterfly. Hide the items around your party area and have your guests race to find them. The first guest to find all the items on the list wins a prize.
Or divide into teams and give each team a list of items that are blue. From blue flowers to blue cars, everything counts as long as it's blue. Set a time limit and let the hunt begin! As you race around, keep your eyes peeled for anything blue and don't forget to take a picture as proof. The team with the most items checked off their list at the end of the time limit wins! 
Blue Balloon Games
A quick and easy way to entertain party guests is with some fun balloon games. These games are a guaranteed hit with kids and adults alike. You can try your hand at games like balloon volleyball or balloon pop, where you race against the clock to pop as many blue balloons as possible.
Or get creative with a game of balloon sculptures, seeing who can make the most impressive balloon animal or hat. The possibilities are endless, and the fun is always guaranteed. So next time you want to spice up your gathering, grab some balloons and let the games begin! 
Royal Blue Balloons 12 inch
Blue Party Balloon Set
Blue Metallic Chrome Latex Balloons
Blue Photo Booth
Another great idea would be to have a dress-up corner where all of your guests can try on some cool blue costumes or masks for added entertainment. Add photo props like oversized sunglasses, bow ties, and feathered boas so that everyone can take home pictures of their fun time at the party! 
A blue themed party is a unique and interesting way to celebrate any occasion. It offers people a chance to get creative with their decorations and food, while still keeping it simple enough that they can stay within budget. Plus, you'll be able to take advantage of the calming effect of blue as your guests enjoy the festivities.
Be sure to plan carefully for the event so that everyone who attends enjoys it, and remember to have plenty of blue drinks on hand – it will truly be an unforgettable experience as you all share in the beauty of the color blue!