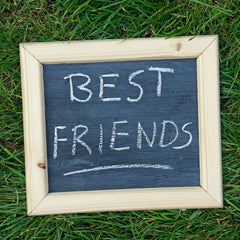 Have you and your best friend ever talked about creating a bucket list of all the things you want to do together? Whether you're new friends or old, you can find plenty of ideas for an amazing bucket list.
You can have lots of fun with your BFFs, and the best way to make sure that fun never stops is by creating a bucket list. Start by brainstorming all of the adventures that you two want to try together.
A bestie bucket list can include fun activities like going to the amusement park, staying up all night watching movies, attending a music festival outdoors, or even something as simple as having a picnic in the park, the options are endless.
Make sure you take lots of photos and videos throughout your bucket list journey and share them with the world. Tick off each item on your bucket list and make awesome memories along the way.
Bucket List Ideas for Teen Best Friends
Here are some ideas for an ultimate best friend bucket list.
Explore a New Place Together
You could take an adventure to a new city and explore all the sights, sounds, and tastes it has to offer. Or choose a new park, mall or arcade to explore. This is a great way to create lasting memories with your bestie.
Go on a Hike
Pack some snacks and head out for a nature-filled day of exploration with your best friend! Go for a relaxing hike with your BFF and take in the breathtaking views.
Learn Something New Together
Take a cooking class, learn a new sport, or explore painting together! Learning something new together is a great way to strengthen your friendship and create lasting memories.
Take on an Adventure Race
An adventure race is an event where teams compete against each other by completing various tasks such as orienteering challenges or solving puzzles. It's super fun and sure to bring out the competitive side of both of you!
Plus, it's a great way to test your physical strength and mental agility while having fun at the same time. You'll also gain valuable life skills like problem-solving and teamwork along the way. Make sure to plan ahead so that both of you can make it there on time!
Volunteer Together
Doing volunteer work together is a great way to give back and make a difference in your local community. You can help out at a shelter or take part in beach clean-up events. Not only will you feel good about yourselves, but it's also an amazing opportunity to give your time to those in need.
Record Music
Making music together can be an awesome way to have fun and exercise your creative side. If you're musically inclined, why not take up an instrument or two and learn how to play it together?
Or if you're more into the digital realm, you can even record a song in the comfort of your own home. The possibilities are endless! Plus, it's something that you two can both look back on and share for years to come.
Go on a Shopping Spree
Hit the mall with your bestie and go on an epic shopping spree. Try out different trends and styles, then show off your fashion sense to the world! You can make it even more exciting by setting a budget beforehand and challenging each other to stay within it. It'll be a great way to bond and have plenty of laughs along the way.
Have a Water Balloon Fight
This one's a classic! Have an epic water balloon fight with your bestie and show off your tactical skills. And if it gets too hot outside, cool down by taking a dive into the pool together afterwards. It'll be sure to bring out your inner child and give you both plenty of memories to look back on.
Try a New Nail Design
Change up your look for a day and try out some new nail designs together! Whether it's a simple paint job or something more intricate, you two can go wild with the possibilities. It's a great way to have fun and show off your unique style. Plus, you'll be able to keep your nails looking fresh while catching up with each other.
Play Mini Golf
Head to the mini golf course for some fun competition! Not only is it a great way to sharpen your skills, but it's also an awesome means of bonding with one another. Plus, you can even up the ante by setting up challenges on each hole. It'll be sure to bring out the competitive side in both of you!
Get a New Haircut or Hair Color
Change up your look with a new haircut or try out a new hair color. Research which teen style or color is right for you.
Visit a Museum
Visiting a museum is a great way to learn something new and bond with your best friend. It can be a great opportunity to explore the history and culture of different countries. It's also an amazing way to immerse yourselves in various arts and science exhibits. Plus, your visit won't be complete without taking plenty of pictures!
Try an Escape Room
Test your problem-solving skills by working together as a team to complete an escape room challenge. It's a great way to have fun and bond with one another while pushing yourselves to the limit. Plus, you can even make it more exciting by setting a timer for yourself or upping the stakes with a friendly bet.
Spend Time Outdoors
Getting outside can be an incredible way to spend quality time with your best friend. Spend some time camping in nature, go on picnics in the park, take walks around town, or even try a hike up your favorite mountain! The outdoors provides endless opportunities for bonding with your BFF.
So get creative and come up with activities that work for both of you! You may even discover something new about each other while doing it!
Go to the Beach at Sunrise
There's something special about watching the sun come up with your best friend. For teens , it's the perfect time to reflect on the past, look forward to the future, and just take in those breathtaking views. So grab a blanket, your favorite snacks, and some drinks and get ready for an unforgettable sunrise adventure!
Attend a Live Show or Concert
Live shows and concerts are always a blast to attend, especially with your best friend. Pick up tickets ahead of time so that you can have the best seats in the house. Sing along to your favorite songs and don't be afraid to dance around! It'll be an incredible night full of fun memories that you'll never forget.
Go Thrift Shopping
Thrift stores are the perfect place to explore your creative side! Have a fashion show and try on different outfits, or create new looks with items you find. Plus, it's a great way to save money while picking up some amazing deals. It'll also be fun to compare your finds with one another and come up with ways to mix and match your new threads.
Have a Spa Day
Sometimes it's necessary to relax and unwind with your best friend. Go ahead and treat yourselves to a luxurious spa day! Get facials, massages, mani-pedis, or whatever else you feel like doing. You'll both leave feeling rejuvenated and ready for your next adventure.
Make a BFF Playlist
Teenagers love music and what better way to show your friendship than by making a playlist together? Compile all of your best jams, throw in some old favorites, and be sure to add the newest hits. This will become your go-to soundtrack for any occasion!
Make Tie Dye T-shirts
You and your BFF can make your own unique fashion statement by creating some tie dye t-shirts. Get creative with the colors and patterns, then show off your creations to the world! When you two go out you will be sure to stand out from the crowd.
Bake and Decorate Cupcakes or Cookies
Baking up a storm in the kitchen is always a great way to bond with your best friend. Pick out an easy recipe and let your creativity run wild! Decorate the cupcakes or cookies with various frostings, sprinkles, and other toppings. It's guaranteed to be a blast as you admire your tasty creations.
Go Berry Picking
It's always a blast to go berry picking with your BFF. Get ready for an adventure as you search for the perfect strawberries, blueberries, or whatever other type of berry that you can find. Once you're done collecting them, you can make some delicious treats afterwards!
Toast Marshmallows over a Bonfire
Most teens love to make s'mores, so why not take it to the next level and roast marshmallows over a bonfire? You can tell stories, sing songs, or just listen to the crackling flames. Plus, you can even challenge each other to see who can make the perfect marshmallow.
Go Ice Skating
It's hard to beat the fun of ice skating with your best friend. Make sure to dress warmly and lace up your skates as you prepare to hit the ice. Don't be afraid to show off a few fancy moves or compete in a friendly race!
Take BFF Selfies
It's selfie time! Make sure to document all the fun moments you spend with your BFF by taking lots of photos. You can even get creative by creating photo albums or scrapbooks with all your pics in them. It'll be a great way to reminisce on the good times and make new memories as well.
Have a Movie Marathon Night
Have a movie night with your best friend and turn it into an all night event. Pop some popcorn, grab the blankets and pillows, then get ready to watch your favorite films! It's the perfect way to relax after a long day and have plenty of laughs in between.
Camp Overnight in your Backyard
Camp overnight in your own backyard. Pitch a tent, roast some marshmallows, and play fun outdoor games. You can even bring out your sleeping bags and tell spooky campfire stories as you gaze up at the stars above.
Creating a best friend bucket list is a great way to make the most out of your friendships! The list could include anything from classic activities like catching a movie or going to an amusement park, to more unique experiences such as attending a high school football game together or trying international cuisine. Think of it as making amazing memories that will last a lifetime!
Have fun with it; add ideas that are different yet achievable and before you know it your bucket list will be full of one-of-a-kind adventures just waiting for you and your bestie to cross off!