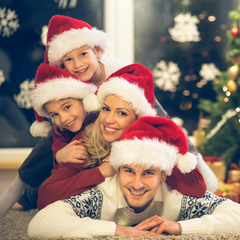 'Tis the season for holiday fun! If you're looking for a festive activity the whole family can enjoy, look no further than a Christmas scavenger hunt. Not only does it bring everyone together as they search for items, but the thrill of finding a clue or an item also adds a unique element of excitement and surprise.
Plus, with different difficulty levels based on age and ability, each family member can find something they enjoy while spending quality time with loved ones. This activitiy also encourages creativity as participants find creative ways to make their scavenger hunt more enjoyable or challenging. From making up their own riddles to using personalized emojis as clues, there's no limit to how creative people can get when planning a scavenger hunt!
With one activity containing such a variety of elements that appeal to almost everyone, it's no wonder why people love taking part in Christmas scavenger hunts every year. Here are a few ideas to get you started on your Christmas Scavenger Hunt.
How to Plan a Christmas Scavenger Hunt
Planning a Christmas scavenger hunt can be easy and fun. First, decide on the mission of your scavenger hunt - is it a competition or merely a fun activity? Will you give everyone a list of items to find and bring back, will they need to take selfies or photos of the items or are you going to have clues that need to be solved?
As you plan out what items need to be found, or start writing the clues, take into account the type of event you've arranged (indoors/outdoors) and who will participate (adults, children). It's always important that these activities are both enjoyable and safe - this applies even if participants are split into teams.
This year's scavenger hunt might involve finding a hidden present behind the couch, located under a pile of laundry, or solving clues around the house before you get to open your gifts! Whatever goodies you choose for your scavenger hunt won't only bring lots of laughter and playfulness among family members & friends, but also countless creative memories that will last for years to come. Enjoy!
Christmas Scavenger Hunt Clues
One way to make your scavenger hunt more challenging is to write clues that lead to the next location. For example, if you're hiding a candy cane in the Christmas tree, you might write a clue that says "Search high and low, this sweet treat is hidden in a place where elves often go." Or, if you're hiding an ornament under the table, your clue might say "This shiny bauble is waiting to be found, but you'll have to look where family often gather around."
Writing Christmas scavenger hunt clues for your family is a great way to add an extra level of fun and excitement to the holiday season. Not only will it bring everyone together, but it also gives you the opportunity to come up with creative and unique hints. As you get started, keep the age range of your participants in mind; while the littlest creators may respond well to straightforward riddles, more experienced players might prefer a bit of a challenge!
To get your ideas flowing, consider adding some festive themes into your hints. Utilize holiday light displays, poems and songs, Christmas themed items like ribbons or wrapping paper, and common expressions such as "Ho Ho Ho" for added context. When crafting the clues themselves, make sure to leave an allotted area or hint where participants can find their next destination, perhaps something like "find a special clue hidden in someone's Christmas stocking."
Writing Christmas scavenger hunt clues can easily become a cherished tradition that everyone looks forward to each year. Consider getting into the spirit with some playful wordplay and thoughtful creativity that incorporates all of the delightful elements of this joyful season.
Christmas Scavenger Hunt List
If you want to keep things simpler, you can also just make a list of items for your scavenger hunt participants to find. This is especially great if you have younger kids who might not be able to read or understand clues. Whether you're making it for your own family or sending it out to friends, there's nothing like a festive scavenger hunt to help people get into the spirit.
Some items you might include on your list are:
Candy cane
An Ornament
A Santa hat
A Gift
Christmas Lights
An Angel
A Reindeer
Red Bow
Mistletoe
Train
Snow
North Pole Sign
Star
Snowman
Grinch
Gingerbread House
Nativity Set
Christmas Cookies
Santa
An Elf
Snowglobe
A Sleigh
A Wreath
Bells
Snowflake
A Candle
Again, get creative and have fun with it! The more unique items you can come up with, the better.
No matter what route you choose to go with your Christmas scavenger hunt, clues or list, one thing is for sure: it's sure to be a festive and fun activity for everyone involved! So go ahead and give it a try. You might just start a new family tradition in the process.
More Fun Christmas Game Ideas:
Christmas is a time to spend with family and friends, make memories, and enjoy all the festive fun. What's on your bucket list this year? Here are some fabulous ideas to get you started! From classic traditions to new experiences, there's something for everyone. Add these activities to your list and get ready for an unforgettable holiday season!
Christmas is a time for family, friends and lots of fun. These printable games will keep everyone entertained for hours on end. So grab your printer and get ready to have some festive fun!