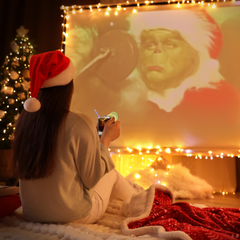 Get into the holiday spirit with this fun drinking game based on everyone's favorite Christmas movie, How the Grinch Stole Christmas. This game is best played with a group of friends, some festive drinks, and, of course, a screening of the classic animated film. So pour yourself a nice glass of eggnog, put on your ugliest holiday sweater, and get ready to have some holiday cheer!
The Grinch wants to destroy Christmas for the residents of Whoville, but with this game, you'll be celebrating it. This game is easy to play and there is no skill involved! Just settle in and watch the movie and keep an eye on everyone to make sure they drink at the right times.
(THIS POST CONTAINS SOME AFFILIATE LINKS FOR YOUR CONVENIENCE: READ MY FULL DISCLOSURE POLICY)
What is the Grinch Drinking Game
How The Grinch Stole Christmas Drinking Game is a festive and fun way to celebrate the holiday season. The rules are simple and revolve around the classic Christmas movie "How The Grinch Stole Christmas", with everyone. Every time you hear or see the items below, everyone must either sip or down their drink. So if you're looking for an enjoyable game to play with your friends, try out the Grinch drinking game this coming season, you won't be disappointed!​​​​​
How The Grinch Stole Christmas [DVD] [2000]
How the Grinch Stole Christmas: Ultimate Edition (DVD)
Illumination Presents: Dr. Seuss' The Grinch
Here Are The Rules For The Grinch Drinking Game:
Take a Sip of your drink when:
Every time the Grinch says something mean or grumpy.
Whenever Cindy Lou Who says something cute and innocent.
Someone says the word Christmas
Whenever Max the Dog makes an appearance
Whenever you hear the word 'Grinch' and watch out because it is said about 67 times!
Take 2 sips of your drink when:
When the Grinch is seen in his "Santa" disguise.
When The Grinch is surprised by how small his heart grows
When Cindy Lou Who says, "Welcome Christmas!"
When you hear the Grinch say "It's because I'm green isn't it?"
When you hear Cindy Lou Who Say "No one should be alone on Christmas"
When you hear the Grinch say " What is that stench? It's fantastic"
When you hear Cindy Lou Who say "Santa, don't forget the Grinch. I know he's mean and hairy and smelly, and his hands are cold and clammy, but I think he's kinda...sweet"
When you hear the Grinch say "Holidays who-be what-ee"
Special Extra Rules
If you are feeling adventurous have a read through these extra rules and pick out a couple to add to your game:
Do a shot when the Grinch's heart grows three sizes.
Sing along with each character whenever they start to sing (and take a sip of your drink to make it extra festive!)
Finish your drink when the Whos down in Whoville start singing "Welcome Christmas".
Whenever you hear a classic Christmas carol like "You're a Mean One Mr. Grinch", everyone cheers and takes three sips
Everyone pass their drink to the left when you hear a jingle bell in the background and take a sip
Whenever someone opens a present swap your drink with someone else and take a sip
When the Grinch returns all of the presents to Whoville - everyone clinks glasses and takes a big sip of their drink.
When the Grinch is invited to the Christmas feast - everyone cheers and finishes their drinks.
To get everyone in the mood, when the Grinch first appears onscreen - everyone must down their drink.
For even more fun, each player can take on the role of one of the characters in the movie. Every time your character does something, you must drink. For example, if you choose to be The Grinch, every time he grumbles about Christmas or sneers at someone, take a sip!
So grab some friends and get ready to make sure that The Grinch doesn't ruin your Christmas. Get out the drinks, pop some popcorn, and put on "How The Grinch Stole Christmas" to get the game started! We hope you enjoy playing The Grinch Drinking Game as much as we do! Remember to drink responsibly and always have a designated driver.
More Fun Party Game Ideas:
Looking for a way to make your Christmas party even more fun? Add these drinking games to the mix! It's perfect for any group, and you can tailor it to fit your own preferences. So gather up some friends, pour yourself a drink, and get ready to have some holiday cheer!
How about a fun Twilight drinking game? Do you remember the movie? Turn the movie marathon night into a fun drinking party!
This Halloween, get your party started with the Hocus Pocus drinking game. Drink every time someone says one of the following words: Sanderson Sisters, Max, Allison, Dani or Thackery Binx. You'll be drunk in no time!