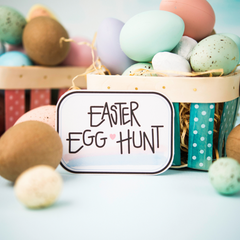 Easter is a time of year that's full of fun and excitement, especially for children. One of the most enjoyable Easter activities for kids of all ages is the Easter egg hunt.
One way to make sure everyone gets into the holiday spirit is with an Easter scavenger hunt! Scavenger hunts are perfect for both kids, teenagers and adults and can be tailored to fit with the classic Easter theme. With this activity you can put your creativity to the test by coming up with unique riddles and clues that will lead the participants through the hunt.
(THIS POST CONTAINS SOME AFFILIATE LINKS FOR YOUR CONVENIENCE: READ MY FULL DISCLOSURE POLICY)
It's also a great chance to get some fresh air while searching your local area for colorful eggs or meaningful objects. Gathering some pieces of chocolate from an outdoor hunt is only one of countless ways to enjoy this Springtime classic!
Organizing a scavenger hunt is fun, BUT, coming up with the clues for the scavenger hunt can be time-consuming, tricky and a little bit challenging. This is where printable scavenger hunt clue cards come in handy. Here are a few reasons why buying printable scavenger hunt clue cards is better than trying to think of your own:
Saves Time: Creating scavenger hunt clues from scratch can take a lot of time and effort. Printable scavenger hunt clue cards save you time as they are already designed and ready to go. All you have to do is print them out and distribute them to the participants.
Professionally Designed: Printable scavenger hunt clue cards are usually designed by professionals who have experience in creating scavenger hunts. These cards are created to be challenging, engaging, and age-appropriate, making the scavenger hunt more enjoyable for everyone involved.
Variety of Themes: Printable scavenger hunt clue cards come in a variety of themes such as holidays, birthdays, and seasons. You can choose a theme that matches the occasion and customize the scavenger hunt to suit your needs. For Easter you can use any theme you like.
Easy to Use: Printable scavenger hunt clue cards are user-friendly, making them easy to use for both the organizer and the participants. The clues are clearly written and easy to follow, so there's no confusion or frustration during the scavenger hunt.
Cost-Effective: Buying printable scavenger hunt clue cards is usually cheaper than hiring a professional to design a scavenger hunt or spending hours creating your own. You can find printable scavenger hunt clue cards at a reasonable price online here or on Etsy.
A printable Easter scavenger hunt is a game where children search for clues that lead them to the next location. These clues are typically Easter-themed, but can be any theme you like, and the end goal is to find a prize at the end of the hunt, or chocolate/candy eggs at each clue you solve. It's a great way to keep kids entertained and engaged during the Easter season.
Here's how you can organize a printable Easter scavenger hunt:
Step 1: Plan the Hunt
The first step in planning an Easter scavenger hunt is to decide on the location and the number of clues you want to include. You can do this indoors or outdoors, depending on the weather and your preference. Make sure you choose a location that's safe for children to explore. We have both options so you can be sure to be prepared in advance.
Step 2: Find or Create the Clues
The next step is to get the clues. If you have purchased the printable clue cards download them. The clues can be Easter-themed and age-appropriate. Easy clues like: "You must be quick, no time to loose. Go and Look inside your shoes" then for the teenagers you want something like a riddle they need to solve, like: "I can be sparkling but am not a star, I can run but have no legs, I can fall but don't get hurt.." (answer is Water)
Step 3: Print the Clues
Once you've purchased the clues, it's time to print them out. You can use a printer at home or take them to a local print shop. Cardstock is best to use. Make sure to print enough copies of each clue, so each child has their own set. Most will come with a few clues to one page, so cut them out.
Read through them to make sure each clue leads to the next location this gives you have an idea of where the eggs will be located and that the final clue leads to the prize. Some printable Scavenger Hunts cards come with some blank cards to write your own if you are feeling creative.
Step 4: Hide the Clues
Now it's time to hide the clues in their designated locations. Make sure to hide them in places that are not too difficult or dangerous for children to reach. You can hide them under a rock, behind a tree, or in a flowerpot, for example. Solve the clues and you will know where the next location is.
Step 5: Start the Hunt
Once you've hidden all the clues, it's time to start the hunt! Give each child, teen or adult their set of clues, and let them explore the location to find the next clue. Encourage them to work together if they get stuck on a clue.
You can watch on in delight as your children, teens and even adults scour the area for clues. Once they have found all the eggs, lead them to the prize at their final location.
Step 6: Find the Prize
The final clue should lead to the prize, which can be anything from a basket of Easter goodies to a special toy or book. Make sure to reward the children for their hard work and effort.
When everyone is done with the scavenger hunt, it's time to celebrate! Give out candy or chocolate eggs as a reward for completing the hunts. Make sure there are enough treats for everyone, so there are no disappointed faces.
Printable Easter scavenger hunts are a fun and cost-effective way to keep kids entertained during the holiday season. With a bit of planning and creativity, you can make your own Easter hunt that will bring hours of entertainment and excitement to all who take part! With the right clues and some imagination, you can make your Easter scavenger hunt a memorable event. So why not give it a go? Your kids will love it! We also have loads of Easter themed printable games, activities and coloring pages that you can use to make your Easter celebration even more fun. Happy hunting! Happy Easter!
More Fun Easter Ideas:
Looking for some fun Easter activities to do with your family? Fun Easter family feud game, you can even offer prizes to the winning team. So get ready to have some Easter fun! 
Easter is a time where we celebrate new life. Why not add some of that into your gift-giving this year with these fun and festive gift tags? From bunnies to eggs, there's something for everyone! Plus, they're all printable so easy to download and print out. So get creative and have a happy Easter season!