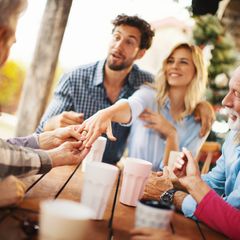 So, you're engaged! Congratulations! The first order of business is to celebrate your engagement with family and friends. What better way to do that then by throwing an engagement party? But, once the initial excitement dies down, what then? How do you keep your guests entertained? Have no fear, we've got you covered with some fun engagement party games to get things started. 
Taste Test
Can your guests tell Champagne from sparkling cider? Put their taste buds to work with this fun game where they have to identify different types of wine (or Champagne) blindfolded. Serve up some appetizers alongside each beverage so they can help clear their palates between sips. The guest who gets the most right wins a prize.
Guess That Song
This next game is perfect for couples who love music. You'll need an iPod or laptop loaded with songs from both the bride and groom's childhoods, teen years, and present day. One at a time, each song is played and guests try to guess the song title and artist.
Newlywed Game
This next game is inspired by the classic TV show "The Newlywed Game." You'll need two sets of index cards—one set for the bride and one set for the groom—and enough pens for all of your guests. On each card, write down a question about marriage such as "What was your spouse's reaction when you proposed?" or "What are your spouse's views on having children?" Be sure to mix up the questions so that they apply to both spouses equally.
Once all of the questions have been written down, have each spouse answer them privately without letting anyone else see their answers. Once they have been filled out, collect the cards and read them aloud one at a time along with each spouse's answer. See how many of the answers are the same. 
The Newlywed Game - The Classic Game of Love and Laughter
Endless Games The Newlywed Game DVD
Photo Booth Fun
Set up a photo booth at your engagement party complete with backdrops and props like funny hats, glasses, boas, etc. Guests can snap selfies or photos with friends in front of festive backdrops – instant keepsakes from your big day!
Engagement Photo Booth Props
Engagement Photo Prop Kit
Engagement Ring Photo Props
Guess who?
Prepare a sheet of paper with the names of all the guests attending the party, and have each guest write down their guess for who will be the next to get engaged or married. Tally up the votes and announce the winners.
Wedding Cake decorating contest
Have each guest decorate their own mini wedding cake, and then vote on which one is best.
Pin the veil on the bride
A twist on the classic "pin the tail on the donkey" game, this one is perfect for an engagement party! Hang a picture of the bride to be without her veil, and let each guest take turns trying to pin it on in the right spot. The person who gets it closest wins a prize!
You could also get these Pin the Ring on the Bride-To-Be games
Pin the Ring on the Bride-To-Be Game
Pin The Ring On The Bride-To-Be Game
Printable Engagement Party Games
Planning an engagement party can be a lot of work, but it's also a lot of fun! One of the best ways to make sure your party is a hit is to include some fun games that everyone can enjoy. Here are some printable games that are perfect for an engagement party:
This classic game is a great icebreaker and always gets a few laughs. You'll need two chairs facing each other and all of your guests sitting around in a circle. The happy couple sits in the chairs back-to-back and removes their shoes. Guests take turns asking the bride and groom to be questions about their relationship while they hold up one of the shoes of the person they think the answer applies to. For example, "Who said 'I love you' first?" or "Who is the better cook?" This game can get pretty funny, fast!
Test your guests knowledge of the happy couple with this fun trivia game. You can make up your own trivia questions or search online for quizzes about the bride and groom. Questions can range from easy (What is the groom's favorite color?) to hard (Where did the couple go on their first date?). Guests can write down their answers on slips of paper and drop them into a jar or basket. At the end of the party, read out the questions and award prizes for each correct answer.
These games are sure to make your engagement party more fun! Print them out and enjoy watching your guests interact and have a good time. Don't forget to take plenty of pictures!  
Ice Breaker Games at Engagement Party Ideas
Your engagement party is the perfect opportunity to celebrate your newly engaged status with your nearest and dearest. But sometimes, getting a group of people who don't know each other that well to mingle can be a bit of a challenge. This is where fun games come in.Games are not only a great way to keep guests entertained, but they're also an icebreaker that will get everyone mixing and mingling in no time. 
Whether it's a small gathering of close family and friends or a big bash with everyone you know, here are some fun engagement party games that are sure to get your guests talking, laughing, and having a great time.
Candy Bar Match-Up
This is a great ice breaker game, perfect if you have people at your party who do not know each other very well. For this sweet game, you will need multiple Hershey's candy bars with the wrappers removed.
Place all of the candy bars in a bowl or basket and have guests draw one at random. Once everyone has a candy bar, have them find their match by finding someone else with the same candy bar. The rules are simple, there can be no talking! This game is guaranteed to produce some laughs while everyone searches for their match.
HERSHEY'S Assorted Snack Size Candy
Hershey Chocolate Candy Bar Variety Pack
HERSHEY'S Assortment Candy
Two Lies and a Truth
This game is simple but always effective. Have each guest come up with two falsehoods about themselves as well as one true statement, and then have everyone else try to guess which one is the truth. You can mix things up by having people write their answers down on index cards before sharing, or by having people share all at once instead of taking turns. Either way, this is a great way to learn some fun facts about your guests - and maybe even dispel some rumors!

Would You Rather...?
This classic game can be adapted to just about any situation, so it's perfect for engagement parties. Pose some hypothetical "would you rather" questions to your guests (e.g., "Would you rather have unlimited money or unlimited vacation days?") and see how they respond. You can either go around the room and have each person answer individually, or have people discuss their answers in small groups. Either way, this game always leads to some interesting conversations and maybe even some friendly debates!
Potluck
Ask each guest to bring their favorite dish or drink to share at the engagement party – then create buffet-style tables or stations so everyone can enjoy samples from all of the different offerings. This is a great way to try new foods and get everyone chatting as they fill their plates (and glasses!)
These are just a few ideas to get you started - there are plenty of other great ice breaker games out there too! The most important thing is to choose something that will fit the group you're working with. With a little bit of planning, you're sure to throw an engagement party that everyone will remember - for all the right reasons! 
Outdoor Games for Engagement Parties
Scavenger Hunt
Send your guests on a hunt around the party space for hidden items or clues that lead to the next item on the list. The first team to find all of the items or complete the scavenger hunt wins! This is a great way to get guests exploring and mingling with each other.

Piñata Time
Have some fun with an engagement piñata! Fill it up with small candies or other goodies before taking some whacks at it yourselves, then let your guests take turns trying to bust it open for some sweet treats of their own.
Diamond Ring Pinata for Engagement Party
Diamond Ring Pinata Engagement Party
Yard Yahtzee 
This is a fun game that can be played with family and friends at an engagement party. All you need is a large yard and some dice.
Giant Yardzee (Yahtzee) Dice Set with Carrying Bag
Yardzee (Yahtzee) Farkle Giant Yard Dice Set
Horseshoes 
A classic outdoor game that is perfect for an engagement party. All you need is a horseshoe pit and some horseshoes.
Giant Jenga 
This is a great game to play at an engagement party. All you need is a large Jenga set and some friends.
An engagement party is a great way to celebrate your big news with family and friends but sometimes it can be hard to keep everyone entertained throughout the night. These fun engagement party games are sure to get things started and help everyone get to know each other—and the happy couple—a little better!
More fun Party Game Ideas:
The bride-to-be is sure to have a blast with these fun hen party games! Whether you're looking for classic games like bingo or something more creative, we've got you covered. There's something for everyone in this list - so get ready to party!
Make your bachelor party one to remember with these fun and exciting  bachelor party games. Whether you're looking for something tame or want to add a little excitement, we've got the perfect game for you. So gather up your friends and get ready for some unforgettable memories.