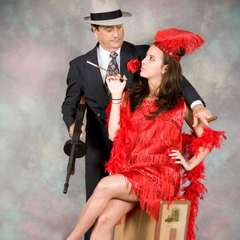 The days of jazz music, fedoras, and flapper dresses are long gone, but the charm and sophistication of the roaring 20s still captivates us today. This was a period of glamour, excess and marked the rise of Gangsters and Molls. So this theme is such a great idea for your next event.
Whether it's a birthday bash, a hens party or just a fun night with friends, a Gangsters and Molls party is a great way to recreate the opulence and glamour of the 1920s. 
(THIS POST CONTAINS SOME AFFILIATE LINKS FOR YOUR CONVENIENCE: READ MY FULL DISCLOSURE POLICY)
But, how do you throw the perfect Gangsters and Molls party? It can be a challenge to capture the ambiance and glamor of the era while keeping your guests entertained and comfortable. Don't worry, we've got you covered. Here's what you need to do to throw the best Gangsters and Molls party ever!
Setting the Scene
To recreate the ambiance of the Roaring Twenties, your party venue needs to exude a speakeasy vibe. Dim the lights and use soft, warm hues to create a cozy yet mysterious atmosphere. Consider using black, gold, and red color schemes to evoke a sense of luxury and excitement. 
Use art deco design elements in your decorations, such as geometric patterns, metallic finishes, and bold colors. Use vintage lamps, candelabras, and chandeliers for lighting to set the mood of the party. You can also create a speakeasy-style bar complete with classic cocktails like Mint Julep, Gimlet, and Old Fashioned.
Aint Nothing But A Gangster Party Decorations
Party Decorations, Gatsby Theme Photography Backdrop
Aint Nothing But a Gangsta Party Decoration Set
The Invitations
Set the tone of your Gangsters and Molls party by sending out themed invitations. You can create your own invitations using free online templates, or you can buy pre-made invitations online.
Make sure the invitations look and feel like they were designed in the 1920s. Use art deco fonts, add a black and white picture of a vintage car or a classic fedora hat. You can even use phrases like "The password is…" on your invitations to give your party an air of exclusivity. 
Dress Code
One of the best parts of a Gangsters and Molls party is getting to dress up in vintage 1920s outfits. Encourage your guests to embrace the fashion of this era. For the gangsters, think pinstripe or black suits, fedora hats, suspenders and wingtip shoes.
For the girls, come in your best Molls flapper dresses, pearls, and feather headbands. You can even divvy out prizes for the best-dressed guest. 
Womens Gangster's Moll Costume
Adult Mob Boss Costume
Adult Pink Gangster Moll Costume
Food and Drinks
When it comes to the menu, embrace the Prohibition theme by serving classic cocktails with a twist. Offer a selection of signature drinks like the Old Fashioned, Bee's Knees, or the Sidecar. For non-alcoholic options, consider creating "mocktails" that capture the spirit of the era.
As for the food, go for finger foods and small bites reminiscent of speakeasy fare. Mini sliders, deviled eggs, crab cakes, and shrimp cocktail are all excellent choices. Serve them on elegant platters to maintain a touch of sophistication. 
Entertainment
Transport your guests to the jazz-filled nights of the Roaring Twenties by playing some jazz music. Choose some jazz music from the 1920s such as Louis Armstrong, Bessie Smith, or Duke Ellington. You can even create a playlist of modern swing and jazz music that your guests can dance to. This will add an authentic soundtrack to the party and encourage guests to dance the night away.
You can also entertain your guests with some fun games and activities. Host a murder mystery party, play some casino games, or set up a photo booth. You can also arrange for a dance instructor to teach your guests how to dance the Charleston or Swing Dance. 
Costume Contest
Encourage your guests to put extra effort into their outfit by hosting a costume contest. Create categories such as "Best Dressed Gangster" or "Most Authentic Moll" and award prizes to the winners. This not only adds an element of fun but also ensures that guests fully immerse themselves in the theme.
Gangster and Molls Party Favors
As a final touch to your Gangsters and Molls party, offer your guests themed favors that captures the essence of the party. Consider providing mini bottles of spirits as a nod to the Prohibition era or delight your guests with small boxes of decadent chocolates, reminiscent of the secret indulgences enjoyed in speakeasies.
Another idea is to create personalized keychains or magnets featuring the names of notorious gangsters and molls. These party favors will not only be appreciated by your guests but also serve as a lasting reminder of the memorable time they had at your Gangsters and Molls party. 
Photo Booth Props Roaring 20's
Gangsters & Molls - Silhouette Lifesize Cardboard Cutout
Gangster Car Centerpiece
A Gangsters and Molls party is a great way to bring your friends together and have a fun-filled evening. With these tips, you're sure to throw a Gangsters and Molls Party that will transport your guests back to the roaring 20s. So go ahead, plan this party, that your guests will never forget!