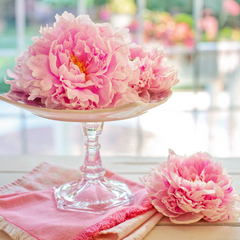 Are you planning to throw a party? Why not make it extra special with a flower-themed bash? With such a vast range of beautiful colors and varieties, flowers can add a touch of magic and whimsy to any celebration.
Not only are they cheerful and pretty but also ultra-versatile and elegant. Here are some fun and creative flower-themed party ideas that are sure to make your special day blossoms!
Flower Invitations
The invitations are quite essential because they set the tone for your flower-themed party. So, why not go the extra mile with your invitations and make them artsy and fancy?
You can design them yourself or you can find some beautiful invitations online that you can print out yourself. For a full DIY project, purchase flower stencils, cut them out of card stock, and decorate them with glitter and rhinestones. You can also seal them with a lovely floral wax seal and make them extra special. 
Greeting Guests With a Flower Wall
Flower walls are a beautiful and trendy decoration piece that you can create as a focal point for your flower themed party. You can easily design an amazing flower wall with tissue pom-poms, cut out flowers, and using different sizes of paper leaves. It is an excellent backdrop piece for taking lovely photos and can be decorated with your chosen birthday message.
Flower Crafts
Flower crafts are fun, easy and inexpensive activities that everyone will love. You can provide your guests with the materials and directions to make paper flowers, flower crowns, or even a lovely flower garland.
Paper Flowers
Paper flowers are a classic craft that can be used to decorate for a birthday party. They are easy to make and can be made in any color or style to match the party theme. Paper flowers can be made from construction paper, tissue paper, or even crepe paper.
Colorful Fiesta Paper Flowers
Paper Pom Poms Color Tissue Flowers
Colorful Fiesta Paper Flowers
Flower Crowns
Another floral activity that sparks creativity is making flower crowns. Decorate your party area with fresh blooms of various colours and shapes and set up a DIY flower crown station.
Invite your guests to pick their favourite flowers, greenery and adornments, and provide instructions on how to make a floral headpiece. Think of it as a fanciful tradition that can double as a stunning party favor!
Flower Balloons
Balloons are a birthday party staple, but they can also be used to create flower-themed decorations. Balloon flowers are easy to make and can be used to adorn tables, chairs, or even the birthday cake. Balloon flowers can be made from latex balloons or mylar balloons. 
Daisy Flower Balloons DIY Kit
Colorful Flower Balloons
Daisy Balloons Flower Balloons
Flower Garlands
Garlands are a beautiful way to decorate for a birthday party. They can be made with fresh or artificial flowers and can be hung from doorways, windows, or even on the birthday cake. Flower garlands are a great way to add a touch of elegance to the birthday celebration. 
Floral Cupcakes and Toppers
Make some delicious cupcakes and let your guests decorate these. Provide some fondant in different colors along with buttercream frosting and piping bags. Maybe even add some edible glitter for an extra touch of elegance.
Cupcake toppers are also a fun and easy way to decorate a cupcake. Set out some cardboard circles, glitter pens, glue and some fabric flowers and your guests can create their own cupcake topper.
Decorate with Blooms
We all know that decorating the party venue is a critical element of any party. For a flower-themed party, you want to choose decorations that include florals. From vases of daisies and roses to a floral table runner, centerpieces are a perfect way to bring in some color and flowers for your party.
Spring Flower Theme Party Ideas
What better way to celebrate the season of new beginnings than hosting a Spring flower-themed party. From fresh flowers to floral-inspired décor and colorful drinks, there are plenty of ways to incorporate blossoms into your next event.
Whether you're planning a bridal shower, a birthday party, or a first birthday, we've got you covered with the best ideas to make your Spring flower-themed party a blooming success.
Create a Stunning Floral Backdrop
One of the easiest ways to set the mood for your event is by creating a stunning floral backdrop. You can use fresh flowers, paper flowers, or even balloon flowers. You can keep it simple with one color or mix and match your flowers to create a colorful backdrop.
You can also add lights to give your backdrop some extra sparkles. Your guests would be amazed at how a simple wall of flowers can transform an entire space.
Pink Rose Floral Photography Backdrop Spring
White Flower Backdrop for Party Photoshoot
3D Flower Photo Background Pink Rose Photography
Set the Table with Flower Centerpieces
Add an extra pop of color to your party with flower centerpieces. You can use small vases filled with fresh flowers, floral candles, or even flower-shaped confetti. Choose different flowers that complement each other and your table setting. You can mix and match different flowers to create a one-of-a-kind centerpiece.
Take your flower theme to the next level with cocktails, mocktails, and treats that feature your favorite blooms. You can make flower ice cubes, use floral syrups to mix into your drinks, or even garnish your drinks with fresh flowers. For treats, try flower-shaped cookies, cupcakes, or macarons. Your guests won't be able to resist indulging in these sweet treats. 
Dress Up Your Guests
Why not make your guests part of your flower-themed party? Encourage them to wear floral-inspired clothing, whether it's a dress with flower patterns or a floral headband.
You can also set up a flower crown-making station, where your guests can create their own flower crowns to wear during the party. This will not only make your party more fun but also create a fun photo opportunity for everyone.
Play Flower-Themed Games
An essential part of any party is fun and engaging games. You can incorporate a flower theme into your games by setting up a flower arranging station or playing a game of "Pin the Petal on the Flower." You can also have a flower scavenger hunt or a flower identification game. These games will not only entertain your guests but also educate them about the different types of flowers.
Daisy Themed Party
Take your Spring flower theme one step further and host an adorable daisy themed party. Daisies are such a bright and happy flower that care perfect for any celebration. 
Daisy Decorations
The first thing you'll want to do is set the tone with the right decorations. Daisy theme parties are all about bright colors and a fun, carefree vibe. Start with a white tablecloth and then add bright yellow and white flowers. You can also add daisy garlands and streamers for extra flair. If you want to take it up a notch, consider making a giant daisy backdrop for your photo booth. 
Daisy Themed Party Favors
Finally, no daisy theme party would be complete without some cute party favors. You can give out daisy seed packets, daisy-shaped soaps, daisy cupcakes or even daisy-shaped candles. Whatever you choose, make sure it's something that your guests will love and that they can take home to remember the fun they had at your party.
70's Flower Power Party Theme Ideas
If you want to experience the love, peace, and harmony of the 70's, it's time to throw a Flower Power party. Here are some tips for hosting a fun 70's Flower Power party.
Set the Stage with 70's Decorations
What's a Flower Power party without fitting decor? There are so many iconic elements from the 70's that you could include to create the perfect atmosphere. Think psychedelic posters, lava lamps, and bright colors. You could even add some tie-dye fabrics and flower garlands to give your party an authentic, 70's bohemian feel. And don't forget to add some beanbags and shaggy rugs for ultimate comfort.
Dress the Part
Don't leave your guests wondering what to wear to your Flower Power party. Tell them to dress in 70's fashion with platform shoes, bell-bottoms, tie-dye T-shirts, maxi skirts and dresses, floppy hats, and peace signs. You could even suggest hairstyles like afros or feathered bangs. Setting the dress code will make it easier for your guests to join in on the fun and evoke some of that legendary Flower Power energy.
Create a Flower Child Menu
A crucial aspect of any party is the food and drink. Of course, you could go with some of the standard 70's party nibbles like cheese fondue, Jello, and deviled eggs, but why not get creative with your menu? You could turn these items into flower shapes or decorate with edible flowers.
Light up Your Party with 70's Music
Music is one of the key elements that can transport your guests to the 70's. For Flower Power party music, you can't go wrong with classic artists like The Beatles, Bob Dylan, and Janis Joplin.
Or, consider some of the lesser-known but equally groovy artists like Earth, Wind & Fire, Stevie Wonder, and The Isley Brothers. To keep the energy up, you can also add some disco tracks from artists like Chic, Donna Summer, and ABBA. Create a playlist with all these artists and get your guests up on the dance floor.
Engage Your Guests with Activities
Last but not least, don't forget to plan some engaging activities for your Flower Power party. You could set up a DIY flower crown station adorned with bright colored flowers, peace signs, and beads. Or, offer flower power-themed photo props to keep your guests entertained and get some memorable photos. If you want, you could even plan a DIY tie-dye activity as another way to evoke the Flower Power spirit.
More Floral Party Ideas
There's something about a floral theme that sets a dreamy and romantic ambiance, which makes it an excellent idea for a party. Whether it's a birthday, bridal shower, or garden party, a floral theme turns any gathering into a blooming affair. Here are some floral party ideas we're sure your guests will love.
DIY Floral Wreath Bar
A floral wreath bar is an excellent activity that guests of all ages can enjoy. The setup is simple - prepare an array of fresh flowers, greenery, and other decorations such as ribbons, sequins, and beads. Provide wreath bases made of wood, wire or foam and floral tape.
The possibilities are endless, whether you're making a circlet, heart shape, or initials out of flowers. It's a fantastic way to get people chatting and creating something beautiful to take home.
 Vintage Garden Tea Party
For a more laid-back ambiance with a touch of nostalgia, go for a vintage garden tea party. Set up a beautiful tea table with floral china, antique silverware, and linen napkins in pastel shades.
Fill your teapots and offer a selection of tea, scones, and finger sandwiches. A fancy tea party is a hit with all ages.
DIY Floral Centerpieces
You can easily elevate your party decor with floral centerpieces. Run wild with your creativity when choosing blooms and vessels. You can make DIY floral arrangements in different shapes and sizes using watering cans, mason jars, birdcages, or teapots, to name a few.
Mix and match vibrant hues and textures to make a vivid statement. And don't forget to add scented flowers such as lavender, rosemary, or chamomile to create a fragrant ambiance.
Butterfly and Flower Theme
Butterflies and flowers go together so well and are perfect for a Summer gathering, baby shower, or simply to have some fun with your friends. Here are some cute ideas to make your butterfly and flower theme party unforgettable!
Create a magical atmosphere by adding bright colors and delicate touches of nature throughout the table decorations. Place scented candles in glass jars surrounded by petals and butterflies, as well as flower-shaped cutouts. You can also hang butterflies made of paper from the ceiling or walls to give the place an extra special vibe.
Give your guests an extra special experience by setting up a DIY butterfly wings station. All you need is some colorful craft paper, safety pins, and scissors. Invite your guests to cut out their own butterfly wings and create their very own beautiful set of wings.
Artificial Butterfly Decorations
Floral 1st Birthday Ideas
There are lots of ways you can incorporate flowers into a first birthday celebration. Here are some ideas to make your little one's first birthday party extra special.
Decorations
To set the tone for a floral themed 1st birthday, start with decorations that feature beautiful blooms and soft colors. You can hang paper flowers from the ceiling or walls and place flower-shaped cutouts as centerpieces on tables. You can also add garlands of fresh flowers, candy-filled glass jars, and other colorful decor pieces to make your space look dreamy and inviting.
Activities
Or, you can go with some classic activities like cupcake decorating or coloring. You can also provide simple toys that feature flowers and butterflies such as bubble wands or wind chimes.
Floral Cake
Finally, no birthday celebration is complete without a cake! Incorporate the flower theme into the cake design by adding bright colors and delicate petals to the top of the cake. You can even add edible floral decorations such as cookie flowers or fresh blossoms. Whatever you choose, it's sure to be beautiful and delicious.
These are just some of the wonderful ideas you can use to create a lovely flower-themed party. No matter what kind of event you're planning, with a little bit of creativity and imagination, you can create an unforgettable floral celebration.