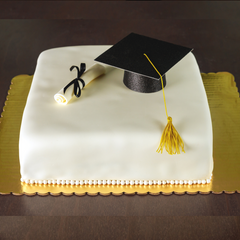 Creative Graduation Cake Ideas
Graduating is an exciting and significant moment in one's life. It marks the end of one chapter and the beginning of another. To celebrate this milestone and show support for your graduate, consider baking a cake that reflects their achievements and interests. Whether it's a classic design or a custom creation, the possibilities are endless. Imagine a cake in the shape of a graduation cap or one that showcases your graduate's favorite sports team.
The options are limitless, and it's a fantastic way to congratulate them on all the hard work they've put in. So mark this momentous occasion with a cake that truly represents the graduate and their accomplishments- it's a sweet way to show how proud you are of them.
What Type of Cake is Best for Graduation?
When it comes to choosing a cake for a graduation celebration, it ultimately depends on personal preferences. However, here are a few popular options that are often well-suited for graduation parties:
Classic Vanilla Cake: A simple, elegant vanilla cake is a timeless choice that appeals to a wide range of tastes. It can be decorated with graduation-themed designs, such as a graduation cap or diploma, using colored frosting.
Chocolate Cake: A rich and decadent chocolate cake is always a crowd-pleaser. You can opt for a traditional chocolate cake or go for variations like chocolate fudge or chocolate ganache. Decorate it with colorful sprinkles or personalized graduation toppers.
Red Velvet Cake: Red velvet cake is visually appealing with its vibrant red color and typically has a light, tangy flavor. It can be a great choice to celebrate a special occasion like graduation.
Funfetti Cake: If you want to add a fun and festive touch to the celebration, consider a funfetti cake. It is a vanilla cake with colorful sprinkles throughout, giving it a playful appearance. It's perfect for celebrating achievements and joyous moments.
Customized Cake: Consider getting a cake customized to reflect the graduate's interests or future plans. You could incorporate their school colors, mascot, or their chosen career path into the cake design. Personalizing the cake can make it extra special and memorable.
Remember to consider any dietary restrictions or preferences of the attendees. If you're uncertain, it's always a good idea to consult the graduate or their family to ensure you choose a cake that aligns with their tastes and preferences.
Glitter Congrats Grad Cake Topper
Congrats Grad Cake Topper
Easy Graduation Cakes
If you're short on time and prefer a hassle-free approach, you can still create an impressive graduation cake with simple decorations. You have the option of purchasing pre-made cakes from the store and adding your personal touch by using ribbons and sugar flowers in the colors of the graduate's school. For an added touch of glamour, sprinkle some edible glitter and crown the cake with a fondant graduation cap.
Alternatively, you can craft a graduation banner cake by frosting the sides of the cake with the message "Congratulations Graduate" and embellishing it with playful decorations like stars or balloons. If the graduate has a fondness for their school mascot, consider piping an outline of it in icing and enhancing it with edible pearls to give it a radiant appearance!
What to Write on Your Graduation Cake: Creative Ideas and Tips
Whether you're throwing a big party or having a small gathering with family and friends, a graduation cake is the perfect centerpiece. But what do you write on your graduation cake? If you're looking for creative ideas and tips, you've come to the right place. Here are some fun and unique ways to personalize your graduation cake.
Graduation Messages: The most popular option for cake messages is to write inspirational graduation quotes. You can choose a quote from a famous author, a beloved mentor, or even create your own message. Some popular graduation quotes include "The tassel was worth the hassle" and "The future belongs to those who believe in the beauty of their dreams." Another idea is to write your graduation date or your degree on the cake.
School Colors: You can't go wrong with school colors. Decorate your cake with frosting in your school's colors or add edible confetti in the same colors. Use a graduation cap or diploma as a cake topper.
Emojis: If you want to add a fun and modern twist to your graduation cake, consider decorating it with graduation emojis. You can use emojis like the graduation cap, diploma, or the party popper. Emoji cookies or cutouts can also be used to decorate the cake.
Personalize with Photos: Add a personal touch to your graduation cake by using a photo. You can print a photo of yourself, your friends, or your family on edible paper using food coloring. You can also add a photo transfer sheet on the cake as a cake topper.
Graduation Cake Message Ideas
Writing a message for the cake can be just as daunting as deciding on what type of cake to make. If you're feeling stuck, here are some ideas:
"Congrats, grad!"
"Well done!"
"Dream big!"
"Achievement unlocked!"
"Cheers to success!"
"Follow your dreams."
"The future is yours!"
"Grad power!"
"Proud of you!"
"Congratulations Grad"
"Best wishes on your graduation"
"Wishing you all the best on your special day"
"So proud of everything you've accomplished"
"Wishing you a lifetime of happiness and success"
"May all your dreams come true"
"Go confidently!"
"You did it!"
"Onward and upward!"
"Hats off to you!"
"Bravo, graduate!"
"Future leader."
Graduation Cap Topper Cap, Floral Inspirational
Black Plastic Graduation Cap Cake Topper
Black Glitter You Did It Cake Topper
What do you put on a Graduation Cake?
Creative Cakes
Graduating from high school is a monumental moment, but for those unsure about the future, it can also be a daunting one. To add a fun and unique touch to your celebration, why not try making a creative cake? Instead of settling for a plain cake with "congratulations" scribbled on top, take inspiration from your graduate's interests and hobbies.
Perhaps they're a bookworm, in which case, try a stack of book cakes with each layer representing the different knowledge they've gained from high school.
Or, if they're fascinated by the galaxy, why not make a planetary cake complete with edible stars and planets? Not only will the cake be a reflection of them, but it will also be something to remember for years to come.
Achievement-Themed Cakes
When it comes to celebrating a graduation, there's nothing quite like an achievement-themed cake to show your pride. These cakes are the perfect way to honor your grad's hard work and dedication, no matter what they've accomplished. With a personalized touch, you can showcase your grad's achievements in a way that is both meaningful and delicious.
From highlighting their college acceptance to acknowledging their first job offer, these cakes are a surefire crowd-pleaser. Plus, by incorporating school colors and awards, you can add an extra level of customization that truly brings the cake to life. So why not celebrate your grad's achievements in a sweet and memorable way?
Career-Themed Cakes 
Graduating is a big accomplishment, and what better way to celebrate than with a personalized cake that reflects your future career goals? Whether you're headed for the medical field or law, or planning to embark on a creative journey as a graphic designer or photographer, a career-themed cake is the perfect way to showcase your aspirations.
Instead of traditional decorations like flowers and ribbons, you can use icing shaped like paintbrushes or cameras to bring your cake to life.
And if you're planning to work overseas after graduation, a globe-shaped cake is a great way to show your adventurous spirit! With endless possibilities, a career-themed cake is a fun and unique way to celebrate your future.
Graduation Cakes for Girls
Graduation is an exciting time for all, but especially for the graduates who are celebrating their success in completing their academic journey. For young women, graduation day is an opportunity to show off their style, creativity, and overall personality. A great way to do so is by having a customized graduation cake that represents who they are and their achievements.
It is essential to choose a cake that reflects their interests, colors, and style so that their hard work and unique personality are reflected. Every cake should be designed with love and attention to detail, carrying the best wishes and congratulations for this next chapter in life.
A graduation cake is a sweet way to celebrate this memorable event with family and friends, leaving a delicious memory for the graduates and their loved ones to cherish forever.
Graduation Cakes for Boys
Graduating is a big milestone for boys, and what better way to celebrate than with a cake? In today's gender-neutral world, more boys may prefer a cake that matches their interests and tastes. For example, a cake shaped like a football or a car might be an ideal option.
Alternatively, superhero-themed cakes with bold colors and intricate decorations are also a popular choice. For parents or loved ones who want a simpler design, try spelling out "Congrats Grad" with fondant letters and incorporating sports-themed colors like navy blue or green.
There are endless ways to personalize graduation cakes for boys, and they're sure to appreciate the thought and effort put into making their day special.
When it comes to graduation, there's nothing quite like a cake to celebrate the occasion. Whether the graduate in your life prefers chocolate, vanilla, or a unique flavor combo, you can't go wrong with a beautifully crafted cake. A graduation cake not only commemorates the hard work and dedication that went into a high school diploma, but it also serves as a reminder of all the exciting possibilities that lie ahead. So put on your chef's hat, break out the icing, and get ready to create a sweet treat that will be cherished for years to come. Congratulations to the high school graduate, and may your future be as sweet as the cake we're about to make!