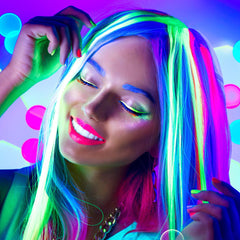 Who doesn't love a good party? And what could be more fun than throwing a glow in the dark party? With the right combination of games, decorations, and music, you can have a great time that your guests will never forget. Here are some glow in the dark party ideas and games to get you started.
Blacklight Party Supplies
Throwing an epic blacklight party is sure to be a hit with any group of friends. When it comes to party supplies, you don't need much to have a great party. Some ideas are;
Glow in the Dark Party Outfit
When deciding what to wear to a glow in the dark party, you have many options! A great place to start is by choosing something white; this way, it will be easier for the lights and decorations to make you glow.
Neon and bright colors are also successful at making your outfit stand out! Be sure to accessorize with things like glow in the dark headbands, necklaces and face paint.
Don't forget that you need to move around and enjoy yourself so pick an outfit that lets you glow while also being comfortable.
Glow Stick Games
It's no secret that glow sticks are a great way to add an extra level of fun to any occasion. But did you know that you can use them to play some pretty cool games? Whether you're hosting a birthday party, or just looking for something different for your next family night, glow stick games are sure to add a bit of excitement to the evening. Let's take a look at how you can turn ordinary into extraordinary with some glowstick-fuelled fun. 
(THIS POST CONTAINS SOME AFFILIATE LINKS FOR YOUR CONVENIENCE: READ MY FULL DISCLOSURE POLICY)
Glow in The Dark Freeze Dance
This is one of those games that looks simple but takes skill and strategy. Start by playing some upbeat music and have everyone hold two glowsticks and dance as normal until the music stops. When it does, players must quickly freeze in place. They must then stay frozen until the music starts again. If anyone moves during this time they are out of the round.
Glow Sticks Bulk Party Supplies

Glow in Dark Face Body Paint

Glow Stick Hockey
This game is easy to set up but provides hours of entertainment. You'll need two sets of glowing sticks for this game; one for each team's hockey "sticks" and another for their goal posts/nets.
Place both sets of sticks on opposite sides of an open area and have each team attempt to shoot their ping pong ball into their opponents' goal post using their "hockey stick" made from a single glowstick. After each team has had a chance to shoot, tally up who scored the most points (or goals) and declare them the winner!
Glow in the Dark Ring Toss
This classic game is perfect for any occasion but it's especially fun when played in the dark! To play this fun glow stick game, simply gather some glow sticks and use them to make rings. Then set up some targets made out of cardboard boxes or plastic bottles and let your guests take turns trying to toss the rings onto them. You can even turn this into a tournament by awarding prizes for each round!
Glow in the Dark Charades
Charades is always a hit at parties but it's even better when you play it with glow sticks! Start by assigning teams and giving each team several glow sticks. Teams must then act out different phrases using only their bodies and their glow sticks while members of the opposing team try to guess what they are acting out. It's sure to bring plenty of laughs!
Glow Tag
The classic game of tag is taken up a notch when played in the dark with glow sticks! All you need is one person who starts off as "it" and several others who scatter throughout a large space. As "it" chases after other players, they must use their glowing objects to mark where they have been so that "it" can know where they have gone. This game can go on for hours if there are enough players involved!
Glow Stick Limbo
First you'll need to get some glow sticks and tape them together in pairs so they will create two poles. Place these poles at opposite ends of a room, start playing some music, and have your guests take turns going under the pole. As the music goes faster, players must move lower and lower until only one person is left standing! This game will add a whole new level of excitement to any party!
Neon Party Games
Here are some of our favorite games to play at a Glow in the Dark Party
Balloon Volleyball
This game is perfect for a larger group at your glow in the dark party. All you need to do is gather some glow in the dark balloons, divide your guests into two teams and have them stand on opposite sides of the room. Let the game begin having each team hit the balloon over the net in an attempt to get it on the other side and score a point. The first team to 10 points wins the game!
Glow Painting

Set up a table and cover it with white paper. Give your guests some glow in the dark paints (or mix up white paint with glow powder) and let them get creative. You could have a contest between all of your guests to see who can make the best piece of art. Or draw some tic tac toe grids on the paper and let your guests challenge each other.
Glow in The Dark Paint

Neon Glow Acrylic Paint Set

Glow in the Dark Paint

Neon Lawn Twister
Using neon paint, mark out a giant twister board on your lawn. Or make glow sticks into hoops and use these as the circles. Then have your guests take turns placing their hand or foot on a colored circle – just like regular twister! It's sure to bring plenty of laughs (and some great pictures!)
Glow Bowling
This game is perfect for a glow in the dark party and requires minimal supplies. All you need to do is gather some glow sticks and empty plastic bottles. Fill the bottles with water and place a glowstick inside each one, then place them in a triangle at one end of the room.
Your guests can then take turns rolling a tennis ball towards the pins and trying to knock them down! It's a great game to get everyone involved and having fun! The person with the most pins knocked down at the end of the night is declared the winner.
Glow in the Dark Scavenger Hunt
This is a super fun activity that can be adapted for any age group! Start by creating a list of items that your guests have to find. It could be anything from a piece of paper with certain words written on it, to a set of glow sticks, to special items that you have hidden throughout the house.
Give each team a limited amount of time and let them loose in the dark! The first team to complete their list wins the game. This activity is sure to get everyone laughing and having fun!
Glow in the Dark Hopscotch
Using glow or neon tape and some creativity, you can create a fun hopscotch game in your yard or driveway. All you need to do is mark out the classic hopscotch board on the ground with the tape. Then it's time for players to take turns hopping around the board and trying to reach the end without stepping on a square.
These are just a few ideas for how to make your next party truly unforgettable with some exciting glow in the dark party games. Whether you're celebrating an event or just looking for something different, these activities and games are sure to add some extra sparkle (and light!) into your next gathering!
Fluorescent Cloth/Neon Gaffer Tape

Fluorescent Cloth / Glow in The Dark Tape

Neon Glow Tape, Glow in the Dark Tape

More Fun Party Games:
Color powder parties are all the rage, and for good reason! They're a blast. If you're looking to plan your own color powder party, or just want some inspiration for color powder party ideas and games, we've got you covered.
Ready for a donut party? These fun donut party games will keep everyone entertained. From classic party games to some new favorites, there's something for everyone. So gather your friends and get ready for some sweet fun!