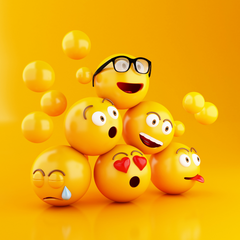 One of the most popular games to play with friends, family, and co-workers is Pictionary. In Pictionary, each player is given a word or phrase and must draw a picture that represents that word. The other players then have to guess what the word is. But what if you want to add a little bit of extra fun to the game? That's where emoji quiz comes in!
In emoji Pictionary, instead of drawing a picture, players are given a series of emojis that they must use to represent the given word or phrase. For example, if the word is "Finding Nemo," the player might use the emojis for an magnifying glass and a fish. If the word is "pizza delivery," the player might use the slice of pizza emoji, and a car emoji. As you can see, this game can get pretty creative!
How to Play Emoji Pictionary
To play emoji Pictionary, all you need is a group of friends ( anywhere from 2-10 people will work) and a way to keep score (like pencil and paper). There are a couple of ways to play this game.
The first is to make or print out an Emoji Pictionary Game Sheet.  Give everyone a copy of the game sheet and start a timer. When the time is up, the person with the most correct answers will win.
This game is perfect for all types of parties and so much fun (teens and tweens will especially love this game). An answer sheet is included with each game so you can quickly check to see who has won each round.
Seasonal Emoji Pictionary Games with answers
Whatever the weather, why not play a fun game of Emoji quizzes? These seasonal games will have you laughing all year round.
Printable Halloween Emoji Pictionary
It's that time of year again! Get into the Halloween spirit with this spooky emoji pictionary game. See how many words you can guess from the various Halloween-themed emojis. 
Fun Emoji Quiz Games
These games are perfect for parties, family gatherings, or even just a night in with friends. Plus, it's a great way to improve your emoji skills. So gather up some friends and get ready for some laughs.
Christmas Emoji Pictionary Games
Looking for a fun way to celebrate the holidays with your friends and family? Why not try emoji pictionary! This game is perfect for all ages and can be enjoyed by everyone. Plus, it's a great way to get in some laughs while you're celebrating the festive season. 
Another way to play this game works best if you have a small group of friends playing. You can send emoji messages to everyone in your group which they will have to solve.
One player will start and will choose a word or phrase from the provided list.
They will have one minute to message all of the other players a sequence of emojis that represent the chosen word or phrase. For example, if the chosen word is "basketball," they might text an image of a basketball, hoop, and shooting arm emoji.
Once everyone has received the emoji sequence, it's now up to them to try and guess what word or phrase it is! The first person to guess correctly gets 1 point. 
After each round has been completed (everyone has had a turn being the drawer), tally up all of the points earned by each player. The first person to reach 7 points wins! If you want, you can keep playing until someone reaches 10 points.
Repeat steps 1-5 until someone reaches 7 or 10 points (depending on how long you want to play for).
Here are some fun words and phrases to get you started.
House
Dog
Cat
Fried chicken
Pizza
Ice cream
Batman
Superman
Wonder Woman
These Printable emoji quiz with answers are perfect for a bored afternoon, family game night, or even a baby shower! With emojis including answer cards, it's sure to be a hit with everyone who plays. So break out the snacks and drinks, gather your friends and family around, and see who can correctly guess the most emojis! 
More Fun Party Game Ideas:
If you're looking for some fun printable Halloween games to keep everyone entertained, then you've come to the right place. Here you'll find games suitable for all ages, so there's something for everyone to enjoy. Whether you're looking for a game to play at a Halloween party or just want to keep the kids occupied during trick-or-treating, we've got you covered. So take a look and see which games take your fancy.
Christmas is a time for family, friends, and fun. What better way to celebrate than by playing some games? Here are some great Christmas games and activities that are perfect for groups. From charades to gingerbread house decorating, there's something for everyone to enjoy. So get your group together and have some holiday fun!