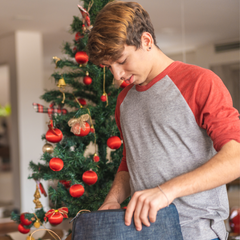 It can be tough to come up with ideas for what to stuff into your teen's stocking. If you're looking for some inspiration, here are a few ideas that are sure to please any teen boy.
From the latest must-have gadgets to cool new clothes and accessories, there's something for everyone on this list.
Whatever you choose, make sure it's something your teen will enjoy and appreciate. With a little thoughtfulness, you can easily find the perfect Christmas stocking stuffers for your teen boy this holiday season.
Top Stocking Stuffers For Teen Boys They Will Love
New Pair of Headphones or Earbuds
Teens love listening to music, so a new pair of headphones or earbuds is always a welcome gift. If you're not sure what type to get, go for a wireless option that will be easy for your teen to use.
Gift Card to Their Favorite Store
Whether it's a clothing store, book store, or video game store. A gift card to their favorite store will let them pick out exactly what they want. Make sure you know where they like to shop before you buy the card.
Cool New T-shirt or Hoodie
Clothing is always a popular choice with teens, so you can't go wrong with a new shirt or sweatshirt. Hoodies are especially popular right now, so if you can find one with a cool design or graphic, it's sure to be a hit.
New Wallet or Money Clip
Every guy needs a place to keep his cash and cards, so a new wallet or money clip is a useful and appreciated gift. Teens love having cash on hand to spend on their friends or favorite activities, so this is a gift that's sure to be used.
Minimalist Slim Wallet for Teens and Men

Men's Genuine Leather Security Wallet

The Ridge Minimalist Slim Wallet

Nice Watch
A nice watch is both practical and stylish, making it a great gift for any teen boy. It's something they can use every day, and it's a great way to teach them the importance of time management.
Old fashion watches are making a comeback, so if your teen is into vintage style, look for one with a retro design. But if they prefer the new digital watches, you can find plenty of those as well.
Basket of Their Favorite Snacks
Every guy loves snacks, so fill up a basket with all of his favorites like chips, candy, nuts, and more. He'll appreciate having something to munch on when he's studying or hanging out with friends.
New Cell Phone Case or Skin
If he's got a new phone or just wants to change up his look, get him a cool new case or skin for his device. There are endless options to choose from so you're sure to find one he'll love.
Military Grade Phone Case with Ring Card Holder

Samsung Galaxy A14 5G Case

Samsung Galaxy A03s Phone Case

An iTunes or Amazon Gift Card
Music downloads and online shopping are two of the most popular activities for teen boys, so an iTunes or Amazon gift card will let him do both to his heart's content!
Gaming Accessory
For the gamer, a new video game or gaming accessory is sure to be appreciated. There are so many options available, so take some time to research what's popular and find something that will suit his interests.
Hair Care Product
For the guy who takes pride in his appearance, a new hair product is always welcome. Things like hair gel, pomade, or hairspray are always good options.
A Funky Pair of Socks
You can never have too many pairs of socks, so this is a stocking stuffer that's both practical and appreciated. You can find socks with funny sayings on them which make a fun gift.
Crazy Socks, Funky Socks

Funky Dress Socks Novelty

Pocket Tools
Boys love gadgets, and pocket-sized multi-tools are always handy to have. Look for ones that include a knife, screwdriver, bottle opener, and other useful tools that can come in handy in various situations.
Pop Culture Merchandise
Teen boys often have favorite movies, TV shows, or video games. Consider getting them merchandise related to their beloved pop culture icons, such as posters, keychains, or action figures.
Portable Phone Charger
With their phones always in hand, having a portable phone charger is a lifesaver. Opt for a compact and powerful option so they can keep their devices charged on the go.
Puzzle Games
Brainteasers and puzzle games are not only entertaining but also great for exercising the mind. Look for challenging puzzles or fun brain-teasing games they can enjoy during their downtime.
Personalized Keychain
A personalized keychain with their name or initials is a thoughtful and practical gift that adds a touch of uniqueness to their everyday items.
Sports Accessories
If the teen boy is into sports, consider getting them accessories related to their favorite game, such as a basketball hoop for their bedroom door or a soccer ball with their favorite team's logo.
Sneaker Cleaning Kit
Keep their sneakers looking fresh and clean with a sneaker cleaning kit. It's a practical gift that will help them take care of their beloved shoes.
Travel-Sized Toiletries
Travel-sized toiletries like a mini cologne, deodorant, or hair gel are always useful, especially for teens on the go.
Scratch-off World Map
For the adventurous spirit, a scratch-off world map allows them to track and showcase their travel experiences in a fun and interactive way.
DIY Science or Art Kits
Fuel their creativity with DIY science or art kits that allow them to explore new hobbies and interests.
A Book by Their Favorite Author
If your teen is a reader, stuff his stocking with a book by his favorite author. He's sure to appreciate the thoughtfulness. If they're into graphic novels, that's even better. Check out their favorite authors or series and see what's new.
If you're stuck on what to get the teen boy in your life for Christmas, check out our list of top stocking stuffers. From the latest gadgets to must-have skincare products, we've got you covered.
Plus, all of these items are available from major retailers, so you can easily find them in time for Christmas. So what are you waiting for? Get shopping!