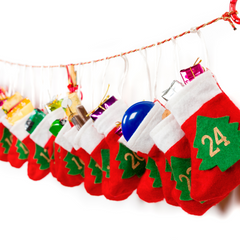 Christmas is a time for family, friends, and fun and is a special time for people of all ages. For kids and teens, it can be fun to countdown to Christmas Day with a special Advent Calendar. If you're struggling to come up with Advent Calendar ideas for your teenager, don't worry - we've got you covered!
We will share some creative ways to countdown to Christmas that will make the holiday season even more special for your teen.
What is an Advent Calendar?
An advent calendar is a special calendar used to countdown until Christmas Day. Typically, an advent calendar has 24 windows, one for each day leading up to Christmas and usually, a different activity or treat is hidden behind each window.
Advent calendars are a popular way to build excitement for Christmas, and they can be found in a variety of shapes and sizes. Some common themes include chocolate, toys, and even wine. No matter what form they take, advent calendars are a fun way to countdown the days until Christmas.
Christmas Advent Calendar Bag
Wooden Advent Calendar with Drawers
Metal Puzzle Advent Calendars for Teens
Why Do An Advent Calendar For Teens And Tweens?
Christmas is a time to start new Traditions or continue old ones and an Advent Calendar is a great way to get teens and tweens involved in the holiday season. By crafting or buying an Advent Calendar specifically for them, they will feel extra special as they countdown to Christmas Day! Plus, it can be a great family activity to do together.
When Do you Start an Advent Calendar?
Christmas is a time for traditions, and one of the most popular traditions is the advent calendar. For many people, opening an advent calendar is one of the first things they do to get into the Christmas spirit. But when is the best time to start?
Generally speaking, it's best to start your advent calendar on December 1st. That way, you have the full month of December to enjoy the daily treats and build up anticipation for Christmas Day. Of course, there's no hard and fast rule, so feel free to start whenever you're ready. After all, the important thing is that you enjoy the countdown to Christmas!
Advent Calendar Tips
Our number one tip is to plan early! The closer to December it gets, the busier you will be so it is never too early to start planning your calendar. If you are purchasing an Advent Calendar get these early too as the best ones will sell out very quickly.
If you are having trouble thinking of items to include in your calendar, consider using a theme. The theme could be beauty, gaming, fragrance, hair or stationery. Pick a theme your Teen will love and this will make choosing gifts much easier.
What Are Some Advent Calendar Ideas For Teens And Tweens?
Advent calendars can range from simple to complex, depending on your teen's individual interests. Here are some ideas for making an Advent calendar that will be a hit with teens and tweens:
Make it interactive by including activities behind each door. These could range from baking Christmas cookies to making a snowman or writing holiday cards for family and friends.
Put together a mix tape with 25 of your teen's favorite songs. Have them listen to one song each day until Christmas Day!
Create a "gift of the day" Advent Calendar. Have your teen open one gift each day until Christmas Day.
Include a book behind each door of the Advent calendar. This could be 25 holiday-themed books or any book that your teen or tween is interested in.
Put together an art supply Advent Calendar. Behind each door include a different art supply, such as paints, markers, or colored pencils.
Put together a "Christmas Movie of the Day" Advent calendar. Include a variety of holiday-themed movies, such as Elf or How the Grinch Stole Christmas.
Making your own Advent Calendar
There are so many options when it comes to making your own Advent Calendar. 
You could use brown paper bags filled with small gifts or candy for each of the 24 days. Decorate the bags with festive wrapping paper and Christmas-themed stickers. 
Or string up some Santa Hats and pop small wrapped gifts inside each one.
For a quick and affordable option, decorate some red plastic cups and peg them up with cute wooden pegs. Write the numbers on the front and decorate with festive stickers.
If you are handy with the sewing machine, you could whip up these fabric bags and hang them for a quick and easy display..
DIY Advent Calendars your Teen will Love
You can purchase ready made Advent Calendars but why not try making your own fun and unique Advent calendar this year? Here are some great DIY Advent gift ideas that your teen will love (these can also be used as stocking stuffer ideas):
Advent Gift Ideas for Teenage Girls
Make Up
Mini shampoo and conditioner
headband
Scrunchies and hair ties
Gift Card
Fuzzy socks
Festive Mug
Advent Gift Ideas for Teenage Boys
Candy
Mini Aftershave
Hair products
Key chain
Car air freshener
Slime Advent Calendars
This can be a fun activity and teen slime is all the rage right now. So why not put together a slime advent calendar.
Advent Calendar Diy Fluffy Slime Kit
Advent Calendar Slime Kit for Kids and Teens
Unicorn Themed Advent Calendars
If your teen is into all things unicorn, then this is the calendar for them. It can be as simple or as elaborate as you want.
Advent Calendar Unicorn Accessories
Advent Calendar Unicorn Jewelry and Makeup
LEGO Advent Calendar
This is a great idea for teen boys or girls who love Lego. You can purchase a pre-made Lego advent calendar or make your own.
LEGO Star Wars Advent Calendar
LEGO Harry Potter Advent Calendar
LEGO Friends Advent Calendar
Fun Family Advent Calendar Ideas
If you would prefer to have just one Advent Calendar for the family to open together, think about making a family advent calendar.
You could add your favorite candy to each day or even try different candy from around the world.
Wooden Advent Calendar House
Christmas Wooden Advent Calendar
DIY Wooden Advent Calendar
What about making a new family tradition by putting together a Family Advent Calendar that contains fun things to do instead of gifts. For each day there could be a family activity to do or game to play.
Some ideas include;
Family day ice skating
Decorating Gingerbread Houses or Gingerbread Cookies
Family Christmas Movie night
Go around the neighborhood looking at Christmas Lights
Go shopping as a family and each choose a new Christmas decoration
Set up a Hot Chocolate station
Each do a random act of kindness for someone else
Decorate the Christmas Tree
Whatever you decide to put in your advent calendar, the important thing is that it brings some extra joy to your teen's holiday season. So have fun with it and make it a tradition that they'll look forward to for years to come!
 More Fun Party Games Ideas:
Looking for a fun and festive way to spend time with your family during the holidays? Look no further than these printable Christmas dice games. The games are simple to play and everyone is sure to have a blast.
Having a sleepover with your friends is always a blast, but coming up with ideas for activities can be tough. That's why we've put together this list of fun sleepover games for teens that will keep everyone entertained all night long.