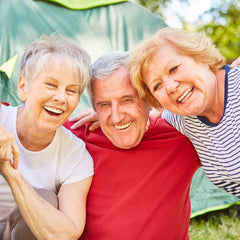 Board games are a great way to challenge your mind, stimulate conversation, and provide entertainment. For seniors, board games can be particularly beneficial as they help with cognitive function and social interaction.
The benefits of board games for seniors
Board games have been a source of joy for so many generations. For seniors, these classic games can provide some much needed joy and entertainment. Board games can help to keep minds active in old age, providing a fun challenge and helping to spark creativity. In addition, board games can bring seniors a sense of nostalgia as they fondly recall playing similar board games with family and friends during their younger years.
Board games are a great way to provide light-hearted amusement while also satisfying some nostalgic cravings. Aside from the mental benefits, engaging in interactive activities such as board games is also a wonderful social activity that can keep seniors connected with friends, family, and loved ones.
How to Choose a Board Game for Seniors
Choosing a board game for seniors can be a great way to unlock some nostalgia! Consider the interests of your senior loved one when selecting a game - are they a fan of classic party games like Pictionary or Charades, or do they prefer more strategic options such as Scrabble or Chess?
Puzzles can be a fantastic option as it encourages problem-solving. If budget is an issue, simple and timeless family card games such as Go Fish or Uno provide hours of fun without breaking the bank.
When making your choice, look for games that are easy enough to learn but engaging enough to make the experience memorable. With these criteria in mind, you'll be sure to find something that will make those special moments spent playing together truly unforgettable.
Fun Board Games for Elderly
Here are some of the best board games for seniors that can bring joy and laughter into the lives of your elderly loved ones.
Scrabble
This classic game is still one of the most popular board games out there, and it's a great choice for seniors due to its simple rules and low physical activity level. Scrabble encourages problem solving skills as well as vocabulary development which helps keep the brain sharp. Additionally, it can be played with two players at a time or even in larger groups if you have enough space for multiple boards!
Yahtzee
Yahtzee is a great way to practice simple math skills and have fun at the same time. This easy-to-learn game involves rolling 5 dice, then strategically deciding which combinations of numbers to add up in order to get the highest score. It's an all-around enjoyable game that can keep seniors entertained for hours
Monopoly
Monopoly is another classic game that we all know and love. It requires players to buy properties around the board, collect rent from anyone who lands on those properties, and ultimately become the wealthiest player! It's easy to learn but difficult to master, making it an ideal choice for seniors who want a challenge without feeling overwhelmed by complex rules. Plus, since Monopoly can take quite a while to finish, it's also an excellent way to spend quality time with friends or family.
Cribbage
Cribbage is an exciting game that combines skill with luck. Players attempt to score points by making pairs or runs with their cards while trying not to give their opponent too many opportunities to do the same! While this game does require some basic math skills, it's easy enough for most seniors to pick up quickly so don't worry about having a difficult time learning how to play.
Boggle
Boggle is a great choice for seniors who want to keep their minds sharp. This game requires players to search for words in a jumbled grid of letters and earn points for each word they discover. It's an excellent way to exercise the brain while having fun and it can even be played alone or with up to 4 players!
Trivial Pursuit
If you're looking for something new and interesting, then Trivial Pursuit is perfect! This game tests knowledge on various topics such as culture, science, history and more – all while providing lots of fun along the way! It comes in several different versions so you can choose one that best suits your group's interests and age level. This makes Trivial Pursuit an excellent choice for any type of gathering with family or friends.    
Backgammon
Backgammon is a great game for seniors who want to practice their strategy skills. This two-player game requires players to strategically move pieces around the board in order beat their opponent. It's easy to learn and it's an ideal choice for those looking for something competitive but not too intense.
Ticket to Ride
Ticket to Ride is a great way for seniors to practice their geography and planning skills. This game involves players attempting to build train routes between cities in order to score the most points. It's an engaging yet simple game that can be enjoyed by two to five players at once, making it perfect for small groups.
Qwirkle
Qwirkle is another great choice for seniors who want to practice their strategic and problem-solving skills. This fun game involves players attempting to make lines of colored tiles in order to score points. It's easy to learn but still requires some skill, making it a challenging yet enjoyable activity for any age.
Bananagrams
Bananagrams is a simple and enjoyable game for seniors who are looking for something new to try. This fast-paced word game requires players to spell words using letter tiles while trying to be the first player to use all their tiles. It's an excellent way to practice spelling and build vocabulary, as well as have some fun at the same time!
Uno
Uno is a classic card game that's fun for all ages. This fast-paced game requires players to use strategy and luck in order to be the first one to get rid of all their cards. It's a simple yet entertaining game that seniors will quickly pick up and enjoy playing with friends or family.
Battleship
Battleship is another classic game that's great for seniors who want something a little different. This two-player strategy game requires players to take turns guessing where their opponent's ships are located in order to win the game. It's easy to learn yet still involves some thought, making it both fun and challenging.
Mahjong
Mahjong is a Chinese game that requires players to make sets of tiles in order to win the game. It's enjoyable for seniors who want to practice their problem-solving skills, as well as learn something new! This game can be played alone or with up to 4 players and it's easy to pick up, making it a great choice for any age.
Hive
Hive is a great game for seniors who want to practice their strategy skills. This two-player game involves players attempting to build the largest hive of pieces in order to win the game. It's an enjoyable and unique activity that will challenge even experienced players, making it perfect for any gathering.
Board games are an excellent way for seniors to stay active both mentally and physically while having fun at the same time! These games offer something unique depending on what kind of experience you want; whether it be testing knowledge like in Trivial Pursuit or using strategy like in Monopoly – there is no doubt that board games will keep your elderly loved ones entertained and engaged for hours on end! So why wait? Grab one of these classics today and get playing!
More Fun Party Games:
Looking for some fun party games that will keep your seniors entertained? Look no further! These senior party games are perfect for any age group and are sure to get everyone laughing. So gather up your friends and family and get ready for some good old-fashioned fun!
Throw the best senior Halloween party ever with these fun ideas. From decorations and food, to games and activities, we've got everything you need to make your seniors Halloween party a hit.