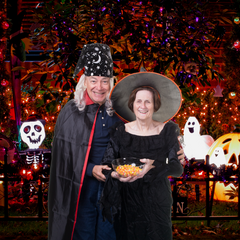 Halloween is a spooky, fun holiday for kids and adults alike. But did you know that Halloween parties aren't just for kids? Seniors can have a blast at Halloween parties too. 
Halloween is a time of magic, mystery, and delightful frights. While the holiday is often associated with young children, there's no reason why seniors can't join in on the fun!
Hosting a Halloween party for seniors is a fantastic way to bring joy, laughter, and a touch of the supernatural to their lives. Here are some tips for throwing a great Halloween party for seniors. We will also provide some ideas for fun party games and activities that everyone can enjoy. So, gather your ghoulish gang and let the festivities begin!
Planning a party for senior citizens is not that difficult. Seniors are really no different then anyone else, maybe a bit older and more knowledgeable, but that's really it. The only consideration that you need to think about is if they have any physical limitations.
Will any of your guests be in wheel chairs? If so then make sure that your furniture is spaced far enough apart that they can move around comfortably.  Are there any diabetics? Reevaluate the sweet treats and try to have some diabetic goodies on hand. Adjust your snacks to help out anyone with any other special dietary needs. You don't want one of your guests to feel left out due to health concerns so make sure you know a bit about each guest so you can plan accordingly.
Here are a few tips to make a party feel special this Halloween.
Invitations
Make sure you send out invitations to each guest stating that it's a Halloween party that they will be attending. Older people love to receive mail, especially the old fashioned way. They do not seem to care much for invitations sent via email. So stick to good old fashioned paper card invitations. They will appreciate the effort.
Halloween Costume Party Invitations
Halloween Party Invitations with Envelopes
Make sure that it clearly states the date and time of the party. Choose a nice Halloween themed invitation to delight your guests. Tell everyone in the invitation that they are required to bring one item, a picture of themselves as a baby or a small child. This is all they need to bring to the function. Do not tell them what this is for. This will be revealed later. Just simply state that they need to bring one photo of themselves as a baby or a child.
You can choose if this will be a fancy dress party or not. Perhaps encourage your guests to dress up for Halloween. Have a few party props near your entrance so guests who did not dress up will have a chance to add to their costume.
Set up the Party
So, what are some tips for throwing a great Halloween party for seniors? First of all, it is important to keep the noise level down. This can be accomplished by playing soft music in the background and avoiding loud noises. Try to pick tunes from their era. Everyone likes to listen to the music of their youth. Just don't play it too loudly because you want to encourage good conversation.
Decorate your house for the occasion. It does not need to be anything fancy but just a few tasteful Halloween decorations for your guests to enjoy which will get them into the Halloween mood.
Food and Drinks
Make sure to have a variety of food and drinks available, as seniors often have a smaller and more choosy appetite than younger partygoers
Provide a wide range of finger foods available as the evening wears on. Have a nice healthy vegetable and fruit tray. Maybe some finger sandwiches. Older people love finger sandwiches. Chips and dip are nice too, or a lovely cheese ball with crackers. Cheese balls and crackers always feel like fall and the approaching holidays.
Make sure that you have a wide range of drinks available. Have punch, milk, soda, coffee, and decaffeinated coffee. Seniors do enjoy a wide range of drinks to choose from. Also remember that just because someone is a senior citizen does not mean that they do not enjoy a nice mixed drink, beer, or a glass of wine during an evening party. Or try one of these fun Halloween Party Drinks
Halloween Games and Activities for Seniors
Now that we've covered some tips for throwing a great Halloween party for seniors, let's talk about some fun party games and activities. Halloween-themed party games can be a great way to get everyone involved and having fun.
Costume Contest
Encourage seniors to unleash their inner creativity and have a costume contest. Provide a variety of costume accessories, wigs, and props so that everyone can participate, regardless of mobility. Award prizes and Halloween costume contest certificates for different categories such as "Best Homemade Costume," "Most Original," or "Funniest Costume." This activity fosters a sense of camaraderie and brings out the playful spirit of Halloween.

Spooky Movie Night
Create a cozy atmosphere with dim lighting and set up a small theater area. Select classic Halloween movies like "Hocus Pocus," "Casper," or "The Addams Family." Prepare bowls of popcorn, and serve apple cider or warm pumpkin spiced beverages. Watching these beloved films together will evoke a sense of nostalgia and provide an opportunity for shared laughter and conversation.
Haunted Bingo
Give a spooky twist to the classic game of Bingo by adding Halloween-themed elements. Replace the traditional numbers with Halloween-related words or symbols. Decorate the Halloween bingo cards with images of ghosts, witches, or pumpkins. Prepare small prizes like Halloween-themed treats or small trinkets to award the winners. This activity combines fun and friendly competition while keeping the Halloween spirit alive.
Creepy Crafts
Engage seniors in Halloween-themed craft projects. Provide materials for making ghost puppets, paper lanterns, or even simple paper plate masks. These activities can be tailored to accommodate various skill levels and abilities. Crafting promotes fine motor skills and provides a platform for self-expression, encouraging seniors to explore their artistic side.
Spine-Chilling Storytelling

Invite a local storyteller or a volunteer to share spooky tales with the group. Ghost stories, legends, and folklore can captivate their imagination and spark nostalgic memories. Create a cozy setting with dim lights, candles, and comfortable seating. You can even encourage seniors to share their own supernatural encounters or favorite Halloween memories. Storytelling sessions provide an opportunity for connection, bonding, and a sense of shared experiences.

Decorate a Pumpkin
Host a pumpkin decorating session where seniors can let their artistic talents shine. Provide pumpkins in different sizes and art supplies like markers, paint, glitter, and stickers. Encourage them to get creative and decorate their pumpkins in a way that reflects their personalities. Display the finished creations around the party area to create a festive ambiance.
Trick or Treat Bags
Have small gift bags that you can have everyone fill with a variety of candies to give out to the arriving children who will be trick or treating as the sun sets. Seniors love to hand out candy to children in costume. It gives them a chance to interact and see the various costumes.

Cupcake Decorating
Before the party, bake some cupcakes. Make quite a few of them but do not decorate them. It will be a fun activity for everyone to sit around and decorate cupcakes with Halloween colored icing and candies. Once the treats are done everyone can enjoy them.
Guess the Photo
As evening wears on its time to place everyone's photos in a big basket. Now pull out one photo at a time and see if everyone can name who it is. It's fun to see what someone looked like as a child or baby. Have each person tell a story about their childhood. Its wonderful to hear the memories of senior citizens because it's like a page of history. It gives you a chance to hear about another time.
Card Games
If it's getting late it might be time to see if anyone is interested in playing a few games. Perhaps cards? Older folks love to play card games because it often reminds them of their youth. Back when they were young there was not a wide assortment of board games so they relied heavily on a fun game of cards to liven up a party.
Photo Booth
One popular activity is to create a photo booth. This can be done by setting up a few props and taking pictures of everyone in costume. It is a nice memory for your guests of this fun Halloween party.
Printable Halloween Games
Test your guests knowledge with these fun Halloween Trivia Games
We hope you enjoyed these tips and ideas for throwing a great Halloween party for seniors. No matter what you do they will enjoy themselves because its always fun to get out with a group of friends. The best parties are made by the guests themselves as they interact with each other and enjoy good company.
More Fun Party Games Ideas
Throw the best retirement party ever with these fun and exciting games. From trivia to memory lane, we've got you covered! No one will be able to retire without celebrating in style.
If you are looking for some more fun Halloween party games, then this Halloween Games Bundle will provide hours of fun and entertainment.