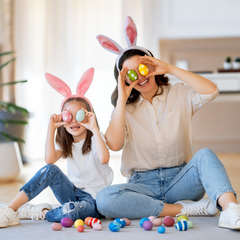 Get ready to have some fun with your family this Easter! Whether you're looking for an alternative to the traditional egg hunt or just want something fun and different to do.
Easter is a time for family gatherings and fun activities. If you're looking for a way to add some excitement to your Easter celebration, why not try Minute to Win It Easter Games? These fast-paced games are perfect for all ages and can be played with items you likely already have in your home.
With just a minute on the clock, players must complete a series of challenges using Easter-themed items such as eggs, jellybeans, and peeps. Whether you're hosting a family get-together or just looking for some Easter-themed fun, Minute to Win It Easter Games are sure to be a hit. 
Fun Easter Games for a Minute-to-Win It Challenge 
Here are some great Easter games that are sure to bring out the competitive spirit in everyone!  
Jelly Bean Pickup - Fill a bowl with jelly beans and give each player a pair of chopsticks. They have one minute to pick up as many jelly beans as they can with the chopsticks and place them in a separate bowl. The player with the most jelly beans at the end of the minute wins.
Easter Scavenger Hunt: Print off these printable scavenger hunt and then get each player to search for hidden Easter items around the room/yard and collect as many as items possible in one minute.
(THIS POST CONTAINS SOME AFFILIATE LINKS FOR YOUR CONVENIENCE: READ MY FULL DISCLOSURE POLICY)
Stacking Easter Peeps: may look like a hilarious, sugar-filled mess - and it is! This fun game is all about speed and balance. You'll grab those sugary little chicks (or bunnies) and stack them one on top of the other as quickly as possible. The player who has the highest stack in one minute is the winner. Keep an eye out for your rivals, though – they'll be doing their best to sabotage your tower as you stack away! So don't get too distracted, because with fast fingers comes sweet victory!
Marshmallow Peeps Pink and Yellow Easter Bunnies
Peep Easter Pink Marshmallow Bunny Candy
Easter Marshmallow Chicks Peeps Variety
Egg and Spoon Race - Give each player a spoon and an egg. They have to balance the egg on the spoon and race to the finish line without dropping it. If the egg falls, they have to start over. The first player to cross the finish line with their egg still on their spoon wins. You must keep going until the minute is up.
Players Easter Egg and Spoon Race Game Set
Egg and Spoon Race Game Set with Yolk
Easter Egg and Spoon Race Game Set
A Peeps Marshmallow Challenge – this game is simple but tons of fun. All you need is a bowl and lots of peeps marshmallows and two or more players. The goal is for each player to move as many marshmallows from one side of the table to the other using only their face!
Each player takes turns placing their face against the side of the bowl placing a Marshmallow peep on the table and then pushing the bowl which pushes the peeps to the other side of the table, you have 60 seconds to get as many marshmallow peeps to the other side.
Egg on Your Face (Cookie Face): sounds like it's going to be a ton of fun! Kids want to test out their facial muscles and prove that they're an expert egg mover. Move over cookie face, this new game is going to be all the rage! You've got one minute to move that chocolate egg from your forehead to your mouth - if you can do it, you'll walk away triumphant, with a chocolatey face. What kid wouldn't love that?! Get those faces flexed and ready for this game.
Reese's Easter Eggs
Chocolate and White Creme Eggs
Lindt Mini Eggs
Egg Toss – For some friendly competition, try an egg toss game. Break up into teams of two. Players take turns tossing a raw egg back and forth between them, trying not to drop it. For kids maybe a hard boil egg would be better.
They have 60 seconds to pass the egg between each other as many times as possible without breaking it! To make it even more challenging, increase the distance between players or reduce their time limit. 
Easter Egg Roll – This classic game will be sure to put smiles on your kids' faces. All you need are some hardboiled eggs, something smooth like a cutting board, and two or more kids ready for some competition.
Players roll their eggs across the surface while trying to run from the start line to their team member then swap the board and egg over and the team mate then runs to the other end. Try to get as many laps done in one minute.
Bunny Hop - Set up a course with cones or other obstacles and have players race through it while hopping like a bunny. Players have 1 minute to complete the course or get as far a possible.
More Easter Minute to Win It Games
Bunny Tail Toss: Players must toss cotton balls into a basket across the room, aiming for the highest score in one minute.
Easter Egg Tower: Players must stack plastic Easter eggs as high as possible without them toppling over in one minute.
Bunny Race: Players must bounce a ping-pong ball across a room using only their elbow and race to the finish line in one minute.
Easter Egg Bowling: Players must set up a line of plastic Easter eggs and roll a ball to knock them down in one minute.
Bunny Ears Ring Toss: Players must toss rings onto bunny ear headbands and score points for each successful toss in one minute.
*Remember, each game should be timed for one minute, and the player or team that completes the task in the fastest time wins.
These Easter games are sure to bring lots of laughs and friendly competition among family members of all ages. So why not give them a try this holiday season? With minimal setup needed and unlimited possibilities for creativity, these Easter Minute-to-Win It games provide endless opportunities for fun that everyone in your family can enjoy together this Easter season!
More Fun Easter Game Ideas
Looking for some fun Easter games to keep the whole family entertained? Look no further! We've got a bunch of printable Easter games that are sure to be a hit. From classic games like egg and spoon races, to more modern ones like an Easter scavenger hunt, we've got you covered. So get out your printer and start playing!
Easter is a time where Christians celebrate the resurrection of Jesus Christ. It's also a time where children excitedly hunt for Easter eggs. Test your knowledge on this religious holiday with these printable Easter trivia questions and answers! How much do you know about the history and traditions of Easter?