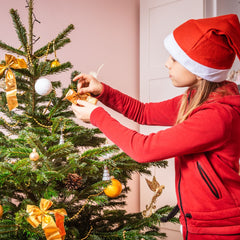 As Christmas approaches, many parents of tweens begin to worry about how to keep their kids entertained. After all, as they get older, Santa does not hold the same attraction but doesn't mean the Christmas fun has to end.
There are plenty of festive activities that the whole family can enjoy together. Here are some of our favorites:
(THIS POST CONTAINS SOME AFFILIATE LINKS FOR YOUR CONVENIENCE: READ MY FULL DISCLOSURE POLICY)
Top Activities For Tweens To Do Around Christmas Time
Make a Gingerbread House
One great activity for tweens is making gingerbread houses. This can be a fun family activity or a competition between friends. There are many kits available at craft stores, or you can make your own gingerbread dough from scratch.
Gingerbread House Christmas Fused Bead Kit
Gingerbread House Wood Paint Kit
Baking Kit Holiday Gingerbread House Kit
Decorate Christmas Cookies
Another popular activity is decorating Christmas cookies. This is a classic holiday tradition that's perfect for tweens. They can use their creativity to decorate cookies with icing and sprinkles. And, of course, eating the cookies is the best part!
Christmas Cookie Cutter set
Snowflake Cookie Cutter Set
Christmas Cookie Cutters set
Go Ice Skating
Another fun activity for tweens is going ice skating. This is a great way to get some exercise and enjoy the winter weather. Many cities have outdoor ice skating rinks that are open during the Christmas season.
Visit Santa
Even though tweens may not believe in the magic of Christmas anymore, they can still visit Santa at the mall or at a local holiday event. This is a great way to get into the Christmas spirit and take some fun photos.
Have a Christmas Tree Sleepover
Plan a fun family sleepover right under the Christmas Tree! This is fun activity that everyone will love and makes a great family Christmas tradition.
Have a Snowball Fight
If you're lucky enough to have a white Christmas, take advantage of it by having a snowball fight. This is a great activity for tweens and adults alike. Just be sure to dress warmly!
Do a Daily Advent Calendar
Another activity that tweens will enjoy is doing a daily Advent calendar activity. This is a great way to countdown to Christmas and do something fun each day. There are many Advent calendar kits available, or you can make your own.
DIY Advent Calendar Kit
DIY Christmas Advent Calendar
Build A Fort Out Of Blankets And Pillows
This is a great indoor activity for a cold winter day. Gather up some blankets and pillows and build a fort in the living room. Then, have a movie marathon or make some popcorn and eat it in your cozy fort.
Play Christmas-Themed Board Games
There are many fun Christmas-themed board games that tweens will enjoy. Games like Jenga, Monopoly, and Clue can all be given a festive twist.
The Santa Claus Game, Christmas Board Game
Late for the SkyChristmas-opoly
Monopoly Elf Based on Christmas Comedy Film Elf
Make a Holiday Craft
There are many fun holiday crafts that tweens can make. From decorating stockings to making Ornaments, there are plenty of creative ideas out there. A quick search online will give you lots of great ideas.
Go Look at the Christmas Lights
One of the best things about Christmas is all of the beautiful lights. Take a drive or walk around your neighborhood to enjoy the festive displays. Turn this into a fun Christmas Lights Scavenger Hunt.
Do a Holiday Scavenger Hunt
Another fun activity is to do a holiday treasure/scavenger hunt. This can be done indoors or outdoors. Hide Christmas-themed items around the house or neighborhood and have tweens search for them.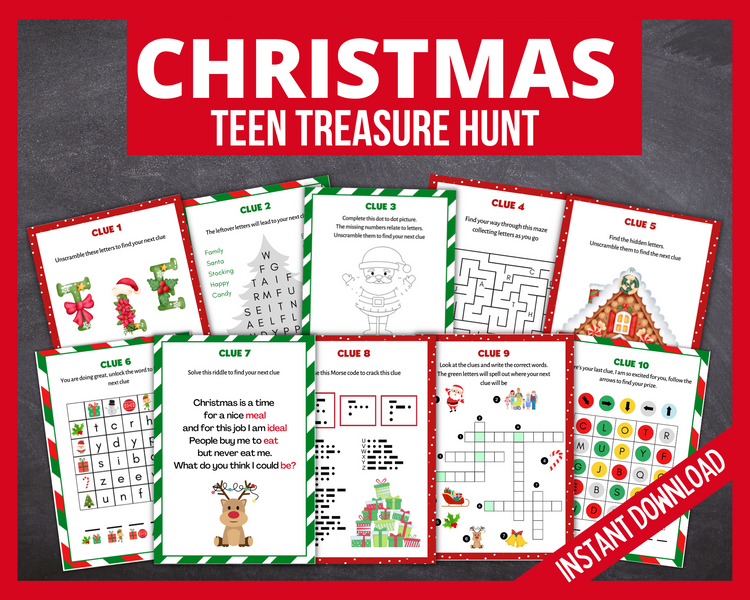 Decorate the Christmas Tree
This is a classic Christmas activity that the whole family can enjoy. Gather up some Ornaments and garland and get to work. This is a great way to get everyone into the Christmas spirit.
6ft Classic Premium Artificial Christmas Tree
Christmas Ball Ornaments
Color Changing Led Christmas Lights
Make Christmas Cards
Another great activity for tweens is to make Christmas cards. This is a fun way to get into the holiday spirit and show your friends and family how much you care.
Make Homemade Hot Chocolate
This is a great activity for cold winter days and makes a perfect Christmas Tradition. Make a big pot of hot chocolate and add some festive toppings like marshmallows, whipped cream, or candy canes. Or set up a Hot Chocolate Station so you can make a delicious hot chocolate whenever you want.
Have a Christmas Movie Marathon
Last but not least, having a Christmas movie marathon is always a fun activity. There are so many great Christmas movies that tweens will enjoy. Some of our favorites include Elf, The Polar Express, and Home Alone. Make some Christmas popcorn and curl up on the couch to enjoy a festive movie marathon.
Wrap Presents for Charity
A great way to teach tweens the true meaning of Christmas is to have them wrap presents for charity. This is a fun activity that will help those in need during the holiday season.
Volunteer At A Local Soup Kitchen
Teach your tweens compassion with a few hours volunteering at a local soup kitchen. This is a great way to give back to the community and make a difference in someone's life.
These are just a few of the many fun Christmas activities that tweens can enjoy. So don't worry if your tween isn't interested in all the traditional Christmas activities, there are plenty of other options that they will enjoy. So get out there and enjoy the holiday season with your family and friends. Merry Christmas!