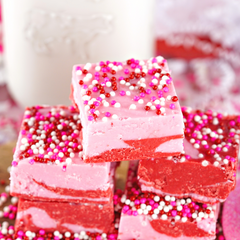 Ah, fudge. Who doesn't love the sweet, creamy taste of this classic treat? But sometimes you want something a little different. Something that will tantalize your taste buds and bring a smile to your face. That's where strawberry flavored fudge comes in! This delicious combination of sweet chocolate and tart strawberries is sure to be a hit with both kids and adults alike. Read on to learn how easy it is to make this delectable dessert at home!
If you're looking for a delicious, unique treat to make for Valentine's Day, Mother's day or any other special occasion, you can't go wrong with strawberry flavored fudge.
(THIS POST CONTAINS SOME AFFILIATE LINKS FOR YOUR CONVENIENCE: READ MY FULL DISCLOSURE POLICY)
Ingredients Needed To Make the Strawberry Flavored Valentine's Day Fudge
Items Needed:
How to make the Strawberry Flavored Fudge
Instructions:
The first thing to do is put the red candy melts in a microwave-safe bowl, then heat on high, in the microwave, keep checking and stopping every 15-30 seconds to stir during the melting process to ensure the candy melts don't overcook, continue for 2-3 minutes or until smooth when it is stirred.
Then to the same steps for the pink candy melts, keeping the two colors separated, if different bowls.
Place the frosting in the microwave for 45 seconds up to 1 minute, or until it is fully melted and smooth. If using the heart sprinkles, set aside ½ a teaspoon of un-melted frosting .
Add the strawberry extract to the frosting and stir well, check the taste is to your desire.
Once the frosting is melted put half of the frosting in with the red candy melts bowl and the other half with the pink candy melts bowl.
Stir each of the colors vigorously until fully mixed and you get the perfect consistency.

You will then need to line an 8x8 inch square pan with parchment paper, making sure to leave some overhang.
Gently spread a layer of strawberry flavored pink candy mix over the red candy layer, smoothing it out as you go, alternate pouring in the two colors in random spots. Tap the pan in between so it evens out and removes bubbles.
Sprinkle the top of the strawberry flavored fudge with as many Valentine's themed sprinkles as you like, you can add whatever sprinkles you like.
Place in the fridge and chill for approx 2 hours or until hardened.
If desired, use the set aside frosting and place a dab on the back of a heart sprinkle, and press it into the middle of each fudge square you cut for a cute addition! Enjoy!
Recipe notes and tips:
While the recipe is straightforward, it is always nice to have a few different tips and suggestions to make things easier. So here are some of the recipe notes and tips to help you out:
Make sure to use high-quality chocolate for the best flavor.
Use a candy thermometer to ensure you reach the correct temperature when melting the chocolate and combining the ingredients.
Line your pan with parchment paper or waxed paper, as it will make transferring and cutting much easier!
For an added touch, sprinkle with crushed freeze-dried strawberries or other decorations.
Store your finished fudge in an airtight container and it will stay good for up to one week at room temperature.
To get a creamier texture, add 1/4 teaspoon of salt to the melted chocolate before adding the remaining ingredients.
Print off these gift tags, wrap the strawberry fudge in cellophane or put in a little box and attach a gift tag, perfect gift for your Mom, Valentine's Day or even a Teacher gift
Variations to try:
Like with many recipes there will always be variations to try. Here are a few suggestions.
Try adding a few spoonful's of nut butter to the mix for an extra creamy and indulgent version.
For a twist, try using dark chocolate or adding in some dried fruit like cranberries or cherries.
Make it festive by sprinkling with edible glitter.
Or, if you want a more decadent version of the treat, why not garnish with chopped fresh strawberries?
FAQ's:
Like with any recipe, there are often questions that need answering. I thought I would share some of the common questions here, but if you have any comments or questions please don't hesitate to get in touch directly.
Q. How long will this fudge keep?
This fudge will last for up to 3 weeks if stored in an airtight container in the refrigerator.
Q. Can I freeze it?
Yes, you can freeze the fudge for up to two months in a freezer-safe bag or container.
Q. Can I use different flavors of chocolate?
Yes, you can experiment with different types of chocolate for the base and combine it with other flavorings like orange or raspberry extract.
Q. Can I make this fudge vegan or gluten-free?
Yes, you can substitute the traditional ingredients for vegan or gluten-free alternatives to make a delicious and safe version of strawberry flavored fudge. Just be sure to check labels on any store-bought ingredients you use.
We hope this guide was helpful in providing you with all the information needed to make your own delicious batch of strawberry flavored fudge! Whether you're looking to surprise your friends and family with a unique take on traditional fudge, or just want to satisfy your sweet tooth.
Making strawberry flavored fudge is a fun and delicious way to enjoy the classic treat. With our guide, you have all of the information needed to make your own batch of this delightful dessert at home! Whether you're looking for a unique spin on traditional fudge or want something special for Valentine's Day. Be sure to experiment with different types of chocolate and add-ins until you find one that suits your taste buds best. Enjoy!