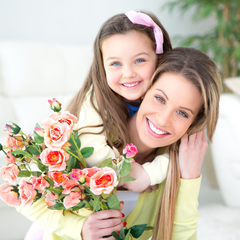 Mothers Day is a time to show our appreciation for the ones who brought us into this world. It reminds us to celebrate the women in our lives, whether it's own mother, grandmother, stepmother, or mother-in-law, any mother figure deserves to be celebrated on this day.  
One thoughtful way to do this is by spending quality time and playing games with them. If you're looking for some fun games to play with your mom on Mothers Day, here's a few ideas.
Trivia Games
Show off your knowledge of all things Mom with a trivia game. You can find pre-made Mother's Day trivia games, or you can make your own by coming up with questions about your mom's life, her favorite things, etc. Be sure to tailor the difficulty level to the ages and interests of the people playing.
A family-favorite, charades is a great way to get everyone laughing. One player acts out a scene from a movie, TV show, book, etc., while the others try to guess what it is. Players can take turns acting out scenes or divide into teams for competitive fun. 
Scavenger Hunt
For this Mother's Day Scavenger Hunt game, you'll need to do a little bit of planning ahead of time. Hide clues around the house and have players race to see who can find all the clues and solve the final puzzle first. You can make the clues as difficult or easy as you like, and you can even tailor the scavenger hunt theme to be Mother's Day-related.

Mother's Day Tea Party Games
Why not host a fun tea party for Mom on Mothers day? She will love spending time with her family, and you can all enjoy some delicious snacks, tea and tea party games! Here are a few ideas for games to play at your tea party:
Tea Bag Toss: This one is a take on the classic game of horseshoes. Set up two "tea cups" (plastic cups or buckets) at opposite ends of your playing area, and players take turns throwing tea bags (wetted tea bags work best) at the cups. The player who gets the most tea bags in the cup wins!
Trivia: Test your knowledge with a trivia game all about tea! You can find trivia questions online or make up your own. Be sure to choose topics that everyone will be interested in.
Mother's Day Printable Games
Who Knows Mom Best?

Have fun with Mom trying to find these Mom related words
Can you be the first to unscramble these Mother's Day words and phrases?
Get the whole family together for some fun and laughter with these Mother's Day riddles
Try to match the celebrity Mom with their children.
Can you match each language with how they say 'Mom' ?
Games are a great way to show Mom how much you appreciate her on Mother's Day (or any day). They're also a lot of fun! So get creative and have fun coming up with games that everyone will enjoy. And don't forget the most important part: make sure Mom wins!
If your mom isn't fond of playing games, that's okay too! You can also try cooking or baking together, going for a walk or jog, or even just sitting down and chatting over some tea or coffee. Whatever you do together, spending time with your mom on Mothers Day is sure to put a smile on her face.
More Fun Party Game Ideas:
Not sure how to plan the perfect Mother's Day? Check out our tips for making sure your mom feels loved and appreciated on her special day. From breakfast in bed to a day at the spa, we've got you covered!
This Strawberry Lemon Mason Jar Dessert recipe is easy and perfect for Spring. All you need are some mason jars, strawberries, lemon curd, vanilla bean paste and graham crackers. layer everything in the jar and enjoy!