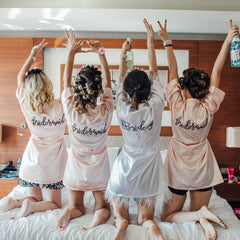 When it comes to celebrating the bride-to-be's final hurrah before the big day, bachelorette parties have evolved far beyond the cliché traditions of the past.
Modern brides and their squads are embracing creative and unique themes that reflect the bride's personality, interests, and passions. If you're in charge of planning a bachelorette bash that stands out from the rest, we've got you covered with some inspiring ideas.
How to Choose the Perfect Theme for Your Bachelorette Party
Choosing a theme for your bachelorette party can set the tone for a memorable and exciting celebration that reflects your personality and interests. Whether you're an adventure seeker, a vintage lover, or a spa enthusiast, here's a step-by-step guide to help you choose the perfect theme for your bachelorette party:
Step 1: Consider Your Interests
Start by making a list of your interests and hobbies. Think about the activities you enjoy, the places you love to visit, and the things that make you happiest.
Are you a fan of outdoor adventures, pampering spa days, or glamorous evenings out? Your bachelorette party should reflect your unique preferences, so this step is crucial in narrowing down potential themes.
Step 2: Reflect on Your Wedding Theme
If your wedding has a specific theme, color scheme, or style, consider incorporating elements of it into your bachelorette party. This alignment can create a seamless transition from the pre-wedding celebration to the big day itself.
For example, if you're having a rustic wedding, a nature-inspired bachelorette party could be a wonderful complement.
Step 3: Choose a Mood
Think about the mood you want to create for your bachelorette party. Do you envision a relaxed and carefree atmosphere, an elegant and sophisticated affair, or a fun and playful vibe? The mood you choose will influence everything from the activities to the decorations, so it's important to have a clear idea.
Step 4: Brainstorm Theme Ideas
Based on your interests, wedding theme, and desired mood, start brainstorming specific theme ideas. For example, if you love the beach and want a relaxed vibe, a "Tropical Paradise" theme could be perfect.
If you're a vintage lover and enjoy the glamour of the past, a "Harlem Nights" theme might be more your style. Write down several theme concepts that resonate with you.
Step 5: Gather Feedback and Consult the Squad
Share your theme ideas with your bridal party and close friends who will be attending the bachelorette party. Their input can provide fresh perspectives and help you gauge which themes resonate with the group. Consider their feedback and preferences, as you want everyone to enjoy the celebration.
Step 6: Research and Plan
Once you've narrowed down your theme options, start researching each one to gather ideas for decorations, activities, and locations that align with the chosen theme.
Look for inspiration on social media platforms, wedding websites, and blogs. As you gather ideas, create a vision board or mood board to visualize how the theme will come together.
Step 7: Personalize the Theme
Add personal touches that reflect your journey and relationship. Incorporate elements that tell your love story or symbolize your bond with your friends.
Whether it's custom decorations, personalized party favors, or special activities, infusing your unique story into the theme will make the celebration even more meaningful.
Who Should Organize a Bachelorette Party?
The bachelorette party is a pre-wedding celebration that's all about celebrating the bride-to-be and her upcoming marriage with a fun and memorable event. While the bride's friends and family may all be eager to participate in planning this exciting occasion, there are a few key considerations to keep in mind when deciding who should take on the role of organizing the bachelorette party.
1. Maid of Honor and Bridesmaids: Traditional Choice
In many cases, the maid of honor and bridesmaids are the ones responsible for planning and organizing the bachelorette party. This tradition often stems from the close relationship between the bride and her bridal party. The maid of honor, as the bride's right-hand woman, usually takes the lead in coordinating the event, with the support and assistance of the other bridesmaids.
2. Close Friends or Family Members: Special Connection
If the maid of honor or bridesmaids are unable to take on the responsibility, close friends or family members may step in to organize the bachelorette party. It's important that the person or people planning the event have a strong bond with the bride and a good understanding of her preferences, interests, and personality.
3. Collaborative Effort: Teamwork Makes the Dream Work
Sometimes, the best approach is to have a collaborative effort among the bride's close friends and family. This can involve the maid of honor, bridesmaids, siblings, and other important people in the bride's life. A group effort ensures that different perspectives and ideas are considered, leading to a more well-rounded and tailored bachelorette party.
4. Bride's Input: Keeping Her Wishes in Mind
Regardless of who takes on the role of organizing the bachelorette party, it's essential to keep the bride's wishes and preferences at the forefront. Before any planning begins, have an open conversation with the bride about her vision for the celebration. This ensures that the party aligns with her personality, interests, and comfort level. 
5. Budget and Availability: Practical Considerations
Consider the financial and time commitments involved in planning the bachelorette party. The person or people responsible should be able to manage the budget, handle reservations, and coordinate logistics effectively.
5 Essential Steps for Planning the Perfect Bachelorette Party
Planning a bachelorette party can be an exciting and rewarding experience, but it also requires careful organization to ensure everything goes off without a hitch. Here are five essential steps to help you plan the perfect bachelorette party that the bride and her squad will cherish:
Step 1: Gather Information and Preferences
Start by having a heart-to-heart conversation with the bride. Ask her about her preferences, interests, and any specific themes or activities she'd like to include. Understand her vision for the party, whether it's a relaxed spa day, an adventure-packed weekend, or a glamorous night out.
Will she want to play clean bachelorette party games or let loose with some drinking games at her bachelorette party? This initial step will provide you with the foundation to plan an event that truly resonates with her.
Step 2: Set the Date and Budget
Once you have a clear understanding of the bride's preferences, work with the other bridesmaids and key attendees to select a suitable date for the bachelorette party.
Ensure it's well in advance of the wedding date to give everyone ample time to plan and attend. Simultaneously, establish a realistic budget based on the financial capabilities of the attendees. This step is crucial to determine the scale and scope of the celebration.
Step 3: Choose a Theme and Activities
Selecting a theme can add a fun and cohesive element to the bachelorette party. Whether it's a destination-inspired theme, a costume party, or a wellness retreat, choose something that aligns with the bride's interests.
Plan a variety of activities that cater to different preferences, such as group games, workshops, sightseeing, dining experiences, and relaxation time. Be sure to strike a balance between organized activities and free time for the attendees to bond and explore on their own.
Step 4: Plan the Logistics
With the theme and activities in mind, it's time to tackle the logistical details. Book accommodations, transportation (if needed), and any necessary reservations well in advance.
Create an itinerary that outlines the schedule, addresses, contact information, and any other essential information for the attendees. Consider the logistics of transportation, meal options, and the overall flow of the event to ensure a seamless experience for everyone.
Step 5: Send Invitations and Communicate
Once the plans are in place, it's time to invite the guests. Send out invitations with all the necessary information, including the date, time, location, dress code (if any), and any items the attendees need to bring.
Consider using digital invitations or group messaging apps for efficient communication. Keep the lines of communication open throughout the planning process to address any questions, concerns, or last-minute changes. 
Fun Bachelorette Party Theme Ideas
Here are some of our favorite themes for your Bachelorette Party
Wanderlust Retreat: Around the World in One Party
For the bride with a serious case of wanderlust, why not turn her bachelorette party into a globe-trotting adventure? Each room can represent a different country, complete with cuisine, decorations, and music to match. It's a fantastic way to celebrate the bride's love for travel and create an unforgettable experience for everyone involved.
Vintage Glamour: Decades-Inspired Extravaganza
Step back in time and celebrate the bride's favorite era with a vintage-themed bachelorette party. Whether it's the roaring '20s, the disco-loving '70s, or the neon-soaked '80s, everyone can embrace the fashion, music, and style of the chosen decade. It's a chance to play dress-up and create a glamorous atmosphere that harks back to the past.
Adventure Seeker: Outdoor Thrills and Excitement
If the bride is an outdoor enthusiast, consider planning an adventure-filled bachelorette party. From hiking and camping to kayaking and zip-lining, there are plenty of exhilarating activities to choose from.
This theme allows the bride and her closest friends to bond while enjoying the beauty of nature and creating lasting memories.
DIY Workshop: Get Crafty and Creative Together
For a unique and hands-on bachelorette experience, consider hosting a DIY workshop party. Whether it's pottery, painting, cooking, or even woodworking, learning a new skill together can be a fun and memorable way to celebrate. Plus, everyone gets to take home a personalized memento from the event.
Hollywood Glam: Red Carpet Extravaganza
Roll out the red carpet for the bride and her entourage with a Hollywood-themed bachelorette party. Have everyone dress to the nines and enjoy a glamorous evening of cocktails, dancing, and posing for the paparazzi. It's a chance for everyone to feel like a movie star and celebrate in true Tinsel town style.
Mystery Masquerade: Elegant Whodunit Affair
Add an air of intrigue and elegance to the bachelorette party with a mystery masquerade theme. Guests can dress in formal attire and wear masks while participating in a thrilling murder mystery game. It's an engaging way to keep everyone entertained and ensures that the celebration is as unique as it is unforgettable.
Wellness Retreat: Relaxation and Renewal
For the bride who prefers a more serene and low-key celebration, a wellness retreat-themed bachelorette party might be just the ticket. Treat the bride and her squad to a day of yoga, spa treatments, meditation, and healthy cuisine. It's a wonderful way to recharge before the wedding and show the bride some well-deserved self-care.
Fantasy Fiesta: Enchanted Fairytale Celebration
Turn the bride's favorite fairytale or fantasy world into a reality with a magical bachelorette party. Whether it's a whimsical garden party inspired by "Alice in Wonderland" or a majestic castle-themed extravaganza, guests can dress up as characters and indulge in a day of enchantment and wonder.
Retro Arcade Party: Playful Nostalgia Blast
For a dose of nostalgia and a whole lot of fun, consider throwing a retro arcade-themed bachelorette party. Rent out a vintage arcade or set up classic arcade games at the venue. Guests can compete in friendly battles and enjoy old-school snacks while celebrating the bride's love for vintage gaming.
Wine and Paint: Sip, Stroke, and Socialize
Combine the pleasures of wine tasting and painting in a relaxed and creative bachelorette party. Set up a cozy space with canvases, paint, and brushes, and guide everyone through a step-by-step painting session. The best part? The bride and her crew get to enjoy their artistic creations along with a variety of delicious wines.
Music Festival Frenzy: Groove to the Beat
If the bride is a music lover, why not throw a mini music festival as her bachelorette party? Choose a genre or era of music and create a playlist of popular songs in that theme. Set up outdoor lounges, provide festival-inspired food and drinks, and dance the night away under the stars.
Costume Party Cruise: High Seas Extravaganza
Take the celebration to the water with a costume party cruise. Guests can dress up in nautical-themed costumes, and the cruise can include activities like dancing, games, and even a karaoke session. This theme offers a unique twist on traditional bachelorette parties and guarantees stunning views along with a memorable experience.
Sports Spectacular: Game Day Galore
If the bride is a sports enthusiast, consider planning a sports-themed bachelorette party around her favorite team or sport. Attend a live game or organize a day of tailgating, complete with team merchandise, face paint, and stadium snacks. It's a fantastic way to celebrate her passion for sports while bonding with friends.
Eco-Chic Retreat: Sustainable Celebration
For the environmentally-conscious bride, an eco-chic bachelorette party could be the perfect fit. Choose a sustainable venue, opt for plant-based catering, and engage in eco-friendly activities like beach cleanups, hiking in nature reserves, or even volunteering. It's a meaningful way to celebrate while also making a positive impact.
Classic Sleepover: Nostalgic Girls' Night In
Sometimes, the most memorable celebrations are the simplest ones. Host a classic sleepover bachelorette party with a nostalgic twist. Set up a cozy space with blankets, pillows, and all the favorite childhood snacks. Play board games, watch chick flicks, and reminisce about old times while creating new memories.
Budget-Friendly Bachelorette Theme Party Ideas: Celebrate Without Breaking the Bank
While it's easy to get swept up in the excitement of planning a bachelorette party, it's important to remember that celebrations can be just as memorable without splurging. Here are some budget-friendly bachelorette theme party ideas that will keep the fun high and the costs low.
Movie Marathon Madness: Cozy Cinema Night
Transform your living room into a home theater for a movie marathon bachelorette party. Choose the bride's favorite films or a series that everyone loves, set up comfortable seating with pillows and blankets, and create a concession stand with popcorn, candy, and homemade treats. Play some fun printable games between movies. It's a low-cost and relaxed way to spend quality time together.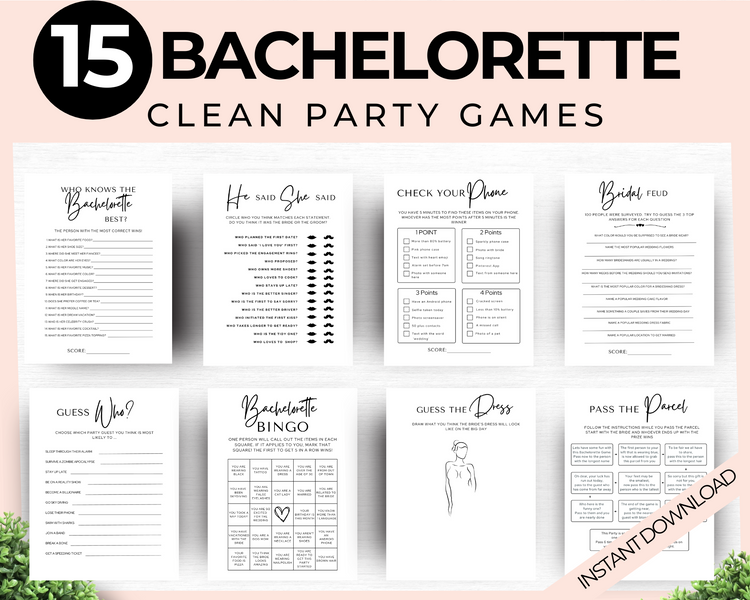 Outdoor Picnic Party: Al Fresco Affair
Take advantage of the great outdoors by hosting an outdoor picnic bachelorette party. Choose a picturesque park or beach, pack a variety of finger foods, sandwiches, and refreshing beverages, and bring along outdoor games like frisbee, volleyball, or even a scavenger hunt. This theme encourages bonding in a budget-friendly and beautiful setting.
Retro Board Game Night: Throwback Fun
Unleash your competitive side with a retro board game night. Gather classic games like Monopoly, Scrabble, or Clue, and spend the evening playing and laughing together. This budget-friendly option encourages friendly competition and a bit of nostalgia.
DIY Spa Day: Pampering on a Budget
Treat the bride and her squad to a DIY spa day at home. Set the ambiance with calming music, scented candles, and essential oils. Create your own face masks, lip scrubs, and nail polish stations using ingredients from the kitchen. You'll provide relaxation, pampering, and a touch of luxury without the hefty price tag.
Foodie Adventure: Potluck Party
Turn the bachelorette party into a culinary adventure by hosting a potluck-style celebration. Assign each guest a specific course or dish to bring, ensuring a diverse and delicious spread. You can even turn it into a cooking challenge where everyone teams up to create a gourmet feast on a budget.
Karaoke Party: Sing and Dance the Night Away
For a night of laughter and music, host a karaoke party at home. Invest in a budget-friendly karaoke machine or use apps to transform your TV into a stage. Guests can take turns singing their favorite tunes, and it's guaranteed to be a memorable evening filled with laughter and entertainment.
Nature Scavenger Hunt: Adventure Awaits
Plan a budget-friendly bachelorette party that takes the bride and her friends on a nature scavenger hunt. Create a list of items or challenges for teams to complete, and explore local parks or trails. This active and engaging theme offers a unique way to celebrate while staying on budget.
Beach Bonfire: Toasting by the Shore
If you're lucky enough to live near a beach, consider hosting a beach bonfire bachelorette party. Spend the evening by the water, roasting marshmallows, sharing stories, and gazing at the stars. It's a simple and budget-friendly way to create a magical atmosphere.
Costume Swap Party: New Looks, Old Clothes
Give new life to your wardrobes with a costume swap bachelorette party. Invite guests to bring gently worn clothing, accessories, and costumes they no longer need. Everyone can trade and refresh their closets, all while enjoying a fashion-forward celebration.
Outdoor Yoga Retreat: Zen and Connection
Plan an outdoor yoga retreat bachelorette party to combine relaxation and connection. Find a serene outdoor spot for a group yoga session, followed by meditation and mindfulness activities. It's a serene and budget-friendly way to celebrate the bride's journey.
Gone are the days of predictable and cookie-cutter bachelorette parties. Today, it's all about celebrating the bride's individuality and creating a unique experience that resonates with her passions and interests.
From jet-setting adventures to glamorous dinner parties and everything in between, these creative and unique bachelorette party themes are sure to set the stage for a celebration to remember. So, gather the bride tribe, pick a theme, and get ready for an unforgettable pre-wedding bash!