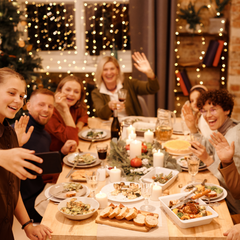 Planning a dinner party but feeling like it needs that extra "oomph" to make it truly unforgettable? Look no further! We've got just the thing to turn your ordinary gathering into an extraordinary extravaganza with these fun dinner party themes!
Whether you're hosting a small get-together or a grand celebration, adding a theme can take your event to the next level of fun and excitement. So, put on your party hat and let's explore some fantastic dinner party themes that are sure to impress your guests and create lasting memories.
Around the World Feast
Why limit yourself to one cuisine when you can embark on a culinary adventure around the globe? Invite your friends to savor the flavors of different countries by serving dishes from various cultures.
You can set up different food stations representing different regions, complete with decorations and music. From Italian pasta to Mexican tacos, and Japanese sushi to Indian curry, let your taste buds travel the world without leaving the comfort of your own home.
Retro Chic
Step back in time with a retro-themed dinner party that will transport your guests to the swinging '60s, glamorous '70s, or funky '80s. Encourage everyone to dress up in their best retro attire and decorate your space with vintage posters, disco balls, and lava lamps.
Serve classic dishes from the era, like fondue, meatloaf, or deviled eggs. Don't forget to put on some nostalgic tunes and get ready to dance the night away!
Masquerade Ball
Bring a touch of mystery and elegance to your dinner party with a masquerade ball theme. Invite your guests to come dressed in their finest attire and don glamorous masks. Create an enchanting ambiance with dimmed lighting, flickering candles, and luxurious decorations.
Serve a lavish feast fit for royalty, and keep the atmosphere alive with enchanting music. Your guests will feel like they've stepped into a fairytale!
Garden Party
If you're blessed with a beautiful outdoor space, why not host a charming garden party? Embrace nature by setting up tables adorned with fresh flowers and twinkling fairy lights.
Create a refreshing menu with light salads, fruity drinks, and delectable finger foods. Encourage your guests to wear their most stylish garden party attire and enjoy the beauty of the outdoors as you dine and socialize. This is a perfect flower party idea.
Game Night Extravaganza
Combine delicious food with friendly competition by hosting a game night-themed dinner party. Set up various game stations throughout your home, featuring classic board games, card games, or even video games.
Serve easy-to-eat finger foods like sliders, nachos, and bite-sized desserts to keep the energy up. Award prizes to winners and create a night filled with laughter, camaraderie, and a little friendly rivalry.
Tropical Escape
Take your guests on a tropical getaway with a luau-style dinner party theme. Decorate your space with palm trees, tiki torches, and bright Hawaiian flowers. Serve Mai Tais, Pina Coladas, and tropical juice cocktails. As for the foods - think seafood, grilled pineapple, and teriyaki chicken skewers.
Murder Mystery Party
For a truly unique dinner party experience, why not host a murder mystery? Set the scene with eerie decorations and give each of your guests an identity card with their character's name and back story. As they interact during dinner, clues will be revealed about the mysterious murder. After dinner, it's up to your guests to figure out "whodunit"
Traditional English Tea Party
Transform your ordinary gathering into a sophisticated, traditional English tea party. Start your dinner party late afternoon and put on some calming instrumental music. Serve finger sandwiches, scones, and mini cakes and prepare a selection of herbal teas and indulgent hot chocolates for guests to enjoy. Encourage everyone to dress up in their fanciest attire, and play some fun tea party games.
Mexican Fiesta
Who doesn't love tacos and margaritas? A Mexican-themed party is perfect for those who enjoy good spicy food and tequila-based cocktails. Decorate your home with colorful banners and sombreros, and play some mariachi music. Serve up some beef fajitas, guacamole, and churros for dessert. You can even play some fun Mexican games like this What is your Taco Name.
Breakfast for Dinner
Why not take a break from the traditional dinner menu and serve breakfast for dinner? Serve dishes like pancakes, French toast, omelets, bacon, and sausage. Let your guests customize their own meal with different toppings such as syrup, honey, peanut butter, jelly and yogurt. Finish off the evening with a hot cup of coffee or cocoa for each guest.
Retro 80s Party
Throw it back to the 1980s with a retro-themed dinner party. From neon to big hair to classic 80s music, let your mind go wild with the possibilities. Serve up some classic 80s foods like pizza, tater tots, and jello shots. Don't forget to have a dance party to some of the most iconic 80s tunes and play some fun 80s party games.
Farm-to-Table Dinner Party
Take your guests on a journey to the countryside with a farm-to-table dinner party. Serve dishes that are made with fresh, locally sourced ingredients and showcase produce from local farmers' markets. Embrace the rustic vibes by decorating your home with vintage accents like Mason jars, crates, and flower bouquets. Finish the evening by offering homemade cider or a selection of craft beers to your guests.
Barbecue Bash
Grab your friends and family for the ultimate summer barbecue party! Set up picnic tables in your backyard and let everyone enjoy some delicious grilled food like hamburgers, hot dogs, and veggie skewers. Let your guests customize their burgers with different toppings and serve up some refreshing drinks like sangria, lemonade, or beer. Don't forget to turn on some classic summer tunes for a fun night outside!
Pizza Party
Take your pizza game to the next level by hosting a pizza-themed dinner party. Let everyone customize their own pizzas with different toppings and cheeses. You can also serve salads, garlic knots, and dessert pizzas for everyone to enjoy. Throw in some fun Pizza Party Games and you will have a night to remember. Don't forget the variations of soda - let your guests choose between a classic coke or something more exotic.
Italian Feast
Bring Italy to your table with an Italian-themed dinner party. Serve up dishes such as pasta carbonara, roasted vegetables, bruschette, and Tiramisu for dessert. Create a cozy atmosphere with Italian music playing in the background. Let your guests sip on some Prosecco or Aperol Spritzes while they enjoy the delicious food and conversation.
Chinese Take-Out
Turn your dinner party into an at-home Chinese takeout experience! Order various dishes such as fried rice, dumplings, wontons, and egg rolls. Set up the dishes in to-go boxes for a fun presentation and make sure you have plenty of fortune cookies on hand. To really get into the theme, serve some Chinese beer or Baijiu (Chinese liquor) to your guests!
Dessert Party
For those with a sweet tooth, why not host a dessert party? Serve up a variety of treats such as cupcakes, cookies, pies, cakes and more. Let your guests create their own sundaes with different ice creams, sauces, and toppings. Don't forget to have some coffee or tea on hand to help balance out the sugar rush!
Casino Night
Host your own casino night and let your guests enjoy a fun evening of casino games. Set up different tables with card games such as poker, blackjack and roulette. To get in the spirit of the evening, serve classic casino treats such as popcorn, pretzels, chips and dips. After dinner, give out small prizes to the winners for an extra touch of fun.
Asian Fusion
For a truly unique dinner party experience, try hosting an Asian-fusion themed event. Choose dishes from different countries such as Japan, China, Thailand and Korea. Serve up classic dishes like sushi rolls, lo mein noodles or pad thai with some creative twists. Let your guests sip on sake or lychee martinis while they savor the delicious flavors.
Vegan/Vegetarian Dinner Party
Showcase the creative and delicious side of vegan and vegetarian cuisine with a meat-free dinner party. Serve up dishes such as roasted veggies, lentil salads, hummus platters, vegan mac n' cheese or veggie burgers. For dessert, offer a selection of fruit pies or dairy-free ice cream to satisfy your guests' sweet tooth. Don't forget to have a variety of mocktails for those who do not drink alcohol.
Tapas Night
Turn your dinner table into an interactive experience with tapas. Serve up small dishes such as patatas bravas, stuffed peppers, spinach croquettes or gambas al ajillo. Let your guests share the different plates while they enjoy good conversation and drinks. Finish off the evening with a selection of churros or Spanish cheesecake!
Roaring 20s Party
Throw it back to the 1920s with a Gatsby-inspired dinner party. Ask your guests to come dressed in their best Gangster and Molls outfits and jazz up your home with vintage accents such as feathers, pearls, antique furniture and vintage photos. For the food, serve up classic dishes like lobster thermidor, chicken a la king and crepes suzette. Finish off the evening with some whiskey sours for a truly authentic Harlem Nights and Roaring 20s experience. 
The key to hosting a memorable dinner party is choosing the right theme. From a tropical escape to a retro 80s party, there's a theme for everyone's preferences.
By incorporating some of these ideas into your next dinner party, you're sure to give your guests an unforgettable evening of food, drinks, and laughter. So, go and plan a party that'll have everyone talking for weeks to come!