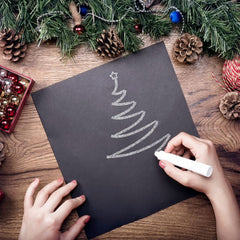 A Christmas party isn't complete without a game or two to get everyone in the holiday spirit! And what better way to do that than with a classic game of Pictionary? Here are a few ideas to get you started.
(THIS POST CONTAINS SOME AFFILIATE LINKS FOR YOUR CONVENIENCE: READ MY FULL DISCLOSURE POLICY)
How to Play Christmas Pictionary
This is a classic drawing game that is perfect for large or small groups. The goal of the game is to guess the word or phrase that the other player is drawing.
To set up the game, you will need:
First you will need to divide your group into teams of two and choose one person from each team to be the artist for the first round.
The artist's job is to draw a clue related to the word or phrase while the other teammate tries to guess what it is. They have only 60 seconds to complete their drawing while their team mates try to guess what they are drawing. So they need to draw quickly!
If their team can't guess correctly within the time, then the other team gets a chance to steal the point. At the end of the game, tally up your scores and the team with the most number of points will win the round.
Christmas Pictionary Words and Phrases
Here are a few Christmas-themed words and phrases that would be great for your next game of Pictionary.
Easy Christmas Words for Pictionary
These common Christmas words are easy to draw and are a great start to your game to get everyone warmed up.
Santa Claus
Mrs Claus
Elf
Reindeer
Snowman
The Grinch
Christmas Tree
Presents
Stockings
Sleigh Bells
Christmas Wreath
Angel
Mistletoe
Ice Skating
North Pole
Gingerbread Man
Penguin
Polar Bear
Fruitcake
Harder Christmas Words for Pictionary
For a more challenging game, here are some harder words that may require a bit more creativity in the drawing.
Christmas Carols
Nativity Scene
Christmas Lights
Nutcracker
Frosty the Snowman
Jack Frost
Jingle Bells
Ho Ho Ho
Advent Calendar
Naughty list
Cookies and Milk
Wrapping paper
Ribbon
Eggnog
Secret Santa
Father Christmas
Christmas Card
Santa's Sleigh
Ugly sweater
Three wise men
Christmas Cracker
Snowball Fight
Pictionary List of Christmas Songs
If you really want to step up your game and throw in some challenging pictionary ideas, try these Christmas Songs
Rocking around the Christmas Tree
Jingle Bell Rock
Frosty the Snowman
Let it Snow!
White Christmas
Winter Wonderland
We Wish You a Merry Christmas
Deck the Halls
All I Want for Christmas is You
Santa Claus is Coming to Town
It's Beginning to Look A Lot Like Christmas
Silent Night
Joy to the World
Have Yourself a Merry Little Christmas
The First Noel
O Holy Night
The Herald Angels Sing
Christmas Movies for Pictionary Game
Elf
Polar Express
The Santa Clause
Home Alone
How the Grinch Stole Christmas
A Christmas Story
Christmas Miracle on 34th Street
The Night Before Christmas
Love Actually
Virtual Christmas Pictionary
While the holidays are usually a time for families to be together, a virtual Christmas Pictionary game can still bring the same cozy feeling. After playing this game in the virtual gathering, you will feel like you're all wrapped up with your family in the comfort of your living room.
Even if it's different from usual celebrations, there's still nothing like breaking into teams and competing in a fun game over Zoom or another platform. Everyone from little kids to older relatives can join in and show off their skills in this holiday favorite! With some creative categories and plenty of laughs, your virtual Pictionary game is sure to make lasting memories.
And there you have it! With these Christmas-themed words, phrases and ideas, you can set up a fun game of Pictionary for your next holiday gathering. So grab your friends and family, draw some silly pictures, and enjoy the festive holiday season! Happy Holidays!
More Fun Party Game Ideas:
Count down to Christmas with one of these fun and festive advent calendar ideas. From a chocolate calendar to a movie marathon, there's something here for everyone. Find the perfect idea for your teen this holiday season!
Is the Christmas Elf visiting your family this Christmas? How about a fun game of Elf twister, guaranteed to bring some laughs this festive season.
Get into the Christmas spirit with this bucket list of fun things to do! From watching holiday movies to caroling, these activities will get you in the mood for Christmas. Don't forget to check off everything on your list!