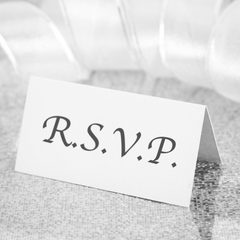 It's that time of year again where your mailbox is filled with invitations from friends and family to celebrate their birthdays. And when you receive an invitation, the first thing you need to do is respond. But, what's the best way to RSVP to a birthday party?
Don't worry, because we have got you covered. In this post, we will walk you through everything you need to know about responding to a birthday party invitation.
What does RSVP Mean?
First lets look at what RSVP actually means. It's a French acronym that stands for "répondez s'il vous plaît," which roughly translates to "please respond." And let's be real, responding to an invitation is like a social law.
We all know that person who never RSVPs, and it's just like, come on, dude. So the next time you see that little "RSVP" at the bottom of your invite, remember that it's not just a suggestion. It's your chance to let your host know if you're coming or not, and to show them some good old-fashioned manners while you're at it.
Steps for Responding to RSVP
Replying to an RSVP is not difficult but if you are unsure, here are some steps to help you.
Step 1: Read the invitation carefully
Before you respond to an invitation, make sure you read it carefully to ensure you have all the information you need. This includes the date, time, location, dress code, and any requests from the host. Once you have read the invitation, you will be able to make an informed decision on whether you can attend or not.
Step 2: Respond by the deadline
After reviewing the invitation, it's important to RSVP by the deadline provided. This will help the host plan for the number of guests attending and make sure there's enough food and drinks for everyone. So, make sure to mark the date on your calendar and respond promptly.
Step 3: RSVP using the preferred method
The invitation will indicate the preferred RSVP method, which could be via email, phone, or text. Make sure to follow the instructions provided by the host. If they prefer a phone call, make sure to give them a call. If they prefer an email, send them an email. Whatever the method of communication, make sure to respond promptly.
Step 4: Be clear when responding
When responding to the invitation, make sure to be clear and concise. State your name, whether you will be attending or not, and let the host know if you will be bringing a guest. Don't forget to thank the host for inviting you to their special day. 
Step 5: Follow-up if necessary
If you don't receive a confirmation from the host after you RSVP, don't hesitate to follow up with them. They may have missed your response, or it may have gotten lost in their inbox. A friendly reminder won't hurt.
That's our step-by-step guide on how to RSVP to a birthday party. It may seem straightforward, but it's important to follow these steps to ensure the host is well-prepared for their special day. And don't forget to have fun at the party!
Ways you can RSVP
To RSVP is the responsible and polite thing to do, but the good news is, there are tons of ways to do it! You can go old-school and send a paper RSVP card, or opt for a quick and easy text message. Or pick up the phone and give the host a call. There's no right or wrong way to RSVP, as long as you let the host know if you will be there or not.
When to RSVP
Try to RSVP as soon as possible but definitely before the deadline. Your hosts need to know how many guests to expect and make party plans accordingly. Keep an eye out for the RSVP deadline on your invitation and respond before then. If you can't make it happen by that date, get in touch with the host and give them a heads up.
Sample Wording for RSVP
If you are not sure what to write in your RSVP, here are some sample ideas you can use. 
Yes I can attend
Can Not Attend
There will be times when you are unable to attend a party. Make sure you RSVP early to let your host know.
Not Sure if you can Attend
If you are unsure if you can attend, it is a good idea to still let your host know.
How to Cancel a Yes RSVP
Oh no! You said yes to that party, but now you can't go. These things happen, maybe you can't get a babysitter, or perhaps your child is not feeling well. Don't worry, canceling your yes RSVP is easier than ever.
The first step is to reach out to the host and let them know that you won't be able to make it. Be sure to apologize for any inconvenience and thank them for inviting you. If the event has a RSVP system through a website or app, log in and update your attendance status.
It's important to cancel as soon as possible so the host has time to adjust their plans accordingly. And don't worry, they won't be mad - life happens and sometimes plans change.
How to RSVP After the Due Date
So, we all know life can get a little crazy sometimes and before we know it, the RSVP deadline has already come and gone. But don't worry, you can still let the host know if you're coming or not.
First things first, reach out to them ASAP and apologize for missing the deadline. Show them some love and let them know how excited you are for the event. Then, ask if there's still room for you to attend. Some parties, especially those at hired venues, have set guest limits so your host may have already confirmed the guest number.
If there is room for you, fantastic! If not, don't take it personally and maybe offer to meet up with the host for a drink or a bite another time. Remember, it's always better to communicate and be upfront and honest.
When it comes to completing an RSVP for a party, it is important to remember that the process is simple and does not take long. You can do it through many digital methods, such as email, text message, or an online form.
It's also perfectly acceptable to send your response the old-fashioned way via snail mail. No matter what method you choose be sure to confirm your attendance as soon as possible so that the host knows how many people to expect.