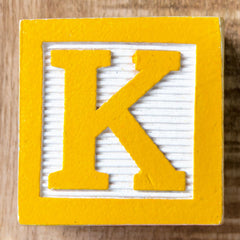 Costumes are a fun way to add excitement to any party. You get to step into the shoes of another character, and make lasting memories. Whether it's Halloween or a themed party, finding the perfect costume can be both exciting and challenging.
If you're on the hunt for unique and memorable costumes that start with the letter "K," you're in for a treat! Here are some fantastic costume ideas that all start with the letter 'K.' From classic characters to quirky concepts, we've got you covered.
What is a Letter Party?
A letter party is an event where the entire theme revolves around a specific letter of the alphabet. Guests are encouraged to dress up and participate in activities that are associated with that letter.
It's a fantastic way to add a touch of novelty and creativity to your gathering, and it provides a framework for guests to express themselves in imaginative ways.
Costume Ideas Beginning with Letter K
Here are some fun dress up ideas for your letter K party
King
Why not start with regal elegance? Transform yourself into a majestic king for the day. With an elaborate cape, ornate crown, and a dash of royal attitude, you'll command attention wherever you go. Channel the charisma of historic monarchs or create your own fantastical kingdom – the choice is yours!


(THIS POST CONTAINS SOME AFFILIATE LINKS FOR YOUR CONVENIENCE: READ MY FULL DISCLOSURE POLICY)
Knight in Shining Armor
Step into the world of chivalry and valor as a knight in shining armor. Craft a suit of armor from cardboard, foam, or even plastic, and add a touch of authenticity with a medieval sword and shield. This costume offers a great opportunity to showcase your crafting skills and transport yourself to the days of epic battles and heroic quests.
Kangaroo
For an adorable and quirky costume, consider becoming a kangaroo! Slip into a fuzzy jumpsuit, attach a tail, and don't forget a kangaroo headpiece complete with ears. Carry a small pouch for an added touch of realism. This costume is a fantastic option for kids and adults alike.
Adult Kangaroo Onesie
Adult Inflatable Kangaroo Costume
Kangaroo Onesie
Kung Fu Master
Embrace the power and discipline of martial arts by dressing up as a kung fu master. Wear traditional Chinese attire and practice some impressive martial arts moves to complete the look. This costume not only lets you showcase your physical prowess but also pays homage to the rich history of Eastern martial arts.
Katy Perry
Turn heads and make a statement by emulating the bold and colorful style of pop icon Katy Perry. From candy-themed outfits to over-the-top stage ensembles, there's no shortage of inspiration to draw from. This option is perfect for those who want to add a touch of glamour and pop culture to their costume party. 
King Kong
Bring a classic movie monster to life by transforming into King Kong. This larger-than-life costume can be as simple or complex as you'd like, ranging from a gorilla mask and fur coat to a full-body costume complete with towering proportions. Just be prepared for all the attention and photo requests you'll receive!
Adult Gorilla Costume
Inflatable King Kong Costume
Inflatable Gorilla Costume
Karate Kid
Travel back to the 1980s with a costume inspired by the iconic "Karate Kid" movie. Dress in a vintage-style karate gi, tie a headband around your forehead, and carry a wooden practice sword. This nostalgic costume is perfect for movie buffs and fans of martial arts classics.
Khaleesi (Daenerys Targaryen)
For fans of "Game of Thrones," channel the strength and grace of the Mother of Dragons, Daenerys Targaryen. Flowing gowns, intricate braids, and dragon-themed accessories will help you embody this beloved character's essence. This costume choice is sure to spark conversations among fellow fantasy enthusiasts.
Daenerys Targaryen Cosplay Costume
Dragon Queen Costume
Medieval Dragon Queen Costume
Koala
Embrace your inner cuddly creature by dressing up as a koala. This adorable costume can be as simple or as intricate as you'd like. Don a gray outfit, attach some faux fur or felt to mimic the koala's distinctive ears, and paint a black nose on your face. Carry a plush eucalyptus leaf to complete the look. Not only will you be cozy and cute, but you'll also be spreading the Australian charm wherever you go.
Kitten
Unleash your inner feline with a kitten costume that's sure to turn heads. Transform into a playful and purr-fect companion by wearing a fluffy tail, cute cat ears, and drawn-on whiskers. Match your outfit with a cozy sweater, leggings, and perhaps a collar for added authenticity. This costume is both easy to put together and irresistibly charming.
Kermit the Frog
"Hi-ho, Kermit the Frog here!" If you're a fan of the Muppets, dressing up as the iconic Kermit is a delightful choice. Craft a green jumpsuit or wear green clothing, attach large white eyes to your headband, and practice your best Kermit impressions. Complete the look with a touch of humor and a whole lot of heart.
Frog Costume
Adult Frog Onesie Costume
Kermit Baby Costume
From historical figures and fantasy characters to playful interpretations of everyday items, the world of costumes that start with 'K' is brimming with endless possibilities.
Whether you choose to become royalty, a creature, a cultural icon, or even an animal, the key to a successful costume is to have fun, embrace the character, and let your imagination run wild.
So, the next time you're looking for a costume that stands out, don't forget the captivating letter 'K' and all the exciting options it brings to the table! 
More Letter Costume Ideas: