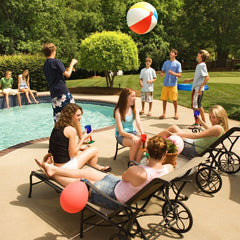 When it comes to celebrating a birthday, there's nothing quite like hosting a backyard party. The fresh air, the freedom to create your own space, and the opportunity to add a personal touch make backyard celebrations truly special.
Whether it's for kids, teens, or adults, we've compiled a list of the best backyard birthday party ideas to help you plan an unforgettable event.
Outdoor Movie Night Extravaganza
Transform your backyard into a magical outdoor cinema for a movie night under the stars. Set up a large screen, comfy seating with blankets and pillows, and don't forget the popcorn!
You can choose a classic family film or let the birthday person pick their favorite movie. This idea is perfect for all ages and adds a unique touch to a traditional birthday celebration.
(THIS POST CONTAINS SOME AFFILIATE LINKS FOR YOUR CONVENIENCE: READ MY FULL DISCLOSURE POLICY)
Carnival Themed Fun
Bring the excitement of a carnival right to your backyard with a carnival-themed party. Set up game booths with prizes, rent a cotton candy or popcorn machine, and offer classic carnival treats like hot dogs, funnel cakes, and snow cones. This fun-filled atmosphere will bring out the kid in everyone and create a joyous birthday celebration.
Welcome to the Carnival Yard Sign
Circus Photo Booth Props
Carnival Theme Party Decorations
DIY Craft Party
For a more creative and hands-on experience, host a DIY craft party. Set up stations with various craft supplies and materials for guests to create their own masterpieces. From painting canvases to making bath bombs, this idea is ideal for both kids and adults who love arts and crafts.
Sports Extravaganza
For the sports enthusiasts, a backyard sports extravaganza is the perfect way to celebrate. Set up various sports stations like mini soccer, basketball, badminton, or even a friendly game of touch football. Organize teams and have a fun-filled tournament with prizes for the winners.
Camping Adventure
If the birthday person loves the great outdoors, consider throwing a camping-themed birthday party. Set up tents, build a bonfire for roasting marshmallows, and share stories under the night sky. Don't forget to bring out the sleeping bags and stargaze until you fall asleep!
Camping Party Decorations
Camping Party Supplies Tableware
Small Campfire Pinata
Garden Tea Party
If you're looking for a charming and elegant celebration, a garden tea party is an excellent choice. Decorate your backyard with beautiful flowers, lace tablecloths, and dainty teacups. Offer a selection of teas, finger sandwiches, scones, and pastries to indulge in a delightful afternoon of conversation and tea-sipping.
Luau Hawaiian Party
Bring a taste of the tropics to your backyard with a luau Hawaiian party. Decorate with tiki torches, leis, and colorful decorations. Offer a delicious spread of Hawaiian delicacies like poi, poke bowls, and tropical fruit salads. For added fun, hire a hula dancer or teach guests how to do the hula themselves.
Tropical Luau Balloons Arch Garland Kit
Luau Party Decorations
Luau Couple Photo Door Banner
Backyard Camping Birthday Party Ideas
A popular birthday party idea is to host a camping party right in your own backyard!
With a little planning and creativity, you can transform your backyard into a magical camping themed area. Let's dive into the ultimate guide for organizing an unforgettable backyard camping birthday party.
Invitations: Setting the Mood
To set the tone for the camping adventure, design invitations that resemble camping passes or vintage postcards. Encourage guests to bring their sleeping bags, flashlights, and a sense of adventure. Mention that the celebration will include camping activities, roasting marshmallows, and stargazing under the open sky.
Setting Up Camp: Creating the Campsite
Set the scene by arranging tents in the backyard to create a cozy campsite. If some guests don't have tents, you can borrow or rent a few extras. Decorate the area with fairy lights, lanterns, and camping-themed decorations to bring a warm and inviting atmosphere. Create a central gathering spot with blankets and cushions for storytelling and games around the "campfire."
Campfire Delights: Delicious Camping Cuisine
One of the highlights of a camping birthday party is the food! Prepare a menu with camping favorites such as hot dogs, burgers, and foil-wrapped potatoes for grilling.
Offer a variety of snacks, like trail mix and s'mores ingredients, for guests to enjoy throughout the night. Don't forget to stock up on marshmallows, chocolate, and graham crackers for the classic campfire treat! You can even set up an ice cream sundae bar for added fun.
Adventure Activities: Fun and Games
Keep the excitement going with a range of camping-themed activities. Organize a scavenger hunt where guests can search for hidden treasures in the backyard. Set up a stargazing area with telescopes or binoculars for an educational and awe-inspiring experience.
For some friendly competition, play outdoor games like capture the flag or flashlight tag. These activities will keep guests engaged and entertained throughout the celebration.
Campfire Stories: Sharing Tales
Gather everyone around the "campfire" (real or faux) for a storytelling session. Encourage guests to share their favorite campfire stories, whether they are spooky tales or humorous stories.
Camping Crafts: DIY Fun
Incorporate some craft activities into the party to add a personal touch. Set up a station for making friendship bracelets, decorating camping mugs, or creating nature-inspired art. These crafts can serve as both entertainment and party favors for guests to take home.
Backyard Birthday Ideas for Teens 
With the summer heat in full swing, now is the perfect time to throw a backyard party for your teen and their friends. But what kind of party should you throw? Here are some of the best backyard party ideas for teens that are sure to be a hit.
DIY photo booth – Set up a backdrop and some props, and let your teen's friends take turns posing for fun photos. Be sure to have a camera or smartphone on hand to snap the pics!
Lawn games – From frisbee to badminton to water balloon toss, there are plenty of lawn games that will keep your teen and their friends entertained.
4 in a Row Connect Games Outdoor
Ring Toss Games for Kids
53PCS Outdoor Lawn Carnival Games
Movie night – Set up a projector screen and some comfy lawn chairs, and enjoy a movie under the stars with popcorn and snacks. 
Pool Party – If you have a pool, take advantage of it! Set up some pool toys and floats, crank up the music, and let your teen's friends cool off with a dip. 
Scavenger Hunt – Hide items around your yard and have your teen's friends search for them. You can even make it into a competition by dividing into teams and seeing who can find all the items first. 
Talent show – Encourage your teen's friends to show off their talents with an impromptu talent show! This is sure to be a hit with any budding singers, dancers, or comedians in the group. 
Karaoke party – Singing along to popular songs is always more fun with friends. Set up a karaoke machine (or use an app on your phone) and let your teen's friends belt out their favorite tunes.
Portable Bluetooth Karaoke Machine
Karaoke Machine with Two Wireless Microphones
Bluetooth Karaoke Machine with 2 Wireless mics
Campout – If you have the space in your yard, set up tents for an overnight campout. Your teen and their friends can tell ghost stories around the campfire, sleep under the stars, and make s'mores before heading home in the morning. 
Dance party – Crank up the music and let your teen's friends dance the night away! You can even set up disco lights or glow sticks to add to the fun. 
Have an Art Party – Have everyone bring their own art supplies and get creative! You can even set up a craft station for DIY projects like painting or making jewelry. Having this outside is a great way for your teen and their friends to express themselves in a safe, fun environment. Any mess can be easily cleaned up with a hose or a broom!
Have a Water Balloon or Water Gun Fight  – This is a great way to cool off on a hot summer day! Set up some boundaries and let your teen's friends battle it out with water balloons or water guns. Just make sure they don't aim for the face! With these ideas in mind, you're sure to throw a backyard party that your teen and their friends will love.
Barbeque Party – Nothing says summer like an outdoor barbeque. Fire up the grill, gather some picnic tables and chairs, and let your teen's friends enjoy classic burgers and hot dogs. Put out some condiments and side dishes for variety as well. Don't forget the s'mores and ice cream for dessert!
Glow-in-the-Dark Party – This is a fun twist on a classic dance party! Set up some black lights and glow-in-the-dark decor, and let your teen friends dance the night away. Be sure to have plenty of glow sticks on hand so everyone can get in on the fun. Or try some glow face and body paints for a more creative look.
Carnival Party – Set up some carnival-style games like ring toss or bean bag toss, and give out prizes for the winners. You can also set up a popcorn machine, cotton candy stand, and other classic carnival treats. This is sure to be a hit with your teen's friends! 
Backyard Birthday Party Ideas for Adults
Adults can have fantastic birthday parties too! If you want to throw an amazing celebration for yourself or a friend, consider having it in your backyard. A backyard birthday party for grown-ups is a perfect mix of fun and sophistication. Let's explore some great ideas to make your backyard birthday unforgettable.
Wine and Cheese Party
If you love wine and delicious food, a wine and cheese party is a classy choice. Set up a wine bar with different wines and cheeses. Add some meats, crackers, and fruits to complement the flavors. Encourage guests to try different wine pairings and talk about their favorites.
Tropical Tiki Party
Turn your backyard into a tropical paradise with a lively tiki party. Use tiki torches, colorful flowers, and bamboo decorations. Serve tasty tiki cocktails with pretty umbrellas and fresh fruit. Offer tropical appetizers and finger foods to keep everyone happy.
Backyard BBQ
A classic BBQ is always a hit! Grill mouthwatering meats, seafood, and veggies. Offer gourmet sauces and condiments to make the food even better. Have craft beers, cocktails, and non-alcoholic drinks at a beverage station for everyone to enjoy.
Afternoon Tea Party
Host a fancy afternoon tea party for your guests. Ask everyone to dress up and serve different kinds of tea on a dainty tea set. Have mini cakes, scones and little sandwiches set up on a 3 tiered tray. And of course have a selection of fun tea party games ready to play
Movie Night
Bring the magic of the cinema to your backyard with a movie night under the stars. Set up a big screen and cozy seating with blankets and cushions. Let guests choose their favorite movie or have a vote. Don't forget the popcorn and snacks to complete the experience.
Casino Night
Host a casino night in your backyard with poker, blackjack, and roulette. Use play money or chips and give out small prizes to the winners. You can even hire a dealer to add excitement.
Zen Garden Party
For a peaceful celebration, have a Zen garden party. Decorate with Japanese lanterns, Zen elements, and calming decorations. Set up a tea station with herbal teas and Japanese sweets. Offer mindfulness activities like yoga or meditation for a relaxing atmosphere.
Dessert and Cocktail Party
If you have a sweet tooth, a dessert and cocktail party is a delightful option. Create a dessert buffet with yummy treats like cupcakes, macarons, and chocolates. Pair the desserts with unique cocktails or mocktails for a sweet and indulgent evening.
Backyard Movie Birthday Party
Lights twinkling, the smell of popcorn in the air, and the anticipation of a great movie, there's something magical about watching films under the stars. A backyard movie birthday party is a fantastic way to celebrate a special day with friends and family while creating unforgettable memories. 
Set the Scene: Creating the Perfect Outdoor Cinema
Transform your backyard into a cozy and inviting outdoor cinema. Hang white sheets or use a portable movie screen as the backdrop for the film. String fairy lights around the area to create a magical scene.
Arrange comfortable seating options such as bean bags, blankets, and outdoor cushions for a relaxed movie-watching experience.
Movie Selection: Lights, Camera, Action!
Selecting the right movie is crucial to ensure everyone enjoys the screening. Consider the birthday person's favorite film or choose a classic family-friendly movie that will appeal to all guests.
If the party is for kids, opt for an age-appropriate animated movie or a beloved Disney classic. Create a mini movie poster or send digital invitations featuring the film's theme to set the mood in advance.
Concession Stand Delights: Snacks Galore
No movie experience is complete without delicious snacks! Set up a concession stand with an array of goodies. Offer traditional movie treats like popcorn, candy, and soda.
You can also get creative with themed snacks like "superhero" cookies for a superhero-themed movie or gourmet popcorn flavors like caramel or cheddar. 
Pre-Show Activities: Movie Trivia and Games
Engage your guests with pre-show activities and movie-themed games. Organize a movie trivia contest with questions related to the birthday person's favorite films or general movie knowledge. Provide small prizes for the winners, such as movie-themed keychains or gift cards to a local cinema. 
No matter which outdoor birthday party idea you choose, the key to success is to have fun and create a welcoming atmosphere for guests. With delicious food, entertaining activities, and good company, your outdoor birthday party is sure to be a smashing hit!
So, gather your friends, get outside, and celebrate in style with an unforgettable outdoor birthday party! Cheers to making beautiful memories and cherishing the moments that matter most. Happy birthday and happy party planning!