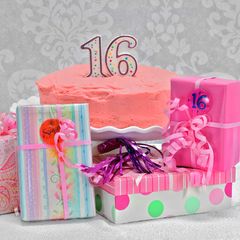 Your 16th birthday is a big deal and a momentous occasion! It's a time to celebrate becoming a young adult with family and friends. And what better way to do that than by throwing a fabulous sweet sixteen birthday party?
With a little planning, your sweet sixteen birthday party will be an event to remember. Whether you're having a small get-together with your closest friends or a large party with everyone you know, this party will be one you will remember. If you need some unique party games to make your sweet sixteen bash the best ever, look no further. Here are some birthday party games to get you started.
(THIS POST CONTAINS SOME AFFILIATE LINKS FOR YOUR CONVENIENCE: READ MY FULL DISCLOSURE POLICY)
Spice Up Your Sweet 16 Party with These Fun Games
DIY Photo Booth
A DIY photo booth is a perfect way to capture all the precious moments of your party. All you need are some cool props and a cute backdrop that matches your theme. You can even print out props like tutus, crowns, and mustaches for your guests to use! Set up a tripod and camera, and let your guests take turns making memories to last a lifetime.
Pictionary Relay
Pictionary Relay is a game that will have your guests laughing and cheering all night long. Divide your guests into two teams, and have them face off in a game of drawing and guessing. Each team member draws one word from a hat and has to draw it out for their team to guess. The first team to finish all their words wins!
Giant Jenga
Giant Jenga is a classic game that can be made even more fun when used as a party game. All you need is a giant set of Jenga blocks that you can stack up and start playing. You can even make it more challenging by writing challenges or dares on the bottom of each block. Whether it's stacking the blocks blindfolded or doing a dance when a block is pulled out, your guests will have a blast.
Cupcake Challenge
The Cupcake Challenge is a perfect game for all the sweet lovers at your party. Choose a few guests to be judges, then have everyone else race to decorate cupcakes with various toppings and decorations. The twist is that the decorators have to do this with one hand behind their back or using chopsticks! The winner is the one with the most delicious-looking cupcake.
Minute to Win It
Minute to Win It games are a great way to get everyone involved in some friendly competition. Set up a series of games that can be completed in under a minute, such as stacking cups, balancing cookies on your forehead, or popping balloons with your feet.
Murder Mystery
Turn your party into a mystery with a fun murder mystery game. Assign roles to your guests and have them work together to solve the mystery. This is a great way to get everyone involved and keep the party interesting.
Musical Chairs with a Twist
Musical Chairs is another classic party game, but adding a twist can make it more exciting. To play, set up chairs in a circle, one fewer than the number of players. When the music starts, the players walk around the chairs. When the music stops, they must sit in a chair. The player without a chair is out. To add a twist, you can have the person who is out do a dare or answer a question before they leave the game.
Balloon Drop
This one is sure to get everyone excited and is very Instagram worthy! Hang large nets from the ceiling, and fill them with colorful balloons. When it's time to play, have all the guests gather in the middle of the room, and let the balloons loose! The guests will have a blast trying to pop as many balloons as possible.
Balloon Netting - Balloon Drop Release
Balloon Drop Net for Ceiling Release
Balloon Drop netting for Birthday Celebration
Truth or Dare
Truth or Dare is a classic party game that never gets old. You can spice up the traditional version of the game by coming up with questions and dares specifically for Sweet 16 parties. From asking your crush out to doing a silly dance in front of the crowd, your guests will have a blast getting to know each other better through this fun game.
Piñata Smash
Piñatas are always a hit at parties! For a sweet sixteen party, try filling a piñata with sixteen smaller gifts like candy, gift cards, or small toys. Then let the birthday girl or boy take turns smashing it open so that all the guests can grab a prize.
Sweet 16 Piñata for 16th Birthday Party
There are so many ideas when it comes to making a Teen Scavenger Hunt.
First divide your guests into teams of two or three, and give each team a list of tasks to complete within a certain amount of time. The tasks can be anything from taking a selfie with someone wearing a loud Hawaiian shirt to finding something that starts with every letter of the alphabet. The team that completes the most tasks in the allotted time wins!
Teens will love this fun Selfie Scavenger Hunt or how about trying a Mall Scavenger Hunt?
Charades
Charades is a classic party game that has been played for decades. It's a game of acting and guessing, where players take turns acting out a word or phrase without speaking, while the other players try to guess what it is. To play, divide your guests into two teams and have them take turns acting out words or phrases. The team with the most correct guesses at the end of the game wins.
Printable Games
Printable games are perfect to a sweet sixteen party. You can print as many copies as you need, making these girls games bundles great options for parties of any size.
Lip Sync Battle
This is a great game to get everyone laughing and having fun. You can do this as a group activity or have it be a competition between two people. Choose popular songs from old to new that everyone knows and loves. Write these on slips of paper and put them into a bowl.
Pair up the players and have them choose one piece of paper from the bowl and let the lip sync battle begin. They will now have to battle it out against each other to see who can lip sync the song the best. The audience will be the judge of who did it better. This is a great way to get everyone laughing and having a good time.
Board Games
If you're looking for a more relaxed party game, why not break out some board games? Choose games that are easy to learn and quick to play, such as Apples to Apples or Cards Against Humanity.
Name That Tune
This is a classic game that can be played with any type of music. Choose a variety of songs from different genres and decades. Play a few seconds of the song and have the players guess the name of the tune. The player who guesses the most correctly wins the game. This is a great way to get everyone involved and having a good time.
Name That Tune DVD Board Game
Game That Song - Music Card Game
Kazoo That Tune Song Guessing Game
Dance Off
This is a great game to get everyone up and moving. Choose a variety of songs from different genres and decades. Put them all into a playlist and let the dancing begin. The last person standing wins the game. This is a great way to get everyone up and moving around.
This game will have your guests choosing what they would rather do from a series of questions. If you have a large group you can make this into a fun physical activity. Have one side of the room for 'This' and the other side for 'That'.
Begin asking the first question. All players that would rather choose the first option, will run to that side of the room. The others who choose the second option will run to the other side. Everyone on the side with the most people will earn a point. When the game is finished whoever has the most points will win.
Balloon Pop
Fill up several dozen water balloons with confetti, glitter, or streamers. Then have the guests take turns popping them to see who can create the biggest explosion of color! This one is sure to be a hit with everyone - especially when they're cleaning up afterwards! ;)
Karaoke
Nothing gets a party started like some good old fashion karaoke! Not everyone may be comfortable belting out their favorite tunes in front of others , but those who are will have lots of fun! And if you have access to karaoke equipment , even better ! Just make sure you have plenty of songs to choose from so that everyone can find something they enjoy singing.
Karaoke Machine
Karaoke Machine
Karaoke Machine
Treasure Hunt
Organize a treasure hunt around your neighborhood or home with clues leading to your birthday party.
Photo Booth
Have a professional photographer take pictures of you and your guests throughout the party. Also set up a photo booth with props and backdrops for some fun memories.
16th Birthday Party Photo Booth Props
Sweet 16th Birthday Photo Booth Props
16th Birthday Party Photo Booth Props
Sweet Sixteen Themes and Party Ideas
Memory Book
Put together a sweet sixteen memory book or album for everyone to sign and write in.
Sweet 16 Guest Book
Sweet 16 Guest Book
Sweet 16 Guest Book
T-Shirt
Have a custom T-shirt made for everyone at the party with the date and your name on it.
Karaoke
Set up a sweet sixteen themed Karaoke night and let everyone belt out their favorite songs.
Movie Marathon
Have a movie party marathon of all your favorite films from when you were younger.
Dinner Party
Have a themed dinner party with foods that were popular when you were born.
A great way to spend the night with your friends.
Color Powder Party
If you are looking for an unusual way to celebrate turning 16, then this Color powder party will be perfect
Disco
Have a disco-themed party and get everyone moving with some fun dance moves.
Pajama Party
Have a pajama party and spend the night eating junk food, watching movies, and playing party games. This Truth or Dare game will be a hit
Beach Party
Have a beach party and spend the day playing volleyball, building sandcastles, and swimming.
Pool Party
Have a pool party and invite all your friends for a day of sun and fun.
Outdoor Party
Have an outdoor party with games like frisbee, badminton, or tug-of-war.
Slumber Party
Have a sleepover party and spend the night gossiping, playing fun sleepover games, and staying up all night.
Themed Party
Have a themed party based on your favorite book, movie, or TV show.
No matter what theme you choose for your sweet sixteen birthday party, make sure to include plenty of food, drinks, music, and games to keep everyone entertained. And don't forget the cake! A custom-made sweet sixteen cake will be a delicious and beautiful centerpiece for your celebration. 
I hope these ideas have helped you get started planning an unforgettable sweet sixteen birthday party for your special someone. With a little creativity you're sure to come up with even more great ideas for games, activities, food, and decorations. So put on some good music, invite your friends, and get ready to celebrate your big day!
More Fun Party Game Ideas:
Looking for some fun truth or dare questions for your teen? Check out this list of great ideas that will get them thinking and laughing. From daring each other to do crazy stunts, to revealing secrets, these questions are sure to keep the party going.
Looking for some fun teen board games to keep you occupied? Check out this list of the best games that will have you entertained for hours on end. From classic games like Monopoly to new and exciting games, we've got something for everyone. So gather your friends and get ready for some serious gaming fun!